Raise your spirits (and a glass) at these Kootenay distilleries
Hand-crafted with local grains, fruit and berries, Kootenay distilleries are making their mark in the world of fine spirits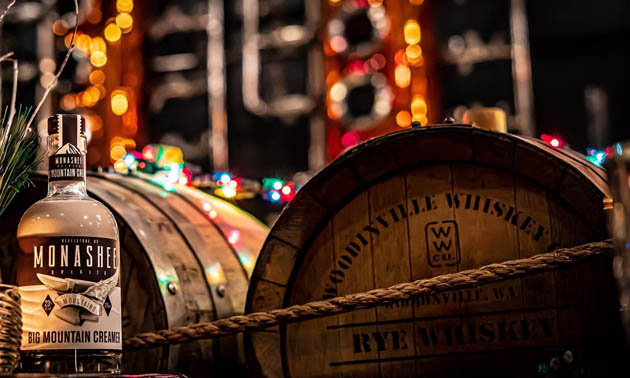 Explore this list of award-winning Kootenay-area distilleries that strive to create original, unique flavours that both pay homage to their regional roots and satisfy the most discerning cocktail connoisseur.
From premium vodka and gin made from locally foraged botanicals to delicately flavoured cordials, schnapps and liqueurs infused and hand-crafted from the freshest available fruit, there's a spirit available for every taste.
Speaking of spirits, it's clear that our local distilleries have a strong sense of community spirit in times of crisis. Many of these distilleries produced hard-to-come-by hand sanitizer in the early days of the COVID-19 pandemic. A big high-five to our Kootenay craft distilleries!
Distilleries in Cranbrook
Elderberry Bros. Farms Distillery
A love of his grandmother's elderberry syrup as a child led Attila Lepsis and his wife, owners of Elderberry Bros. Farms & Distillery, to found their Wycliffe area farm. With over 5,000 elderberry plants now established on the farm, the company plans to expand their future product range. They currently have five delicious varieties of schnapps available for purchase.
Products:
Elderflower & Cherry Schnapps
Elderberry Schnapps
Elderflower & Honey Schnapps
Apple Strudel Schnapps
Cherry & Honey Schnapps
Where to find: Products from the Elder Bros. Farms Distillery are available for purchase online, at liquor stores and pubs across B.C. and at local farmers markets.
Distilleries in Crescent Valley
The Tonik Distillery creates liberating spirits inspired by yesteryear. Using timeless recipes, they create refreshing year-round and seasonal offerings that aim to "remedy life's most common ailments." Their handcrafted products include premium vodkas made from the local pristine mountain spring waters around the Slocan Valley.
Products:
Legacy Premium Vodka
Tonik Pink Lemonade Vodka
Zesty Lime Vodka Soda
Ruby Grapefruit Vodka Soda
Citrus Burst Vodka Soda
Black Cherry Vodka Soda
Where to find: The Tonik Distillery is located in Crescent Valley, which is halfway between Nelson and Castlegar. Their address is 1286 Highway 6. The tasting room is not currently open, but staff are available most days and can sell bottled and canned beverages. It's best to phone them ahead of time at 778-454-1179.
Distilleries in Creston
Wynndel Craft Distilleries is an award-winning distillery situated in the fertile and beautiful Creston Valley. Owned by Pat and Jeanette Meerholz, the distillery creates handcrafted products, all made with a fruit base that contains no grains.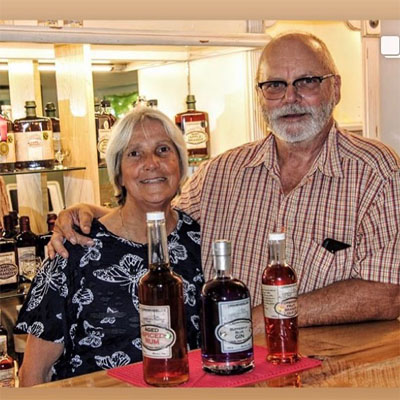 Products:
Fruit brandy: various fruit infusions
Gin: apple, floral and wildflower honey
Fruit liqueurs
Schnapps
Vodka: chili cherry and spicy peach
Where to find: The Wynndel Craft Distillery is open from Monday to Friday, 10 a.m. to 4 p.m., Saturday and Sunday, 12 p.m. to 4 p.m. The distillery is located at 1331 Channel Road, Wynndel. Products can also be purchased online and shipped within B.C. only, delivered locally or picked up.
Distilleries in Fernie
A small-batch distillery owned by husband-and-wife team Andrew Hayden and Jillian Rutherford, Fernie Distillers Inc. is a very successful local business. Winners of the Entrepreneur of the Year award at the Fernie Chamber of Commerce's 2019 Business Awards Gala, the company produces handcrafted products that represent the legendary spirit of Fernie's mountain-town lifestyle.
Products:
No. 9 Mine Vodka: a wheat-based vodka, rich in flavour and distinctly smooth
Fernie Fog Liqueur: an Earl Grey tea–infused liqueur with vanilla and demerara sugar
Prospector Gin: a well-balanced classic gin, infused with juniper, citrus fruit and botanicals
Cinder Liqueur: a tea-infused liqueur sweetened with blue agave and a touch of orange peel
Limited edition Seasonal Spirits when available
Where to find: Fernie Distillers Inc. is located at 531 1st Avenue in Fernie. Hours are Wednesday and Thursday, 4 p.m. to 10 p.m., Friday, 4 p.m. to 11 p.m., Saturday, 2 p.m. to 11 p.m. and Sunday, 12 p.m. to 6 p.m. Products and spirits can also be purchased online.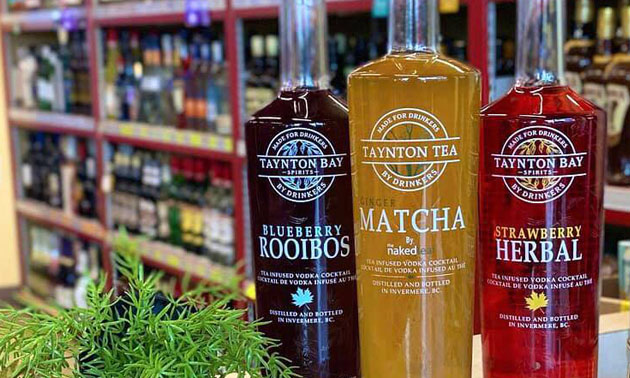 Distilleries in Invermere
Specializing in premium spirits made with no artificial colours, flavours or sweeteners, Taynton Bay products are distilled from locally grown wheat. As a company that strives for world domination, a successful financial deal with the Dragons' Den in 2019 helped to move their aspirations one step closer to reality.
Products:
Vodka/vodka infusions
Gin
Bitters
Where to find: Taynton Bay Spirits is located at 1701B 6th Avenue in Invermere. Their spirits are available for purchase online via their website and at liquor stores across B.C. and Alberta.
Distilleries in Kimberley
"Hand-crafted, hand-corked, and hands-down the happiest bits from around the Rocky Mountains in a bottle" is the description Bohemian Spirits gives themselves and their products. In operation since 2014, this small-town company prides itself on quality products made from locally foraged botanicals.
Products:
Vagabond Vodka
Colossal Pink Gin
Eclipse Coffee liqueur
Hearth Cherry Apple liqueur
Rose Rhubarb Ginger liqueur
Honeycomb Cream liqueur
Whiskey
Where to find: The Bohemian Spirits Cocktail lounge, tasting room and patio is open from Wednesday to Saturday, 4 p.m. to 10 p.m. Their address is 215 Mark Street in Kimberley. Their products are available for purchase online via their website.
Bootleg Spirits co-distills their products with one of B.C's first craft distilleries—Bohemian Spirits in Kimberley. Their organic ingredients are locally sourced and they use original recipes to create small-batch whiskey, spirits and liqueurs. Interested in learning more about this up-and-coming distillery? KootenayBiz chatted with Trevor Semchuck, one of the co-owners of Bootleg Spirits.
Products:
Honeycomb Cream: A smooth liqueur, made with honey, a touch of cinnamon, vanilla and fresh cream.
Oat & Honey: Lactose and gluten-free, this liqueur is made from oat milk and barrel-aged spirit.
Cabin Fever: A sweet and spicy sipping whiskey.
Where to buy: Bootleg Spirits can be purchased online via their website or picked up locally at retailers in Kimberley and Fernie.
Distilleries in Revelstoke
Monashee Spirits Craft Distillery
One of the few certified organic distilleries in Canada, Monashee Spirits Craft Distillery strives to capture the essence of Revelstoke using local juniper, huckleberries, spruce tips and wildflowers.
Products:
Vodka
Vulcan's Fire: cinnamon-whiskey liqueur
Ethos Gin
Big Mountain Creamer: espresso-flavoured liqueur
Cocktail Bitters
Where to buy: The Monashee Spirits Craft Distillery is open Tuesdays, 5 p.m. to 11 p.m and Wednesday to Sunday from 2 p.m. to 11 p.m. Their address is 307 Mackenzie Avenue in Revelstoke. Their products are also available for purchase online and at liquor stores across B.C.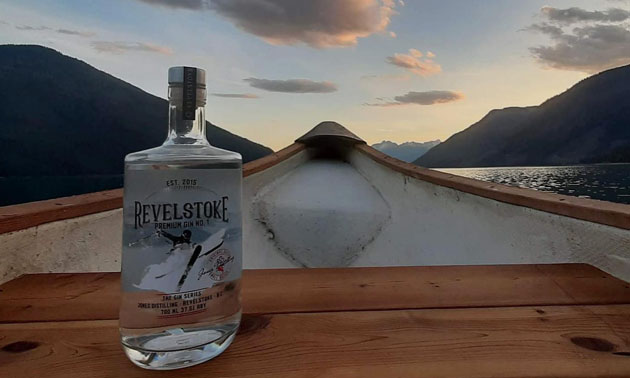 Housed in a revitalized heritage schoolhouse, award-winning Jones Distilling produces premium hand-crafted spirits. Owner Jonah Jones started the distillery as a tribute to his "bit of a rogue" father—read on to learn about how the Jones legacy began with the procurement of an illegal still.
Products:
Mr. Jones Vodka
Premium Revelstoke Gin
Bathtub Gin
Cordials
Where to find: Jones Distilling is located at 616 Third Street West in Revelstoke. Products can be purchased online and at select liquor stores across B.C.
Distilleries in Trail
Trail's newest hip place to hangout, Kootenay West Distilling features a distillery and small cocktail lounge—expansion plans are on the horizon. An exciting cocktail and food menu is available and brunch is served on Sundays.
Products:
Vale Vodka - a craft liquor made with organic wheat
Wildflower Pink Gin - made with local botanicals
Where to find: Kootenay West Distilling is located at 1180 Cedar Avenue in Trail. Hours are Wednesday and Thursday, 4 p.m. - 10 p.m., Friday and Saturday, 2 p.m. to 10 p.m. and Sunday, 10 a.m. to 4 p.m. for brunch.
Distilleries in Winlaw
Kootenay Country Craft Distillery
This award-winning craft distillery is dedicated to the 100-Mile Diet rule, making sure to use only locally sourced organic ingredients for their distilled spirits, resulting in an ultra-premium product.
Products:
Valhalla Vodka
Honey Vodka
Seasonal vodka infusions
Gin
Where to find: The Tasting room is open Thursday to Saturday, 2 p.m. – 5 p.m. Products can be purchased online and at stores across the Kootenay area.
Have we missed a Kootenay distillery on this list? Or do you know of a new distillery that's opening soon in the region? Let us know by email: [email protected]