All their roads led to opening Kootenay West Distilling in Trail, B.C.
For Thomas and Ash Hodgson, opening Kootenay West Distilling has been hard work and a way to give back to their community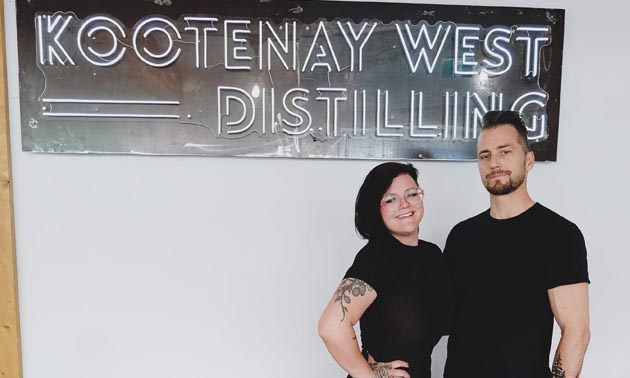 How did Thomas and Ash Hodgson end up as the proud owners of Trail's newest and hippest establishment? Their path to building Kootenay West Distilling takes a few twists and turns.
When they were in the early throes of adulthood, the Hodgsons opened a commercial daycare together in Victoria, B.C. However, they went on to move back to Thomas' hometown in the Kootenays, which is where they had children and Ash built a successful photography business. Thomas was a machinist who was also commercially building furniture on the side.
In 2016, they brought their skills and passions together in a store which they named, aptly, Good Stuff.
"We have so much ability to create things and create products for our community here. The overall idea was to bring what inspires us in other communities to this community," said Thomas. "I grew up here. We just wanted to be part of the solution (of revitalizing Trail). People told us that they wanted places to shop and places to go and eat. There just wasn't anything in this area anymore."
Fulfilling through distilling
Thomas and Ash already shared a love of distilleries and spirits—they relished touring liquor producers when they travelled. In 2019, Ash attended a conference for women in business where she found herself chatting with a woman who was a consultant for the industry, and the idea was born.
The Hodgsons already owned a large space adjoining their store that had once been a commercial bakery. They had tentatively planned the space for a store expansion, but when the lightbulb flickered on they realized it was the perfect location for their distillery idea.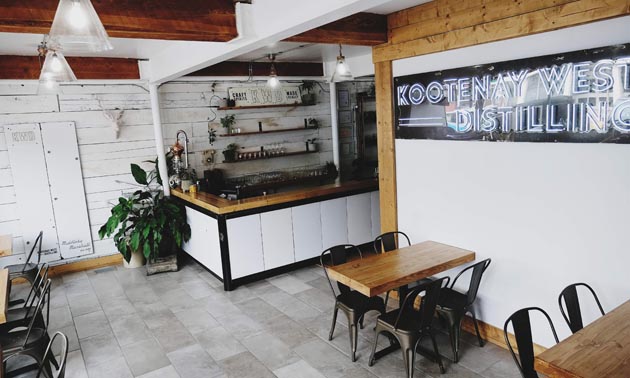 Thomas got right to work—he did almost all the construction work himself. The couple planned a beautiful space that paid tribute to the industrial feel of the bakery. Many elements of their cocktail bar are upcycled from bakery items that were left when they took over the space.
There were plenty of frustrations along the way. The Hodgsons submitted their permit a week before the onset of COVID shutdowns, which resulted in long delays. They also faced many of the challenges that have become all too common—supply chain breakdowns, price hikes, shortages and a tight labour market.
Still the journey has been exhilarating, with the distillery and cocktail lounge opening in April of this year.
Upward and onward
With products slated to come out in early summer and the bar open to serve up to ten patrons, phase one is complete. The lounge is serving some exciting cocktails and a classy little menu. However, there is more to come.
"We basically had to split the building project because we only have one bathroom, so we have a pretty small capacity," said Thomas. "But we have room to grow. We have lots of square footage. We're working on construction right now to open up to a 70-person capacity.
"People just want more already. We changed direction right off the bat and went back into construction. We were going to just run it the way it is for a bit and try to relax and take a deep breath—but it's just too justifiable to push forward and put those extra bathrooms in and upgrade the water and make this happen."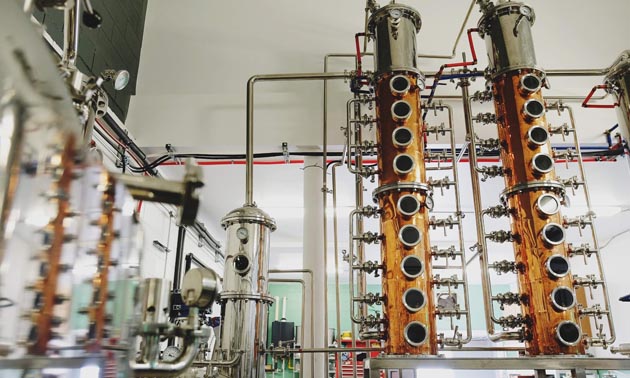 Building the story
Having already been embraced with the neighbouring Good Stuff store, and honouring the tradition of the long-time bakery, Kootenay West Distilling is placed to fit right into Trail and the people who call the community home.
"Through the store we've built the story of a grassroots family-run business, and of listening to the public," said Thomas. "We brought that forward into the distillery and just piggybacked off our store. We've had people who have been waiting so patiently for us for three years to open this place."
Crafted with care
Kootenay West Distilling is a craft distillery, which comes with its own set of designations. All products that belong to the brand must be fermented and distilled onsite using traditional methods. Additionally, every agricultural input has to be grown in B.C.
Thomas and Ash, along with their head distiller, Julia Skolnik, are committed to both the heart and spirit of being craft distillers. They not only source within B.C. borders, they find everything as locally as possible.
For their wheat, that means buying from organic Creston grower Treasure Life Flour Mills. Many of their herbs, garnishes, and flavours are either homegrown or locally foraged—the main colouring agent in their flagship pink gin comes from a sumac tree in the Hodgson's front yard. Their artwork and printing are also done locally.
Kootenay West Distillery will be partnering with other local businesses, such as the Trail Coffee Co., for their upcoming coffee vodka.
"We have a team that is just full of crazy ideas and the biggest thing is just trying to focus on one idea at once," said Thomas.
Hard work and happenstance
After three years of hard work and happenstance, products are rolling towards shelves and customers are finding fabulous drinks and tasty eats on the handmade benches of Kootenay West Distilling. Thomas and Ash are busy bundles of enthusiasm as they watch their long-held dream and their newest endeavour reach fruition.
"We know where we can grow," said Thomas. "We're just excited, all of us, to create really fun and exciting products. I'm really excited to get the 70-person lounge open so we can serve more people and generate more income so we can put more and more into this project and this community. This is phase one of many, many, many phases. We have a lot of ideas and a lot of space in this building to do it."