Fernie Chamber awards Entrepreneur of the Year to a beary-friendly business
For a small city, Fernie has exceptional businesses and individuals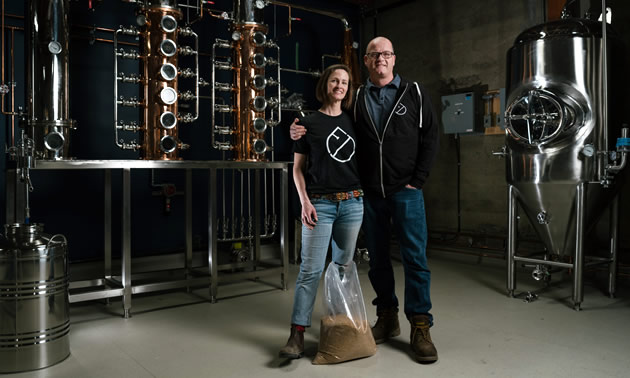 The Fernie Chamber of Commerce handed out 13 awards at its annual Business Awards Gala on October 25, 2019.
Several of these winning businesses and organizations had significant happenings in 2019, which made their Chamber awards icing on the cake for their past year.
Congratulations to the following winners:
Spirit of Fernie: Senior Citizens Drop-In Centre
Befittingly, the Senior Citizens Drop-In Centre received the Spirit of Fernie award in 2019 as it celebrated 60 years of service. The Drop-In Centre is an active hub for seniors and friends of seniors with a lunch counter and a large selection of programs. Attendees can enjoy games, arts and crafts, and exercise and yoga classes.
Community Tourism Achievement: Snow Valley Lodging
Snow Valley Lodging was given the Community Tourism Achievement award, and their tourist numbers should start snowballing with the opening in 2019 of its Tiny Home Hotel, a Canadian first. The six one-bedroom, one-bathroom tiny homes are each 220 square feet with an outdoor common plaza.
Outstanding Customer Service: GearHub Sports
The Outstanding Customer Service award was presented to GearHub Sports. The locally owned store is known for its expert service, which includes great sales advice, bike and ski trade-in programs, consignments and rentals, and repairs. Plus the store has an awesome selection of outdoor gear for all adventurers.
New Business of the Year: Stocked Co.
A pop-up store won New Business of the Year. Stocked Co. is a refillery, a planet-friendly, package-free store that stocks household cleaners, personal care products and more. Owners Kara McFall and Marcelle Clarkson source products from Canada, with the majority made in B.C. Check Stocked Co.'s Facebook page for pop-up locations and dates.
Entrepreneur of the Year: Fernie Distillers
Fernie Distillers won Entrepreneur of the Year. The husband-and-wife team of Andrew Hayden and Jillian Rutherford established the distillery in 2016. Being a small-batch distillery, they can produce unique seasonal products, such as their 5th & Park Damson Gin, which featured local damson plums. Harvesting local fruit helps keep bears out of town and hence safer.
"Supporting local programs like the Fernie Apple Capture and WildSafeBC initiatives is important to us," said Rutherford, "and we are fortunate to be able to create a quality product too."
Team of the Year: McGiver Woodworks
Team of the Year went to McGiver Woodworks. Owner/operator Maf McGivergan moved his family from Ireland to Fernie in 2012 and soon opened his own contracting business.
The expert team of craftsmen at McGiver's provides custom woodworking solutions for interior and exterior areas, including custom furniture, windows and doors, decks, kitchens, floors, stairs and cabinetry.
Employer of the Year: Western Financial Group
Employer of the Year was given to Fernie's Western Financial Group. Led by manager Shelby Rawson, these licensed experts offer competitive rates and great customer service. They offer car and truck insurance, home insurance, business insurance, farm insurance and life insurance. Policies can be customized to fit individual needs.
Fernie Business of the Year: Coal Town Goods
Coal Town Goods had a big year in 2019. After waiting patiently for four years, owners Nicole Leckenby and Deanna Peake moved the store to a new location on Second Avenue and picked up the prestigious Fernie Business of the Year award. With a space that's three times bigger, Coal Town Goods now offers even more fun and eclectic items from more artists.
People's Choice Award: Bridge Bistro
The citizens of Fernie have spoken and given the People's Choice Award to the Bridge Bistro. The food and the location make the bistro special. Located on the bank of the Elk River with decks that look up at the Fernie ski hills, the restaurant features European- and North American-style cooking.
Claude and Lillis Perreault and Fredrik Bergkvist are partners-owners of the Bridge Bistro, which also offers catering services.
Community Leadership Award: Island Lake Lodge
Island Lake Lodge just keeps racking up notoriety and awards. Their latest, given by the Fernie Chamber, is the Community Leadership Award.
The lodge is a strong supporter of community organizations and businesses in the Elk Valley. In addition to forming successful and interesting collaborations, it has a corporate-giving program and encourages volunteerism among its staff.
Chamber Legacy Award: Walter Ingram (Fernie Home Hardware)
Walter Ingram, owner of Home Hardware in Fernie, won the Chamber Legacy Award. Ingram has a long work history in building supply stores, with one of his first jobs at Beaver Lumber in Fort McMurray. He arrived in Fernie in 1988. Home Hardware stocks hardware and building material as well as home decor and seasonal items.
Citizen of the Year: Martin Brock
An unsuspecting Martin Brock was honoured to receive Citizen of the Year. Described as a man behind the scenes in many events in Fernie, Brock has worked on Griz Days and the Mine Rescue event and is a former director of the Fernie Chamber of Commerce board.
Volunteer of the Year: Lynn Henderson
Volunteer of the Year went to Lynn Henderson. Described as exceptionally hard working, Henderson's day job is manager of Birdhouse Roofing Ltd. In 2019, she was recognized by Kootenay Business magazine as an Influential Women in Business.