Snow Valley Lodging's tiny home hotel in Fernie is a first in Canada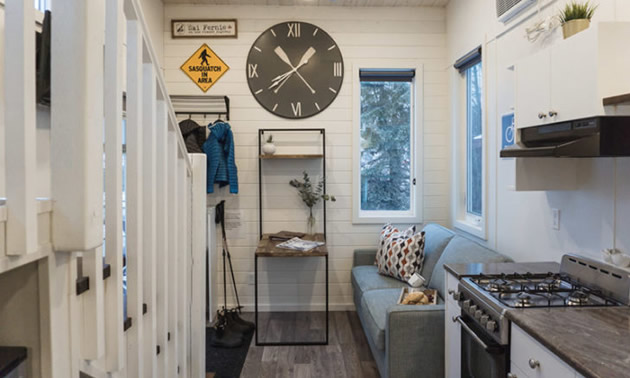 Ever wondered what it's like to live in a tiny home? Are you looking for unique accommodation on your getaway, accommodation that is different from the run-of-the-mill motel room yet still offers all the amenities you want? The owners of Snow Valley Lodging in Fernie may have just what you're looking for—welcome to the first Tiny Home Hotel in Canada.
Owners Veronique Roy and Jason Burt have operated Snow Valley Lodging in the small mountain community for more than 20 years, and came up with the tiny home concept about five years ago. Now their dream is finally a reality. The grand opening of the unique new lodging was held on October 8.
"We are so excited to pioneer the first Tiny Home concept in Canada and truly believe that this type of destination will appeal to people seeking a wonderful, positive experience at exceptional value," said Veronique Roy, owner of Snow Valley Lodging. "The feedback we've received so far has been overwhelming and we welcome anyone seeking a unique, boutique experience to come and stay with us."
The tiny hotel picked up a big award, one of the Business Excellence Awards given by the Fernie Chamber of Commerce. Snow Valley Lodging won the Community Tourism Achievement Award, one of 13 awards given on October 25 at the awards gala.
The six identical (with the exception of style) one-bedroom, one-bathroom tiny homes are each 220 sq. ft in size, with a living room, fully-equipped kitchen and full bathroom on the main floor and a queen-size bed in a loft above. The tiny homes are situated around a thoughtfully-designed outdoor plaza and social space that features comfy chairs, tables, hanging lighting and a fire pit which turns on at the touch of a button. The homes can be rented year-round and are a perfect venue for family reunions, corporate retreats or weddings. Snow Valley Lodging also offers traditional comfort suites for rent.