Kimberley's newest distillery, Bootleg Spirits, proves that collaboration is key
It's a win-win for everyone when local businesses join forces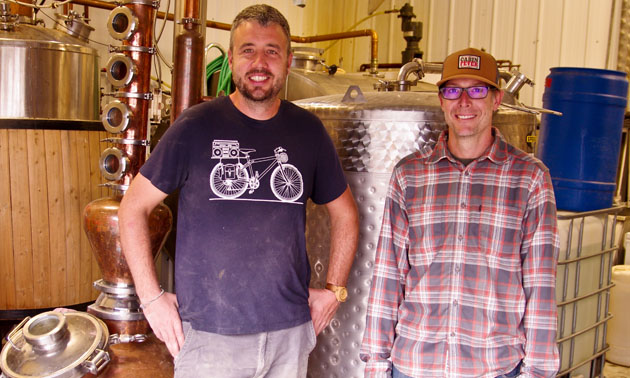 A small-batch distillery in the city of Kimberley knows all about harnessing the power of friendship and business collaboration. Launched in April of 2020, Bootleg Spirits is owned by business partners Trevor Semchuck and Wade Jarvis. And Jarvis happens to know a thing or two about running a distillery—he's also the owner of Kimberley's Bohemian Spirits.
So how did this beneficial business relationship start?
"Wade and I have known each other for five or six years now. I was very interested in whiskey and distilling, and Wade had recently opened Bohemian Spirits," said Semchuck. "I began coming to the distillery to run ideas by Wade, chat craft distilling and help out when I could."
According to Semchuck, a lot of new distilleries start off by making vodka and gin. On liquor store shelves, those specific categories tend to have a lot of competition, making it challenging for new businesses to establish themselves and get a share of the market. Since Semchuck already had an interest in whiskey, the pair started off by distilling and barreling various whiskeys and began the liquor's minimum three-year antiquation process. They also began building a lineup of small batch liqueurs.
Bootleg Spirit's inaugural product was their signature Honeycomb Cream—a tasty concoction of barrel-aged liquor, fresh organic cream, cinnamon and honey. For people with special dietary restrictions, there's a lactose- and gluten-free version of this product called Oat & Honey. Their newest creation—just released this past summer—is Cabin Fever, a spirited sweet and spicy sipping whiskey.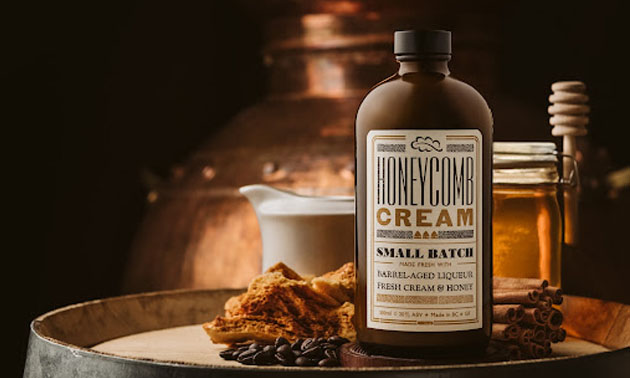 "We are all about collaborations—that is the backbone of Bootleg Spirits," said Semchuck. "We collaborate with Bohemian Spirits in Kimberley in a co-distilling relationship. We bring our original recipes, locally sourced ingredients and custom equipment to their facility and work alongside [their] master distiller to bring new and unique spirits to life."
This purposeful collaboration doesn't just end with Bootleg Spirit's fellow distiller. By supporting and promoting other small businesses through giveaways and contests, they've found that both companies benefit. The company also works with and welcomes other business partnerships, such as working with local tourism companies, photographers, artisans and coffee shops.
"We are working with some really great local photographers—Charné Baird, who specializes in food and drink photography, and Matt Kuhn to capture our lifestyle images," said Semchuck.
Bootleg Spirit's unique, bygone-inspired bottle labels are designed and printed by Clawhammer Press in Fernie.
"[The labels] are hand-printed on an authentic vintage printing press, which really carries the small-batch and handmade feel of the brand," said Semchuck. "Each bottle is a piece of art, and when you hold one in your hand, you just know it's going to be great before you even try a sip."
KootenayBiz caught up with Semchuck, and he filled us in on some more details of this new, up-and-coming Kootenay distillery.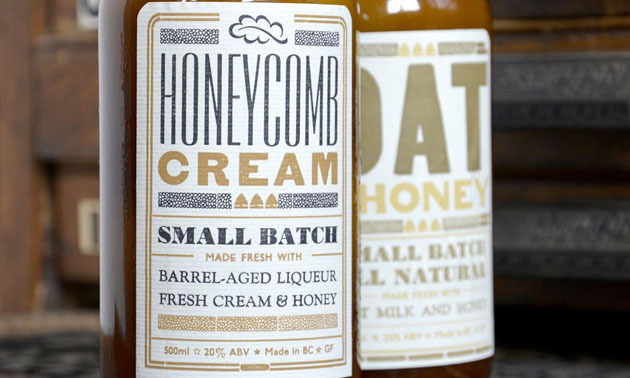 We love that you collaborate with other local Kootenay businesses with giveaways and bundles. Has that been a successful venture?
Connecting with local businesses has been a great way for us to diversify our audience and get our spirits to new customers. Our giveaways always cross-promote with a local business partner where we aim to grow the audience of both businesses and attract new customers. We have a few lined up for the fall and holiday season, which we are excited about.
Where do you source your ingredients from?
All of our products are distilled from certified organic grain that is grown here in B.C. We have several farms that we work with—from Creston to Armstrong—to supply our organic rye, barley, wheat and corn. We try and use single-origin grain for each batch to really give an authenticity to the final spirit. Our cream liqueur, Honeycomb Cream, is made with local organic cream from the Kootenays.
Do you have any new products on the horizon?
We have just launched a new cold-brew coffee liqueur called JOE. It's made with Night Owl, a fresh dark-roast organic coffee from Oso Negro Coffee in Nelson. We use the cold-brew method for the coffee in JOE so it's not too bitter, yet holds the bold notes and the aroma of freshly roasted coffee. It's a very nice evening libation on ice.
Our first barrels of genuine Canadian Whiskey will be ready for bottling in November of 2022. We have organic straight rye and Rocky Mountain–style bourbon resting in oak barrels. After testing a couple of months ago, they are definitely on track for the flavour profiles we are looking for.
Is there anything else you'd like our readers to know about your business?
I would also like to add that we are always interested in new retail and hospitality partnerships. Feel free to reach out to us for samples and sales info.