A tradition of quality used auto parts
Ernie's Used Auto Parts has excelled since opening as a vehicle towing business in 1974.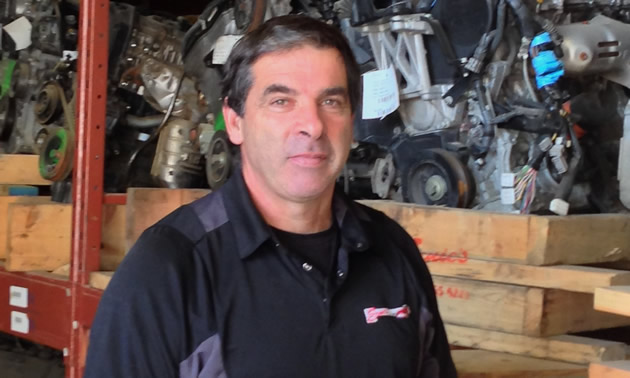 Ernie's Used Auto Parts in Castlegar, B.C., stays on the forefront of conscientious vehicle recycling along with its used-parts sales and towing service. Perhaps that's why the company received Platinum for Auto Recycler in the 2014 Best of Business Awards. Second-generation owner Stuart Ady makes sure the business runs smoothly and ethically. Here, he talks with Kootenay Business about being a business owner, a family man and an engaged community member.
What was your first job and what did you learn from it?
My first job was in our family-owned 24-hour restaurant and gas station. At 16, I started to drive the tow truck and actually sold used auto parts at school. I quickly learned the family values of owning a business and how it can reflect back into the community. My father, Ernie, taught me the honesty and integrity it takes to run a successful business.
What do you like most about your job?
When a person calls our company, it is because they are having problems with their vehicle; our job is to solve those problems. So when we can get that customer back on the road and give them a great experience using our company, that is most definitely an experience to cherish.
Why did you choose to get into the auto recycling business?
I sold parts at school, but left the family business when I was 19 and worked at a local smelter. I came to the shop, and my dad was selling the cars he was towing in for real cheap to another salvage company. We talked and he said, "You buy into the company for $10,000 and we will be partners," but I still did not sell parts for two years because my wife and I wanted to make sure we had a good inventory before we advertised. The rest is history.
Can you offer some advice to anyone just beginning a business venture?
My wife, my son, Christopher, and I believe with the success of any business venture (comes a belief) in your product, along with a commitment to come through with your promises to your clients. True, there are days it may be tough and you will fall off the wagon, but when you get back up, face your mistakes and learn from them, it makes you stronger. Never blame anyone or any agency for a situation you may be in, because you and only you have control of your destiny. Last but not least, always give back to your community.
What's your passion outside work?
My passions outside of work that keep me quite busy are restoring cars, volunteering in the community and the Castlegar Fire Department, as well just finishing up a term as president of the Castlegar and District Chamber of Commerce. But, most of all, (I enjoy) spending quality time with my wife and family.