Sustainable vehicle recycling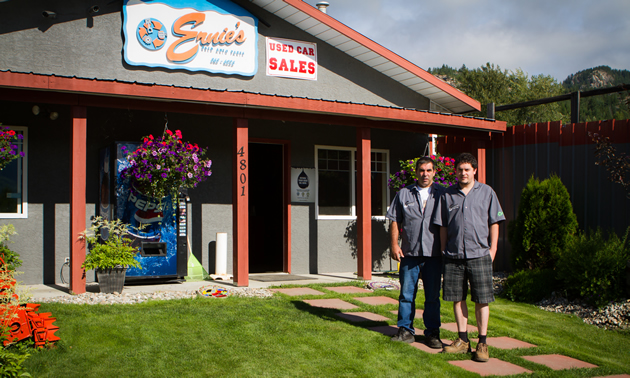 When most people imagine a used car parts place they don't think of environmental initiative. Stuart Ady, owner of Ernie's Used Auto Parts, tells a different story. Sustainability is important for his company and the recycled parts business has come a long way. Enforced standards now mean that old vehicles are recycled effectively. Ady took some time to answer questions for Green Scene.
Can you tell me a bit about the business?
My dad started towing in 1974. It was a family business that grew to what it is today. (One of the) biggest things for us, I think, is we've always strived to be at the leading edge of everything, including environmental initiative.
For perspective, how many vehicles go through your business?
We process about 1,200 vehicles a year. We do ship a lot of things out to the States through eBay, but most of our business is wholesale business to body shops and warranty companies.
Can you talk to me about being a member of QRP?
QRP is Quality Recycled Parts. It's a group of salvage yards that strive to a high quality of service to compete with the new industry. We do a lot of group buying and we have meetings twice a year, so we do stick together.
What are some standards that are mandatory in the general auto recycling industry?
Mandatory standards include a minimum 90-day warranty on all parts—ours here is 120 days. Everything has to be tested and fully drained. Wreckers have to document where all the batteries, fluids, tires and antifreeze have gone.
In what ways have the industry and your business changed over the years?
Back in the olden days you could go out back, hook up a chain to the engine, and just let the oil and fluid all go out on the ground before throwing it in the back of some guy's truck and sending him down the road. Now your vehicles are brought inside, stripped out properly and documented. Fluids are all pumped out. The engines are tagged, cleaned, and sent out with a warranty. It's a big difference.
How do you deal with the fluids and other environmentally sensitive parts?
We take all our fluids out with a vacuum system and they're all put into containment. All the oil and antifreeze is recycled. Our batteries are all taken away and recycled. All our cars are shipped to Vancouver and crushed. Some of our tires are sent to Mexico, some are sold locally and anything beyond that goes to a shredding company. Absolutely nothing is sent to the landfill.
This is one of the oldest recycling industries in the world. Automotive recycling has been happening since the late 1800s.
Ernie's is on the forefront of environmental initiative?
Yes, we are. We're actually a platinum yard right now, which means that we're a top-end yard for environmental (concerns).
What should people consider when it comes to sourcing parts?
First of all, are they buying from a salvage yard that's certified? I stress this. They need to know that it's going to be there for them if there's a problem. Also, if they're buying a part they'll want to check out the warranty. Whenever a person is buying a part they have to be very careful about what they're walking into, that they're getting what they're asking for. The yard that they're buying off of needs to be a legitimate yard—I'm going to be very blunt with this—not a chop shop.