These 11 Kootenay coworking spaces offer community and creative collaboration
They're a growing trend across the Kootenays—check out this list of the region's co-working spaces.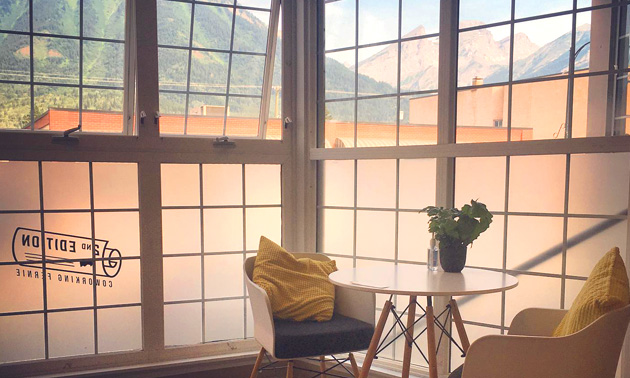 Remote work is becoming much more commonplace. Not only are entrepreneurs, freelancers and professional nomads drawn to the flexibility that working from home can offer, it's also become a reality for many of us in the midst of a global pandemic. But it's also a lonely life—working remotely can be isolating. It can also be difficult to get quality work done with family distractions and obligations. Cue the growing attraction to co-working spaces.
According to an article by Small Business BC, there are many benefits to co-working spaces. Social interaction with like-minded peers, a sense of structure and a reason to get out of your pajamas and into the real world are all draws. It's a proven fact that collaboration increases creativity—networking with others oftens helps us to remain productive and focused on our work. And of course, there are the financial benefits. Running a business or a start-up is expensive—the ability to reduce costs by sharing office space and office equipment with others is a definite plus.
Read on and discover what the Kootenays can offer in terms of collaborative and innovative co-working spaces for professionals, entrepreneurs, creatives and business start-ups.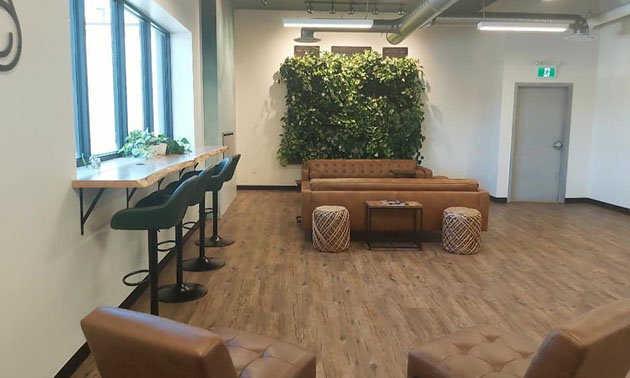 East Kootenay coworking spaces
Coworking spaces in Cranbrook, B.C.
The new 101 Building in downtown Cranbrook is a modern, sleek-looking space that houses 18 private offices, a large boardroom and multiple day-use collaborative spaces. Daily drop-in users are welcome and both the common space and boardroom are available for rent. There's a range of monthly membership plans available that include access to the self-serve kitchen and printing and scanning services. The Morchella Market & Cafe is located downstairs.
Features and amenities: The 101 Building co-working space provides free parking and is open 24/7. Fibre-optic high-speed internet is provided for all members and there are reception and mailbox services if needed.
Location: 101 Kootenay Street, Cranbrook
How to connect: Website: www.the101building.com. Facebook: 101 Building.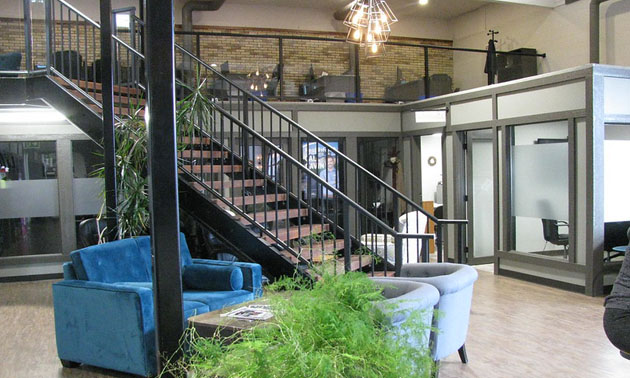 The Ground Floor Co-working Space
Striving to create a culture of collaboration, The Ground Floor Co-working Space is designed to be a modern and welcoming environment for a variety of innovators. Membership plans are available and offer a range of different options—from the business person who simply wants a mailing address and reception service to the professional who needs a suite of private offices. The Ground Floor Co-working Space is service-focused and offers concierge services, such as simple errands, arranging package deliveries, or scanning and photocopying documents.
Features and amenities: There's an array of services designed to facilitate a productive work environment—private phone booths, a recording booth and reception services are available. A self-serve kitchenette and lounge areas offer the opportunity to network and socialize with fellow professionals. The Ground Floor Co-working Space is open 24/7 for members.
Location: 131 7th Avenue South, Cranbrook
How to connect: Website: www.groundfloorcowork.ca. Facebook: Ground Floor Coworking Space. Instagram: @groundfloorcowork
Coworking spaces in Fernie, B.C.
There's a brand new community co-working space in Fernie. Located in a beautiful heritage building that was formerly home to the Fernie Free Press on 2nd Avenue, the co-working space is designed to accommodate a range of work styles and budgets. The 2nd Edition Coworking space is run by the Fernie Chamber of Commerce. Check out this article about the exciting addition to the City of Fernie.
Features and amenities: Depending on your needs, 2nd Edition Coworking offers a range of different workstyle packages. Amenities include high-speed wi-fi, 24/7 member access and strong coffee.
Location: 342 2nd Avenue, Fernie
How to connect: Website: www.coworkingfernie.com. Facebook: 2nd Edition Coworking Fernie. Instagram: @2ndeditioncoworking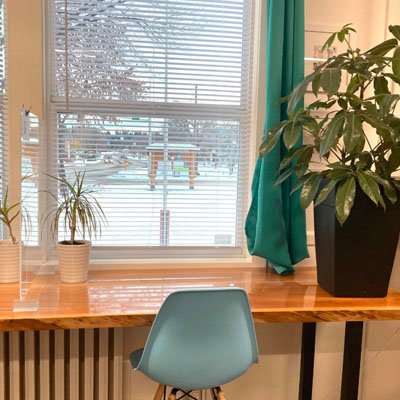 Coworking spaces in Golden, B.C.
Looking for some connection and social contact with other entrepreneurs? Or maybe you're just feeling a little stir-crazy lately and need to get out of the house to work? Whatever the reason, the Go-Lab Co-Working Space in Golden offers a range of options—flex desks, meeting rooms and collaborative spaces—designed to get your mental muscles flexing in a welcoming, community-centred environment. Both monthly and casual memberships are offered.
Features and amenities: A kitchen and lounge area provide a nice retreat for coffee breaks and interesting conversations. Fixed, flex and private memberships also include the following perks:
5 hours of access per month to the Judge's Room—a private meeting space
Weekly premium coffee delivery
Weekly outdoor yoga
$5 print credit
Location: 611 10th Avenue North, Golden
How to connect: Website: www.go-lab.ca. Facebook: Go-Lab Coworking. Instagram: @golabgoldenbc
West Kootenay coworking spaces
Coworking spaces in Grand Forks, B.C.
"Empowering everyone, everywhere" is the motto of Shering Spaces. This dynamic and adaptable space has a quiet and comfortable atmosphere—entrepreneurs, creatives, businesspeople, writers, dreamers and doers are all welcome at Shering Spaces. The interior space is quirky and comfortable and features an eclectic mix of modern and rustic furnishings, including several antique typewriters.
Features and amenities: Shering Spaces offers an array of work options. Desks can be rented by the hour or day. There's a boardroom space that's perfect for larger group meetings and private offices can be rented on a monthly basis. A podcast studio features a sound-proof room, video cameras and microphones. Amenities include a coffee bar with lounge access, scanning and printing facilities, high-speed wifi and reception services.
Location: Shering Spaces is located in downtown Grand Forks at 327 Market Avenue.
How to connect: Website: www.sheringspaces.ca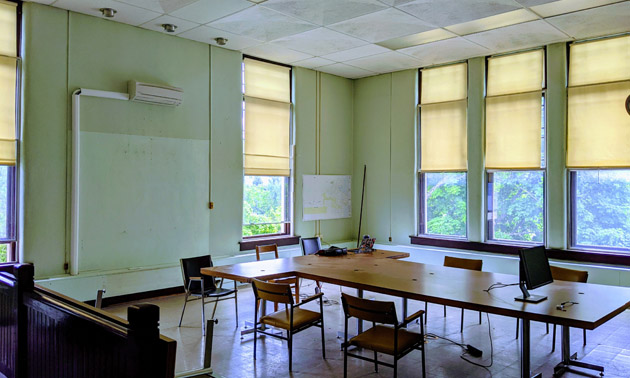 Coworking spaces in Kaslo, B.C.
Kootenay Lake Innovation Centre
The Kootenay Lake Innovation Centre (KLIC) is a technology and community-focused non-profit venture.
Features and amenities: With airy, cathedral-style ceilings, the space features shared office experiences with both private and open concept designs. As a central space for entrepreneurs, freelancers, non-profits and remote employees, Kootenay OS is equipped with gigabit internet, a datacentre, a music shop and livestream studios. Future planned events include Tech Nights, Member Socials and monthly Innovative Nights.
Location: 312 4th Street, Kaslo
How to connect: Website: www.kootenays.org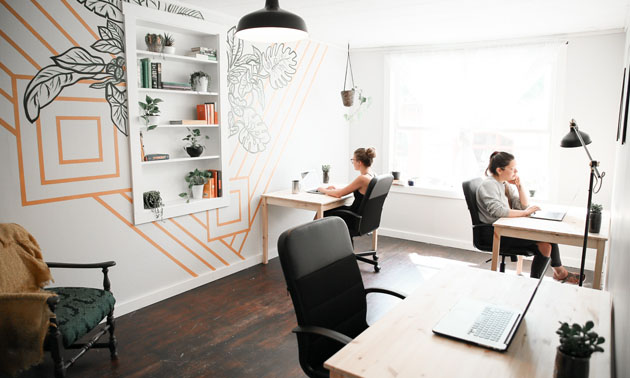 Coworking spaces in Nelson, B.C.
Located on busy Baker Street in downtown Nelson, this bright and homey co-working space features a relaxed, laid-back atmosphere. Private desks are available for rent on a monthly basis and there's a boardroom for larger meetings. Downstairs, the street-level shop is available for products, displays and signage.
Features and amenities: Bring your dog to work! This dog-friendly co-working space includes access to a full kitchen, complimentary coffee and tea, bike lock-up area and free parking (as an add-on).
Location: 265 Baker Street, Nelson
How to connect: Website: www.bakerstreet.work.
With its industrial vibe and inclusive, welcoming atmosphere, The Jam Factory in downtown Nelson is a hip spot to hang out for the work-from-home crowd, entrepreneurs and creatives. Mindfully organized, the space combines private rooms away from distractions, along with expansive open areas and cozy nooks dotted with comfy furniture—perfect for impromptu meetings and creative collaborations.
Features and amenities: Dog lover? Good news! You and your furry pal are both welcome at The Jam Factory. Other perks include high-speed fibre-optic internet, 24-7 access, gourmet coffee and tea, a modern kitchen, daily meditation resets and weekly yoga classes.
Location: 303 Vernon Street, Nelson
How to connect: Website: www.jamfactory.ca.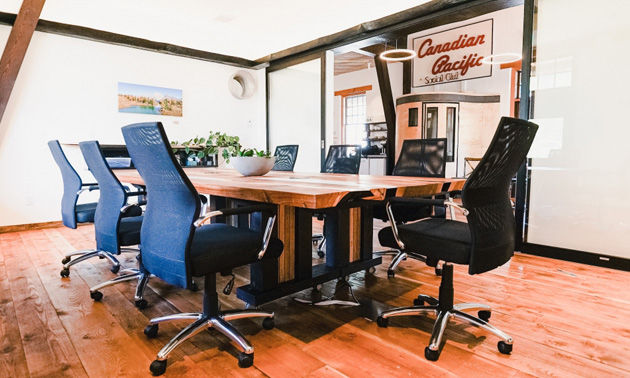 This dynamic and energizing community workspace features a variety of coworking options: private work booths, a larger boardroom and space for larger events. The space is a welcoming blend of old history and modern industrial style and is fully equipped to handle all your needs.
Features and amenities: Amenities include free fibre-optic internet, complimentary tea and coffee, kitchenette facilities and free parking. The boardroom features a 75" smart TV, Owl 360 video conferencing and a whiteboard. The event space includes a light and sound system, motorized projector and use of a kitchen.
Location: 91-d Baker Street, Nelson
How to connect: Website: www.nelsoninnovationcentre.com. Facebook: Nelson Innovation Centre. Instagram: @nelsoninnovationcentre
Coworking spaces in New Denver/Silverton, B.C.
Run by the Silverton Cowork Society, the Fireweed Hub is a newly-opened community workspace in neighbouring New Denver. The non-profit Silverton Cowork Society previously operated The Lift coworking space in Silverton.
Features and amenities: The facility features modern and affordable coworking desks, hi-speed internet, a laser printer and small kitchen area. Meeting room space for larger groups is also available.
Location: The Fireweed Hub is located at 322A 6th Avenue in New Denver.
How to connect: Website: www.fireweedhub.ca. Facebook: Fireweed Hub.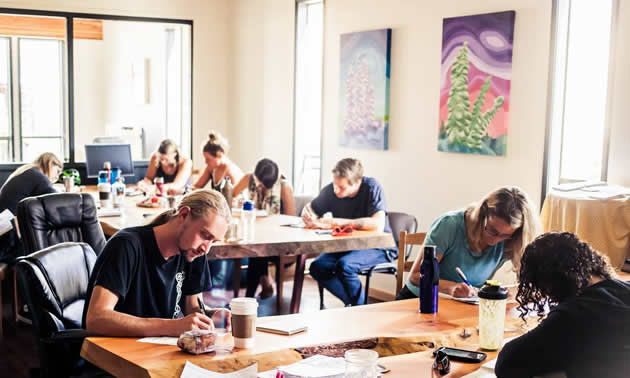 Coworking spaces in Revelstoke, B.C.
A user-owned co-operative with 24-hour, seven-days-a-week availability, the Mountain CoLab offers freelancers, remote workers, entrepreneurs and nonprofits an ideal space for work and creative collaboration. With both private and open-concept facilities, users can choose from several workspace options including dedicated desks and office space. Monthly memberships are available starting at $85 per month.
Features and amenities: Find freshly-brewed coffee, free printing and fantastically fast fibre-optic internet at Mountain CoLab. Facilities also include a boardroom, kitchen and lounge for after-work . . . lounging.
Location: 101-A Second Street East, Revelstoke
How to connect: Website: www.mountaincolab.com. Facebook: Mountain CoLab. Instagram: @mountain_colab_revelstoke