Share space. Create opportunity.
Collaboration and integration form the bedrock of the Ground Floor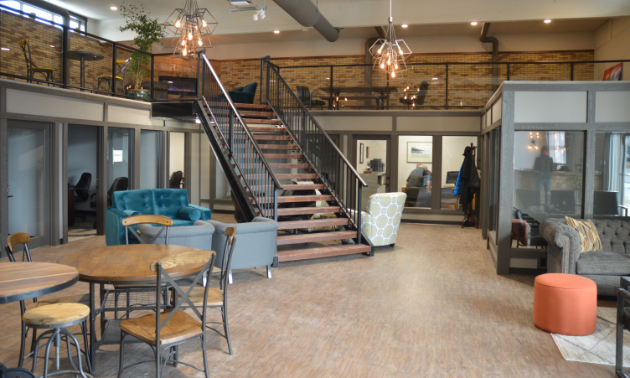 Pay attention, entrepreneur. There's a new co-working space that just might be the spark you need to ignite your startup. The Ground Floor Co-working Space is open and looking to collaborate with you on your business venture.
"We're targeting people with home-based businesses out of an extra bedroom or their basement," said Sean Campbell, general manager of Community Futures East Kootenay (CFEK). "It's hard to get away from the kids or separate your home life and your work life."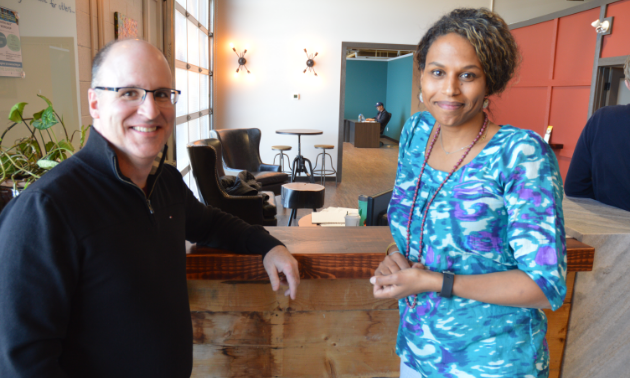 Co-working spaces are designed for startups, freelancers, entrepreneurs, independent professionals and home-based businesses. Aside from having a dedicated location to sit down and get some work done, The Ground Floor is the knowledge hub of the East Kootenay for the eager entrepreneur.
"There's significant investment in a storefront: signing a lease, buying furniture, utilities—all these things—it's hard to know if it's the right step," Campbell said. "We're giving people that stepping stone. It's an opportunity to move the business outside of their home, grow it here and find out if it's right for them."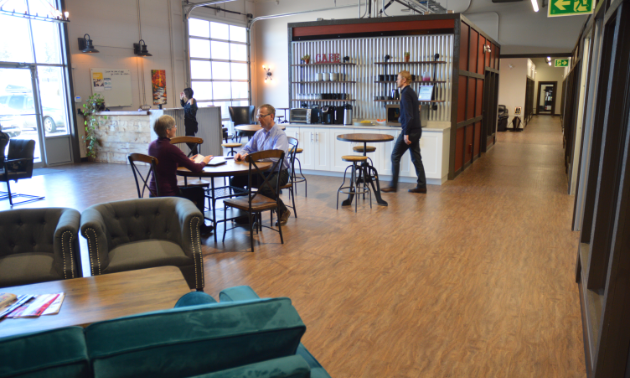 For any business owner that decides they're ready to have a store, resources are available for them at The Ground Floor. Community Futures offers financial expertise, Columbia Basin Trust advisors provide knowledge, and countless other ambitious entrepreneurs that you've been working shoulder-to-shoulder with can offer essential support.
"They don't have that right now—somebody that's going to help them understand all of those issues," said Campbell. "We'll work with them through that transition to locate and find the right space for them in town."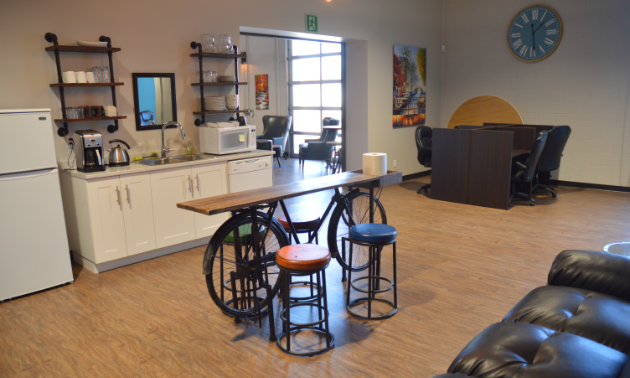 Helping young business owners realize their potential doesn't just aid them, it improves the community as well. "It's not imperative for them to remain as members here in this office," Campbell said. "We want to create that flow and transition into bigger spaces. That creates vibrancy downtown. That encourages existing property owners to renovate their spaces and make those spaces better. That drives property development and business for Realtors. We're doing downtown revitalization, moving people and businesses into the downtown core."
Sharing is caring
The sharing economy—which co-working spaces are a part of—is a thriving industry. "This new generation of startups and entrepreneurs understand that they don't need to have all those overhead expenses—they can share space," said Tanya Malcolm, community and marketing manager for The Ground Floor. "It creates a culture of collaboration instead of competitiveness."
Even lone wolves need to travel in packs every now and then. "You might be an independent professional but you don't have to work alone," Malcolm said. "We're creating space for people who are working in isolation and can now work as part of a community. We are also a startup. We're growing a business here, alongside people who are coming and growing their businesses. We're two feet in right beside you. We're facing all the same fears and challenges that creating a successful business presents. We're new—we understand what that feels like."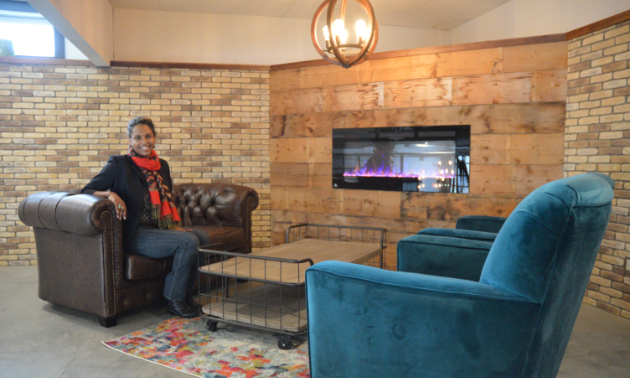 The Ground Floor's design is meant to facilitate any type of work environment. If you need a quiet space where you can be focused and uninterrupted, there are private offices. Nomads—clients that work from anywhere—have access to community spaces on a first-come first-served basis. For those that desire a dedicated desk, hot desks—workstations that aren't claimed by anyone else—are available.
As for the inhabitants that will be occupying these co-working spaces and offices, it's set to be quite an eclectic conglomeration (for a full list of everyone at The Ground Floor, take a look at the sidebar below). "We want to balance this space," Malcolm said. "We have a lot of business development sectors and I'm really hoping to attract a lot more of the creatives: artists, designers, digital entrepreneurs, YouTubers and podcasters. Creatives need the intellectual business skills and business development needs more of the creative side."
What's in a name?
Every business needs a name that stands out and tells the masses what they're all about. "There's no place to go but up from the ground floor," Malcolm said. "Start here, grow your business."
Malcolm's vision for the organization extends beyond the East and West Kootenay. Expect to see the space attract a whole new selection of people that otherwise wouldn't come to the region. "We're about to embark upon a nationwide campaign to attract people to come here for the mountain lifestyle," she said. "People are coming, skiing and enjoying the East Kootenay anyways. Now that there's a professional facility where they can conduct business, they might extend their stay."
For those not looking for a long-term agreement with The Ground Floor, there are offices that are dedicated to being an office-for-a-day (standard private offices as well as meeting rooms that seat six to 10 people). "We're the urban centre for the East Kootenay," said Malcolm. "We're thinking of folks as far as Elkford, Sparwood, Fernie, Kimberley who have to conduct business in Cranbrook. They can come to the space—relatively cheap, too—and have an office for the day by booking a meeting room."
Economic development has traditionally been about projects or programs. Groups get together at chambers, coffee shops, boardrooms, and hotels to have a two- to three-day conference. Everybody walks away with plans, initiatives and ideas but there's no place to come back to. Now there is.
20 years in the incubator
A collaborative workspace has been a vision of CFEK for more than two decades. Former Community Futures Development Corporation (now CFEK) general manager Pat Bowron recently visited the space. "Over 20 years ago, we researched moving in this direction, but it wasn't yet the right time in the community or marketplace," Bowron said. "We thought if we could set up a space where existing businesses, social agencies and entrepreneurs could incubate new ideas, and have opportunities to interact and learn from one another, we could really kickstart social entrepreneurship opportunities in the region. It's incredible to see that early vision realized so many years later." Bowron is now the vice president of international and regional development at the College of the Rockies and is excited to explore collaboration between the college and The Ground Floor.
Infinity Solutions Inc. is a significant investor in The Ground Floor building and has been instrumental in carrying out the renovation. "The Kootenays are a great place to live, work and invest," said Doug Vanhooren, executive director of Infinity Solutions. "Sometimes it takes the right opportunity, enthusiastic champion or just blind luck for a project like this to be a success. In this case, I think we have struck on all three and we hope it will be a catalyst for more projects and investments."
Now that The Ground Floor Co-working Space is complete, Campbell can take a seat on one of the office's comfy chairs and admire the view. "It's more than I imagined it could have been," he said. "The contractors have done an incredible job of making it right, choosing the right materials and decor. To have the offices full—I'm thrilled beyond words. I have a tremendous feeling of satisfaction."
Campbell and Malcolm aren't the only ones excited about The Ground Floor's groundbreaking opening. "People understand the concept and are really excited to be a part of it," Malcolm said. "It's a really good fit. It feels right. The professional sector in Cranbrook has been waiting for this."
If you'd like to sample what The Ground Floor Co-working Space is all about, sign up for a free day on the company's website.
Are you ready to get in on the ground floor?