Accelerating the future of electric vehicles in the Kootenays
The launch of Accelerate Kootenay was the unveiling of a fast-charging station in Cranbrook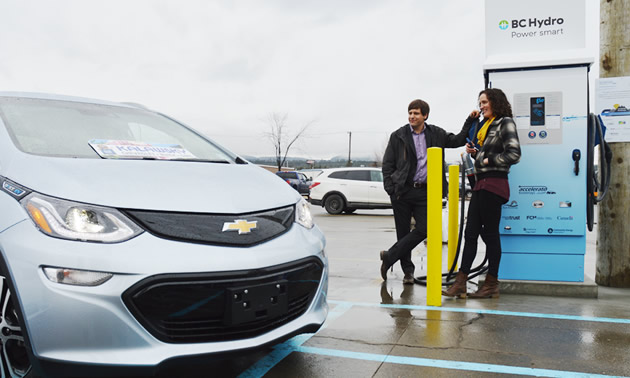 The eclectic Kootenays are leading the way to a more sustainable future, this time with electric vehicle (EV) charging stations.
At a ribbon-cutting ceremony on April 6, dignitaries, funders and organizers celebrated the opening of a DC fast-charging station in the public parking lot just off of Baker Street (at the corner of Cranbrook Street North and 1st Street North). Over 30 people attended the event, led by Megan Lohmann, the Accelerate Kootenays project manager.
The goal of Accelerate Kootenays—a $1.5-million initiative—is to install 13 DC fast chargers and 40 Level 2 chargers along the Highway 3 corridor in the next two years. This electrified 1,870-kilometre route would lessen range anxiety for EV travellers, knowing they have somewhere to recharge their rides.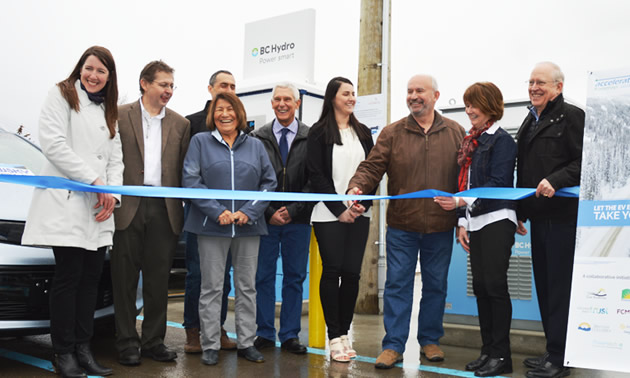 The new Cranbrook EV charging station is the first DC fast charger on this route. (RELATED: A previous story in Green Scene discusses the challenges faced by EVs in the Kootenays because of our geography and rural nature.)
The Kootenay-wide EV network was inspired by the vision of the Highway 3 Mayors' and Chairs' Coalition, said Rob Gay, chair of the board of directors of the Regional District of East Kootenay. The coalition's goal was to enhance tourism opportunities along Highway 3.
This project represents the innovation, tenacity, collaboration and hard work that characterize the Kootenays, said Lohmann. But the feather in the cap (or the kick to the gas can) is that it represents something even bigger: "This is Canada's first community-driven collaborative strategy to build a clean transportation network," she said.
The collaborative project included three regional districts and numerous other partners, including Columbia Basin Trust, BC Hydro, Powertech Labs, ForticBC, the Federation of Canadian Municipalities and the B.C. Government Ministry of Energy and Mines.
A Chevy Bolt from the Kalawsky Chevrolet Buick GMC dealership in Castlegar had the position of honour, being recharged for the cameras at the newest charging station. Local Cranbrook EV cars on hand were a Prius from Alpine Toyota and a Volt from NorthStar GM.