In Fernie, B.C., there's a new model for getting local food from farmers to consumers
The Local Store is a social enterprise pilot of Wildsight Elk Valley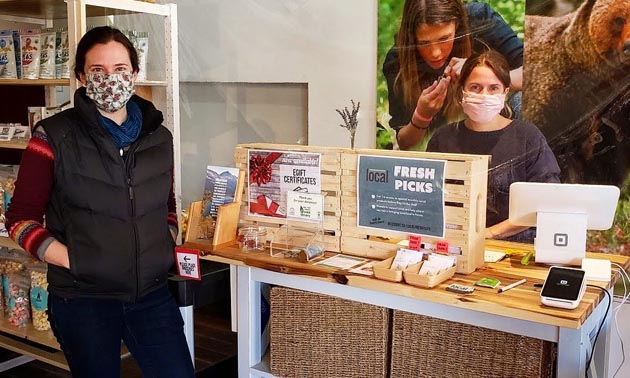 Increasing local food security is at the forefront of the goals of the Wildsight branch in the Elk Valley in Fernie. And these folks have gone full tilt.
The list of their programs and projects supporting local food is truly impressive: the local farmers market called Mountain Market, the Community EcoGarden, seed swaps and a seed library, and the Tool Share, Little Sprouts and apple capture programs.
The phrase they like to use is community-powered local food, and their newest endeavour is truly an impressive social enterprise pilot project—the Local Store.
As the Local store co-ordinator, Jennifer Lennon manages the store in downtown Fernie with support from the Local Volunteer Advisory Committee. Opened in December 2020, the store is making it easier on both growers and consumers of local foods by being a year-round storefront.
"Our very favourite thing people love to tell us is 'I come here first. I come here and I get my veggies, eggs and meats for the week, and if I can't get something here, I go fill in the gaps elsewhere,' " said Lennon. "We love hearing that!"
The store carries a diverse range of products, including fruits and vegetables, frozen meats and meals, jams, honey, herbs, salad fixings, microgreens, flour, pasta, soap, eggs, chocolate and more. Consumers can shop in person or pre-order online and pick up their orders. With more than 600 monthly shoppers, the store is a big hit in the Elk Valley.
A primary goal is to to support producers based in the Elk Valley, but if something is unavailable within that region, the store will source food from more distant locations, including Cranbrook and Creston and throughout the Kootenays.
Local has grown from working with 17 local farmers and food producers to 50. Any profits go back to producers, and the store has paid more than $179,000 to local food businesses over the first year of operation.
Another important component of this social enterprise model is to educate the public to understand local food availability and seasonality because almost all of our commercial food comes from far away.
"Buying local is hyper-seasonal. What we have in the summer one week to the next is completely different," Lennon said. "It's more like shopping at a farmers market: you show up, you see what's good and you plan your meals around that. It's a delicious way to connect with the place where you live."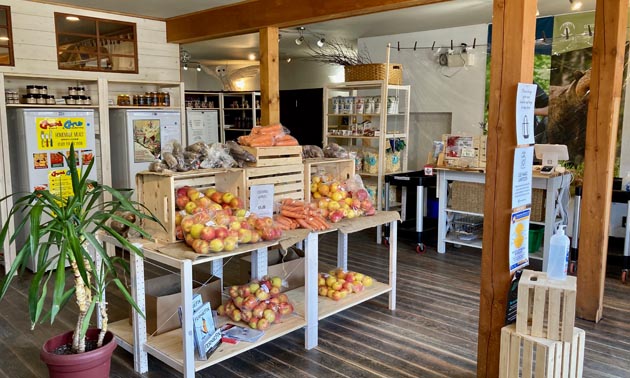 Besides the farmers and the consumers, another circle of people critical to the success of the Local Store is the Fresh Picks Club, a group of community members passionate about supporting local food. Members commit to monthly donations that help guarantee a regular flow of money to the project.
The Local store is indeed a community operation appreciated by the people of the Elk Valley. It won the Fernie Chamber of Commerce's New Business of the Year award in 2021.
"Shop local first," urges Jennifer. "You can get your basics from your neighbours essentially; you're keeping money in the community. It's fresher, it tastes better, and the environmental impacts are lower."
We wanted to know more about this store and its reproducibility. Here's our interview with Lennon.
What are the main benefits to the participating farmers and ranchers?
Local is similar to a farmers market, but the farmer does not have to be present to sell their products. Farmers have told us that they like the flexibility of dropping off products on their own schedule and that we take care of the rest.
When it comes to produce, we are interested in what the farmer is growing, not just what we know will sell quickly. We work with farmers to promote lesser-known produce, educating our customers about what grows well in our region. This helps to promote a knowledgeable local food system in which the whole community benefits.
Local is a low barrier to entry system, allowing small-scale local food producers to bring their products to market. Small producers are often otherwise limited to farmers market or farm gate sales, and we're able to provide a year-round alternative five days a week.
How are prices determined for what farmers get paid? Is it comparable to prices at farmers markets and farmgate sales?
Farmers set their own prices, so it depends entirely on the farmer's circumstances. Our prices are generally similar to a farmers market. As with a farmers market, sometimes our produce costs a bit more than people are used to, but sometimes it's the reverse. When a local produce item is plentiful and in season, it can be even more affordable than at the grocery store. On top of that, the item is likely much fresher—during the growing season it's common for our produce to be harvested and in the store ready for sale within a few hours.
Where did the idea for Local come from? Do you know of similar stores elsewhere?
Wildsight Elk Valley volunteers have been dedicated to improving local food access and food system resilience for nearly two decades, building important community resources such as the Mountain Market, Community EcoGarden, Keeping Food Real Online Cold Climate Gardening Course and the Cold Climate Seed Library. Local was the next step in this mission to improve community-powered local food in Fernie.
After a couple of decades observing food producers at the Fernie Mountain Market (the local farmers market), it was clear there was more we could do to build local food in our community. Small local producers don't have an easy and reliable way to sell their products. The farmers market is great, but it only runs for July and August.
The idea began as a pilot to provide a low-barrier model of food access that supports local farmers and small-scale producers to get their product to market. We thought that if we provided increased year-round access to reliable local food it would make it easier for our community to support our local farmers more than just a couple months of the year.
We were not modelled after an existing store elsewhere but were inspired by the idea of farmers stores as seen in the U.S.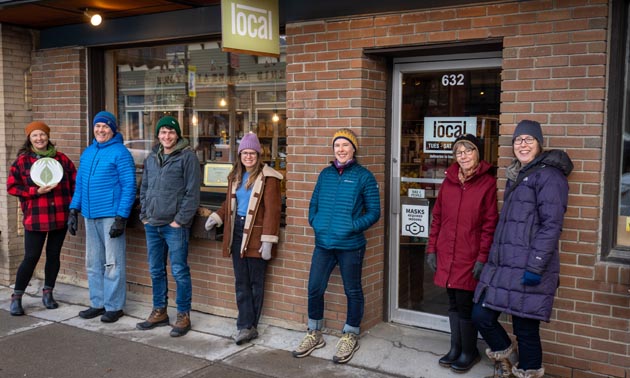 Have people from other locales contacted you because they want to emulate this model?
Yes. However we are still learning and adapting our model as we grow.
What top three things have you learned over the past year that will be used to make improvements to your model?
More co-ordination hours were required per week than initially expected (especially during the pandemic, when volunteering could be unusually challenging), leading to an expansion of the store co-ordinator role.
Inventory fluctuations for our farmers require us to be flexible, and we have learned to be nimble in taking on perishable items at short notice.
We have learned that different producers have different needs, based on seasonality, variety of products, storage and shelf life concerns, producer experience, distance from Fernie, etc. We are working to make sure our model can support each producer appropriately while also remaining equitable to all producers.
The store is getting financial boosts from many sources, such as volunteer retail staff, monthly donors and the Columbia Basin Trust's Impact Investment Fund. Do you think an enterprise like this will ever be financially sustainable on its own?
Local is a social enterprise pilot and only one year old. Our primary long-term goal is to create a model that is financially sustainable, which could then be emulated with other stores elsewhere. However, Local is founded on the idea of "community-powered local food," and community support is and will always be an integral part of the store's success.
We are grateful for the loan from the Columbia Basin Trust's Impact Investment Fund, which supports social enterprises and other businesses with significant positive and measurable community benefits.
Do you plan to produce a how-to guide so others can easily set up a similar store elsewhere?
Throughout the startup process we have been developing training and operational manuals to capture and communicate our processes. If we can develop a model that is successful and replicable, we will look to expand to additional locations.