Filling in the geographic gap for electric car charging stations in the Kootenays
A robust network of charging stations will lower our transportation footprint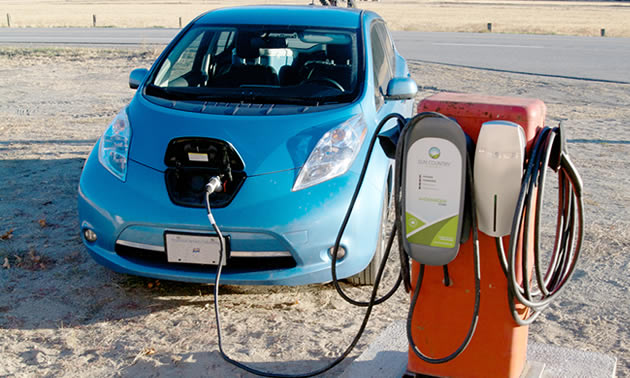 Range anxiety can be avoided in the Kootenays. This is not a condition that our free-ranging cattle succumb to. Nor can this anxiety be found in the standard diagnostic manual of mental disorders published by the American Psychiatric Association.
So what exactly is range anxiety? It's the fear of running out of juice partway through a trip in your electric vehicle (EV).
Working diligently on this problem is Megan Lohmann, head of community energy management at the Community Energy Association. Based in Fernie, Lohmann recently wrote Fueling Change in the Kootenays, in which she lays out a co-ordinated strategic plan to fill in the gap that now exists between the Okanagan and the Alberta border for electric car charging stations.
The Kootenays should make the shift to EVs because we have the untoward distinction of having some of the highest transportation-sector greenhouse gas emissions in British Columbia. About 60 per cent of our total emissions are related to transportation.
Mass transportation is not a viable option with our rural and dispersed population. The most viable solution to lowering our transportation footprint is transitioning to EVs, which use 75 per cent less energy than internal combustion engines.
"We (currently) have a sparse network of Level 2 charging stations," Lohmann said, and the biggest gap is that there are currently no public fast-charging stations (Level 3) in the Kootenays.
Wave of the future
The trend for EVs is pedal to the metal. BC Hydro projects that there will be 300,000 EVs in B.C. by 2030.
Meanwhile, the provincial government continues to support greener vehicles. The Clean Energy Vehicle Program invested an additional $6.89 million in March, most of which was earmarked for point-of-purchase incentives.
In the Kootenays, the demand is already strong. Chad Bullock, sales manager at Kalawsky Chevrolet Buick GMC in Castlegar, said he cannot keep up with consumer requests for its popular EV. "Since the next generation of Chevy Volts came out last July, we just have been doing factory orders because there's such a demand for them."
Finally because of Kalawsky's high sales volumes, two Volts just landed on its lot in October but one is probably already sold.
Nelson Toyota offers four hybrid models—Camry, Highlander, Prius and RAV4—with the last one being the most popular, according to Derek Roulston, manager of sales and financial services. "We sell a lot of RAV4 hybrids," he said.
"Out here, a hybrid makes more sense because of the distances we travel," Roulston said.
But EV technology keeps speeding along. "The new generation of EVs goes 300-plus kilometres on a charge," Lohmann said. "It allows a lot more opportunities in the Kootenays."
Currently, there are about 26 charging stations (levels 1 and 2) in the region, but at many of these stations the charging times are quite long. Given the logistics and costs involved—especially for the desired Level 3 stations—it is not realistic for some of our smaller communities to create this needed infrastructure.
Hence, Lohmann is partnering with local governments, utility companies, car dealerships and electricians to create a successful transition to EVs in the Kootenays, including a marketing and education campaign.
In terms of a strategically placed network of charging stations, Lohmann wants 40 more Level 2 and 12 Level 3 stations in the Kootenays.
Maximizing station placements will benefit both local residents and tourists travelling through the region, keeping in mind that the network here has to be designed for our rural Kootenay context.
"Cold temperatures and steeper terrain contribute to faster battery depletion, so looking at the region as a whole and designing the network with the local challenges in mind will ensure a reliable network," said Lohmann.