These 9 Kootenay business entrepreneurs dared to take on the Dragons' Den
Think being a business owner is hard? Try pitching your idea to a panel of tough-skinned Dragons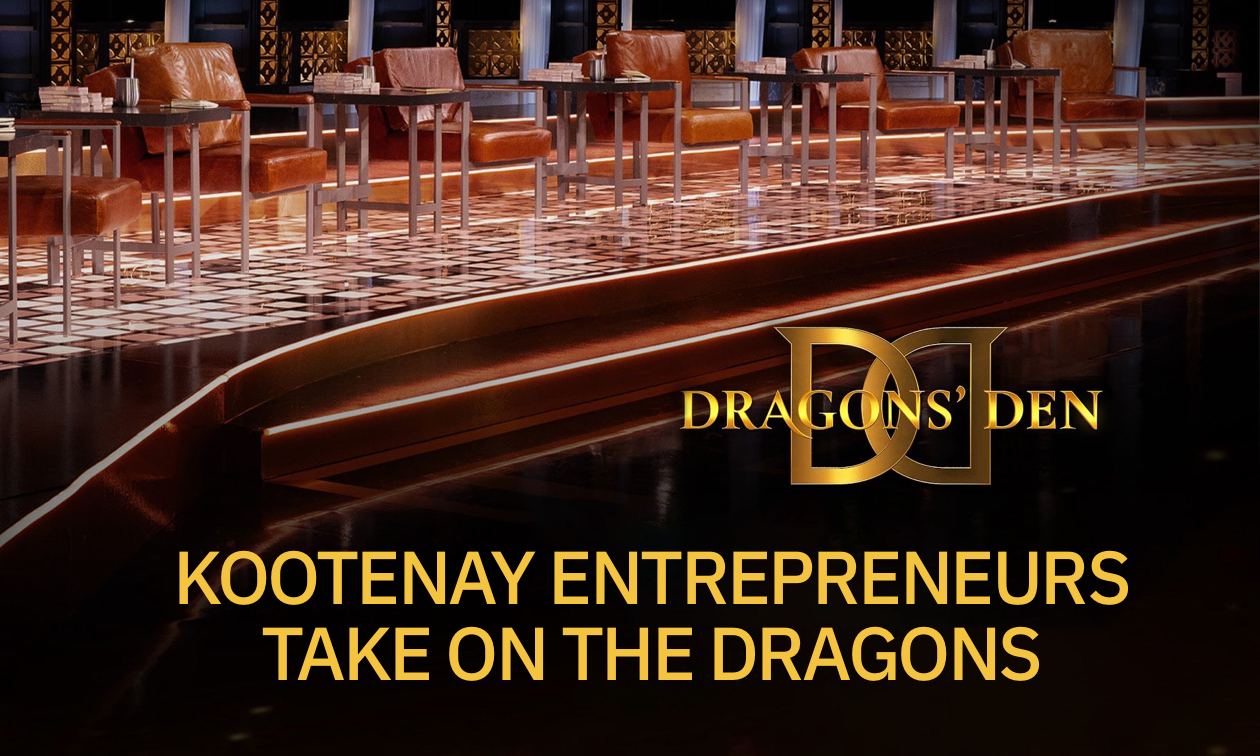 The Dragons' Den is one of the most recognized TV shows on CBC. Consisting of hopeful entrepreneurs pitching their business ideas in hopes of securing a financial investment from a panel of successful Canadian venture capitalists, the show is now in its fifteenth season.
Over the years, there's been a number of brave and intrepid entrepreneurial souls from the Kootenays who have dared to venture into the Den. Some have seen success—some not.
Read on to find out what these nine business entrepreneurs from across the region pitched in the Den and whether or not they walked away with a successful deal:
Season 15: 2020
The Pitch: Jeremiah Woods from Golden, B.C., pitched his 1960s van camping experience
The Ask: $100,000 loan at 10 per cent interest for 10 years and 10 per cent in perpetuity
Entrepreneur Jeremiah Woods of Golden hoped to entice the Dragons with his vintage-inspired Camping in the Woods venture. Woods owns one of the largest air-cooled Volkswagen collections in Western Canada and currently owns 11 VW buses, four of which are refurbished. Appearing on the show in December 2020, Woods pitched his "mobile bed-and-busfest" business, hoping to appeal to the Dragons' sense of nostalgia. Lane Merrifield, impressed with Woods's creative vision of "a spot for weddings and old-school rockstars—a glampground," offered the budding entrepreneur his requested $100,000 with 10 per cent revenue in the company as an investor.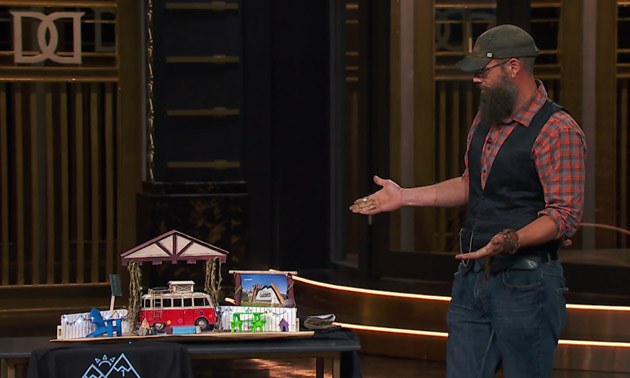 Check out Woods and his successful pitch in the Dragons' Den here.
Season 14: 2019
The Pitch: A Revelstoke trio hoped to sail in for the win with their outdoor shade company
The Ask: $200,000 for 10 per cent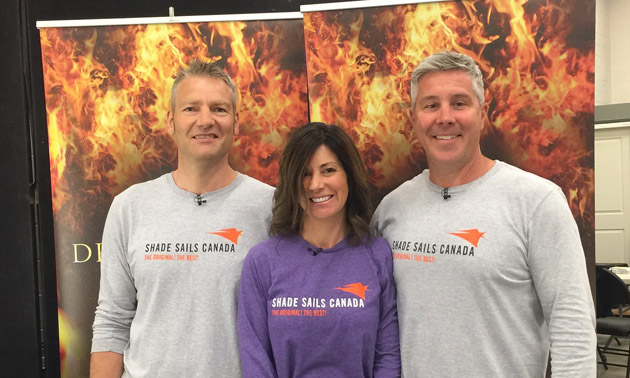 Shade Sails Canada makes colourful, durable and UV-resistant sun shades for residential and commercial customers across Canada. The 20-year-old family-run business sailed out of the Den with a win after impressing Dragon Vincenzo Guzzo. After a little back-and-forth wheeling and dealing, entrepreneurs Brydon Roe, Anne Murphy and Graham Harper walked out of the Den with a $200,000 deal for 17.5 per cent equity in the company. After their win, KootenayBiz chatted with the company about their success.
2021 update: Despite Shade Sails wanting business guidance for their company, investor Guzzo only wanted to be a silent partner. Coupled with his concerns about the global pandemic, the deal fizzled out. Shade Sails has seen continued success thanks to the Columbia Basin Trust program, Basin RevUp, designed to help businesses grow with customized support, training and networking.
Check out how the Shade Sails Canada pitch went down in the Den.
The Pitch: Invermere business partners Justin Atterbury and Steve Kuffler looked to infuse their craft spirit business with a shot of Dragon dollars
The Ask: $125,000 for 7 per cent
Taynton Bay Spirits, owned by business partners Justin Atterbury and Steve Kuffler, came into the Den hoping for world domination. Their line of all-natural craft spirit infusions blew the Dragons away, and it was their signature product—a ready-to-drink, loose-leaf tea infusion—that spurred two Dragons to make offers. In the end, Arlene Dickinson won the pair over with her offer of $185,000 for a 10 per cent stake in the company, more than the two entrepreneurs were asking.
Check out Atterbury and Kuffler's successful Dragons' Den pitch here.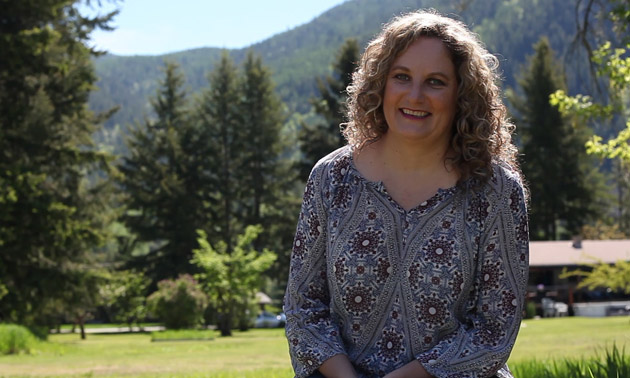 The Pitch: An Castlegar entrepreneur hoped a Dragon would trust their gut and buy into her kefir business
The Ask: $100,000 for 10 per cent
Castlegar resident Leeza Zurwick owns Happy Gut, a business that sells home fermentation kits and bottled beverages made from water kefir culture grains. She stepped into the Den in 2019, hoping to entice the Dragons with the health benefits of her products. In the end, she was offered two deals but declined both, deciding to strike out on her own instead. As of 2021, her company is still doing well and her products can be purchased both online and at retailers in B.C., Alberta, Saskatchewan and Ontario.
Check out Zurwick and her pitch in the Dragons' Den here.
Season 11: 2016 to 2017
The Pitch: Cranbrook resident Brenda Palmer gave the Dragons a taste of her long-standing pita chip business
The Ask: $500,000 for 30 per cent
Brenda Palmer took her pita chips straight to the bank when she scored a deal in the Dragons' Den back in 2017. Owner of Mrs. Palmer's Pantry, the Cranbrook entrepreneur teamed up with Jim Treliving who offered her $500,000 for 51 per cent of the company, essentially giving him control of her business. Since that time, however, Mrs. Palmer's Pantry seems to have disappeared out of the marketplace and what transpired with Palmer's business is a bit of a mystery.
Check out Mrs. Palmer's Pantry pitch in the Dragons' Den.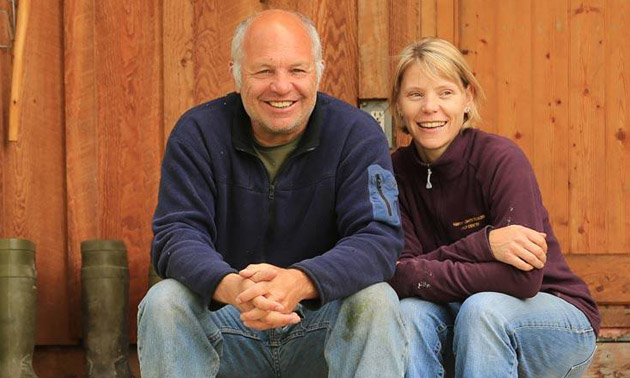 Season 4: 2009 to 2010
The Pitch: Shelley Black from Golden, B.C., hoped the Dragons would go wild for her educational wolf centre
The Ask: $250,000 for 25 per cent
Shelley Black, co-owner of the Northern Lights Wildlife Wolf Centre, was hoping the Dragons would go wild for the educational centre located in Golden, B.C. While all the Dragons were interested in the idea, none of them took the bait. Happily, the wolf conservation and educational centre is still in operation and hosts daily interpretive tours for individuals, schools and tour groups. Their popular "Walk with Wolves" attraction offers the chance to interact and photograph the wolf pack up close.
Watch Black, along with one of the wolves, pitch the idea up close in the Den.
The Pitch: Dan Sammartino and Darren Watt from Kaslo, B.C., hoped to score with their table hockey game
The Ask: $250,000 for 10 per cent
With their revamped table hockey game, Dan Sammartino and Darren Watt, owners of All in One Sports Entertainment Inc., were aiming for a well-timed goal and a Dragons' Den deal. Sadly, that didn't happen—although some members of the Den had a heck of a good time playing the game. Fast forward to 2021 and it appears the company has scored a goose egg.
Check out the All in One Sports Entertainment Inc. pitch in the Den.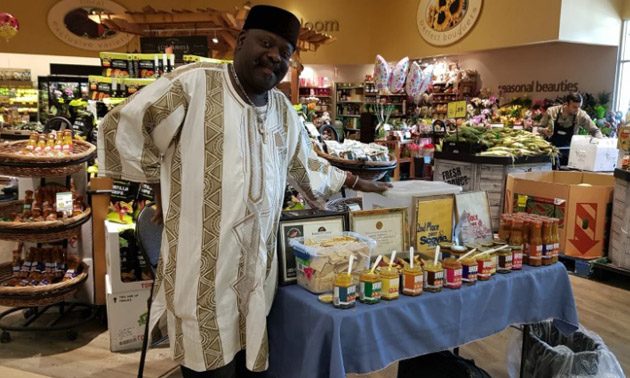 The Pitch: Edmond Segbeaya from Nelson, B.C., spices things up in the Den with his line of hot sauce
The Ask: $400,000 for 25 per cent
Nelson resident Edmond Segbeaya, owner of Ebesse Zozo Hot Sauce, walked into the Den intending to turn up the heat and fire up a Dragon to make a deal. His line of West African–inspired sauces includes some of the hottest ingredients on the planet, but one Dragon wasn't convinced. In a memorable Dragons' Den moment, Robert Hherjavec couldn't handle the heat and is almost brought to his knees when he tastes a hotter product on offer from Segbeaya. In the end, though, none of the Dragons wanted to add fuel to the fire. Interested in Segbeaya's hot sauces? You're in luck. Ebesso Zozo Hot Sauce is still in business and sells its products online and at local retailers across B.C., Alberta and Saskatchewan.
Watch the Ebesso Zozo Hot Sauce pitch in the Dragons' Den.
The Pitch: Susan Yarychuk from New Denver, B.C., pitched her reusable alternative to toilet paper
The Ask: $30,000 for 20 per cent
Consisting of small, cotton fabric squares stored in a decorative dispenser next to your toilet, Susan Yarychuk's P Wipes idea ultimately got flushed by the Dragons. While the Den members understood the impact that traditional toilet paper has on the environment, Yarachuk couldn't convince them of the benefits of P Wipes and she bottomed out in the Den.
Watch the P Wipes pitch in the Dragons' Den here.
Are you a Kootenay entrepreneur? Do you think you have what it takes to venture into the Dragons' Den and come out with a deal? Virtual auditions are now being scheduled—apply now!