Kootenay company sails to victory on Dragons' Den
Shade Sails Canada of Revelstoke received backing from Dragons' Den with their quality shades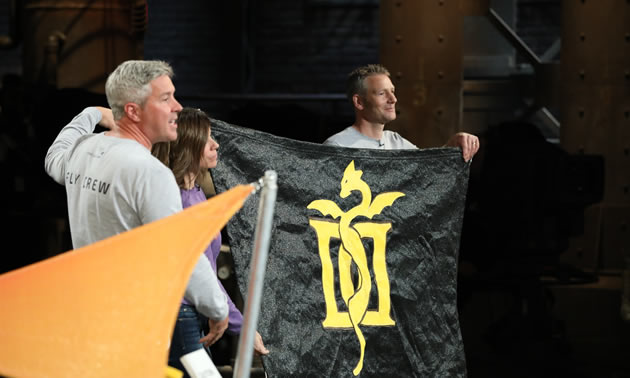 Winning in two vastly different arenas should put wind into the sails of a 20-year-old Revelstoke company.
Shade Sails Canada made a deal with a dragon on October 17. Then on November 2 the locally owned company picked up a Business Excellence Award from the local chamber.
Owned by Brydon Roe and Anne Murphy, Shade Sails produces beautiful and timely products—outdoor shades. The designs are based on ship sails, hence the name of the company.
The shade sails are attractive, colourful, durable and, most importantly, practical. Made of a range of high-quality fabrics, the shades protect us from UV rays. Waterproof shades are also available.
Graham Harper, operations manager for Shade Sails Canada, said the tensioned shade sails are their most popular product. Most of the shades are custom-made to fit the space.
Locations and prices
Homeowners and contractors are the company's primary customers. The shade sails are installed permanently in places such as parks, playgrounds and our backyards. Other sites include child care centres, water and splash parks, restaurants, wineries and senior living centres.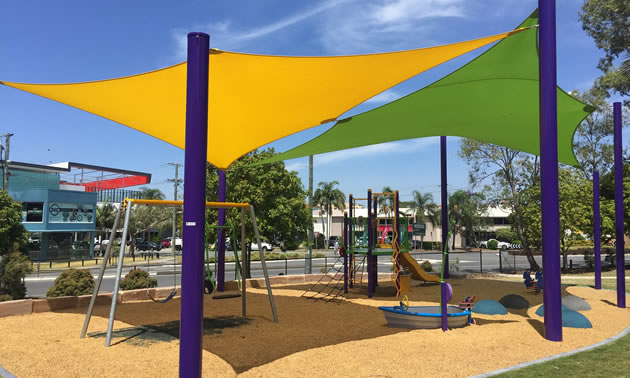 "Typical commercial installations including design, engineering, digging, concrete, steel posts, etc. can be anywhere between $20,000 and $100,000," Harper said. "We have a shade sail flying at the Toronto Zoo in its 19th year, so when we talk price we're talking high quality and longevity."
Residential shades are about $1,000 with a lifespan of 15 years or so. That's just $67 per year for protection from the sun on your deck.
On-trend for being healthy
Awareness and education about the dangers of too much sun exposure are increasing shade sales. These shades have UV ratings as high as 97 per cent, which is the percentage of UV rays that are blocked.
"Undoubtedly climate change and the awareness of the importance of shade are paramount to our growth," Harper said. "The importance of healthy outdoor living and recreation is very on-trend right now, but time and time again we hear 'it's just too hot.' Our shade products not only block UV but also reduce heat."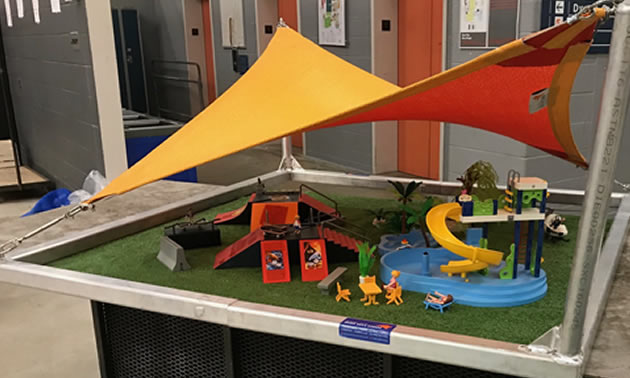 The Dragons' Den experience
The Shade Sails team had only 60 seconds to make a pitch in Toronto in May.
Harper described it as such: "The experience of appearing on Dragons' Den was all positive but also tense in the time between filming back in May and airing in October. Not only were we sworn to secrecy on the 'deal' but also we had no idea of how the 45 minutes of filming would be edited down to our seven-minute slot."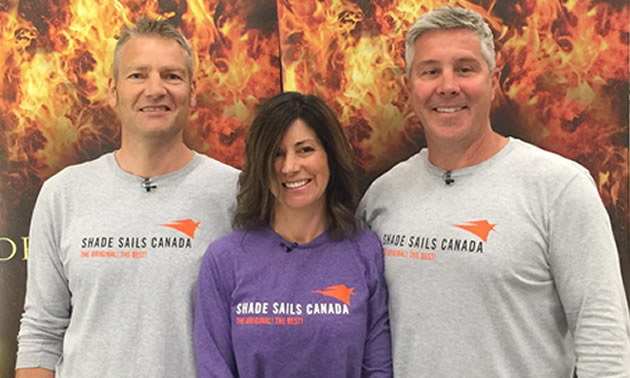 One Dragon invested $200,000 for 17.5 per cent of the company. Several of the Dragons wanted to be customers but not investors.
"Our biggest challenge is expansion as we want to be represented in every city from coast to coast," said Harper. "Our purpose for Dragons' Den was not only for a Dragon's investment but more importantly promotion in our quest for affiliates to represent us around the country."
Back in Revelstoke
Currently, Shade Sails Canada has eight permanent year-round employees but staff increases to about 15 in the summer. All shades are manufactured in Revelstoke.
To reduce waste in the manufacturing process, the entrepreneurial family started a second business, based on the green principle of upcycling. The Green Bag Company sews the cut-off pieces into bunches of bags.
The Revelstoke Chamber of Commerce gave the company the Industrial and Manufacturing Excellence Award on November 2, 2019.