Doing a deal in the Dragon's Den
Appearing on CBC's Dragon's Den is intimidating, but this East Kootenay business owner walked out with a deal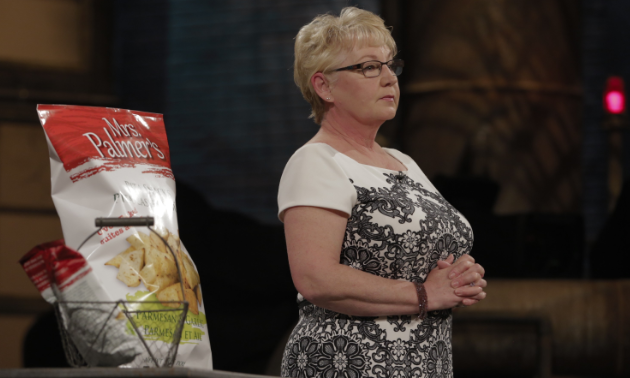 Most entrepreneurs need help to get their business off the ground, enlisting the aid of family, friends and colleagues. But how about making a deal with a dragon? That's what Brenda Palmer of Mrs. Palmer's Pantry did, and her business is growing exponentially.
In the beginning . . .
Palmer's business venture began 20 years ago when she suddenly found herself to be a single mom. She needed to provide for her family, finding her solution in the form of peppered jellies, jams and different jarred products. She created 14 recipes to sell at farmers markets. She began selling crackers with her goods, but they were absorbing much of her income so she decided to invent something new instead. "I started playing with dough and the things kept puffing up so I worked with it," said Palmer. "We put some research into a proper pita recipe, adapted, and Mrs. Palmer's Pita Snacks were born from that."
Risky business
Palmer runs her business out of a warehouse in Cranbrook. Sales, marketing, order fulfillment and shipping are completed on site. As demand for the product grew, Palmer had trouble keeping up. She heard about CBC's Dragon's Den holding auditions and decided to go for it. "You have to be able to step out of your comfort zone," she said. "If you're not willing to risk, you're not willing to succeed."
Along with thousands of other business owners, Palmer completed the audition a year ago. After a waiting period, she found out that she was one of the few selected to be on the show. Last May, Palmer flew to Toronto for filming, hoping to land an investor.
It's grilling time
Palmer spent many hours fine-tuning her pitch for the dragons. Even with all the necessary preparations, it was an intense experience. "The whole set is intimidating," said Palmer, "it's dark and foreboding—which they want it to be." As if the setting isn't uncomfortable enough, pitching a business proposition to five highly qualified potential investors is a challenge too. "It's nothing like it looks on TV," said Palmer. "On TV, it's cut down to an eight-minute segment, but they interviewed me for 45 minutes. They grilled me hard."
After pitching her proposal and fielding questions, the dragons declined to invest in Mrs. Palmer's Pantry one after the other. "It was devastating," said Palmer.
One chance left
When hope seemed to be fading, the final dragon, Jim Treliving, decided to make Palmer an offer. Instead of the $500,000 for 30 per cent of the company that Palmer was hoping to get, he offered $500,000 for 51 per cent, which would give him control of the company. Palmer was hesitant to hand over the majority of her company, but with Treliving standing firm, she accepted the offer.
"It was over-the-moon exciting," Palmer said. "I had worked so hard and been through so many ups and downs. It's so validating to have somebody that you respect say 'what you're doing is good enough that I want to be a part of it.' "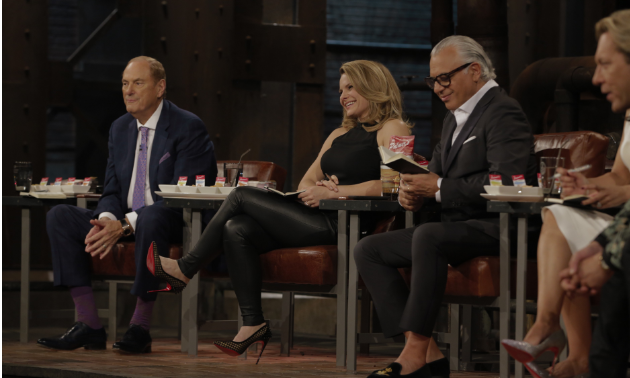 The power of positivity
An organized presentation and optimistic attitude helped propel Palmer to a deal on Dragon's Den. "I'm confident in my product and that goes a long way in giving me strength," she said. "I guess I went out there with too much confidence because it never occurred to me that I would walk out without a deal."
Once the deal was agreed upon, she had to sign legal documentation from CBC immediately, forbidding her from speaking about what happened on the show. "They want you to tell EVERYBODY that you filmed, but not what happened."
Shroud of mystery
Palmer had to be patient, staying tight-lipped about her deal on the show from May 2016 until February 2017 when the deal was broadcast on CBC's website. "I'm from a very big family that's loving and supporting," she said, "so it was hard not to tell everybody."
Mrs. Palmer's Pantry has continued to grow since the deal in the den. Mrs. Palmer's Pita Snacks are now sold in about 900 stores in Western Canada. The supply issues that disrupted operations earlier have been resolved thanks to a packing plant in Toronto. "We could only produce 18 pallets here in Cranbrook," Palmer said. "My producer in Toronto can make a 30-pallet truckload in 10 hours. We have unlimited production capacity now."
What happens next?
With those problems resolved and her company on the rise, the agreement with Treliving may be in question. "The steps you go through afterwards take a long time," said Palmer. "Even though we were offered a deal on the show, we're still in due diligence, we're still talking. A lot has happened since filming the show: I've got a verbal agreement with Walmart, we're listed with Whole Foods and Sobey's Safeway—and Costco is looking at us. The business has changed. At this moment, we're exploring other potential investors as well. There's a lot of things still in flux."
The direction of Mrs. Palmer's Pantry may be in question, but the upward trajectory of the business looks to continue through 2017 and beyond.
Watch the video for yourself and see how the deal went down.
To order some pita snacks, visit Mrs. Palmer's Pantry online.