With the Dragons slayed, Invermere's Taynton Bay Spirits strives for world domination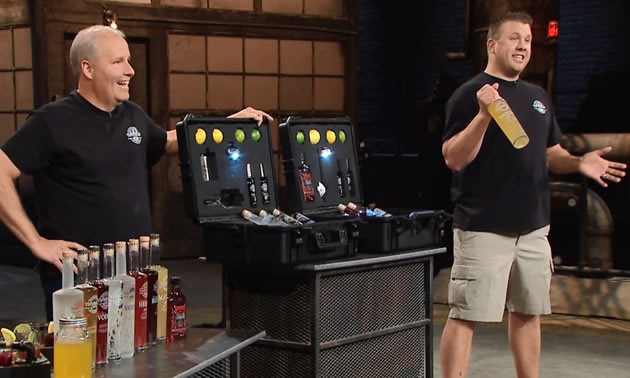 A small craft distillery in Invermere is striving for total world domination, and with a Dragons' Den deal under its belt, that aspiration may be one step closer.
Taynton Bay Spirits, owned by Justin Atterbury and Steve Kuffler, came to the Den seeking an investment of $125,000 for seven per cent of their company. The business specializes in premium spirits with no artificial colours, flavours or sweeteners. Their signature product is Ginger Matcha, a ready-to-drink, 14% vodka, loose-leaf tea infusion, made with pure ginger and lemon and sweetened with a bit of honey.
"This guy is a monster," said Atterbury as he handed out samples of the product to the Dragons, "and is the number one selling item at every single trade show we go to and not just of our products, but of every single product at those trade shows. We're looking for a strategic partner to help us market our Ginger Matcha and the rest of our amazing lineup for total world domination."
The panel of six big-name and big-wallet investors unanimously agreed and congratulated the team on a great product. Dragon Manjit Minhas, co-founder and co-owner of the ninth largest brewery in the world, commented, "Tastes like a margarita—I like this." She went on to offer $125,000 for 12 per cent of the company.
After some consideration, venture capitalist Arlene Dickinson made a higher offer than her fellow Dragon and higher than Taynton Bay Spirits was seeking.
"I'm a marketer at the end of the day, and I have a fund that helps people take their consumer goods to market. It's what I do. So I'll give you $185,000 for 10 per cent," she said.
"I didn't see that coming," said Atterbury afterwards.
In the end, the duo accepted Dickinson's offer on behalf of their team of five partners. While their segment ended in hugs and laughter, their deal wasn't finalized until last week after a forensic audit. Dickinson tossed in an extra $40,000 for entrepreneurship training and a marketing campaign, bringing her contribution up to $225,000 for 10 per cent ownership.
Step one: slaying the Dragons. Done. Step two: total world domination. With planned expansion throughout British Columbia, Alberta, Saskatchewan and Ontario, world domination is well underway for this successful small town distillery.