13 distinctions via digital at Cranbrook Chamber's Business Excellence Awards
The 2020 version of the annual Business Excellence Awards featured 13 deserving winners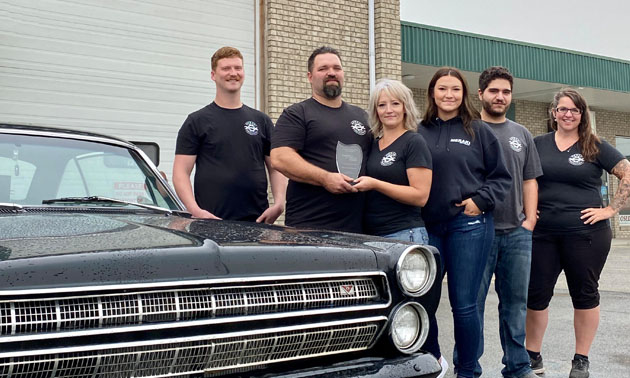 Most of us can agree that 2020 has been a heck of a year so far, so it's no surprise that the Cranbrook Chamber of Commerce's annual Business Excellence Awards was a little different this year too. There may not have been a fancy gala and awards banquet, but that doesn't mean we can't celebrate this year's deserving winners in style—digitally!
This year, 91 different local businesses, groups and organizations were nominated with winners in 13 categories. Winners were announced on the Cranbrook Chamber of Commerce's website and social media channels from September 9 to 11. In lieu of an actual red carpet, this year's award recipients were honoured with a red-carpet portrait session hosted by Morgan Turner Photography.
Congratulations to the following very deserving award winners:
A familiar face in Cranbrook, Frank Sandor and his wife established their successful business, Sandor Rental Equipment Ltd., back in 1970. The motto of the business has always been simple: to operate a company which would go all the way to completely meet the needs of our fellow citizens.
Meeting the needs of fellow citizens is something that Sandor takes seriously—he was named Cranbrook Citizen of the Year in 2006 and is well-known in the community for his generous and giving nature.
As winners of the New Business of the Year award, Meraki Mechanical is clearly passionate about what they do. In fact, it's at the heart of their business—the definition of "meraki" is to do something with soul, creativity or love.
Far more than just an automotive repair shop, the business is founded on family values and exceptional customer service. By hosting informative vehicle maintenance and car care workshops, they strive to empower and educate their customers. A strong belief in car repairs done right is at the core of their business.
Business of the Year, 1 – 15 Employees: The Paw Shop
From its humble beginnings in 2008 as a kiosk booth in Tamarack Mall to its current location on 10th Avenue in downtown Cranbrook, the Paw Shop has come a long way.
Specializing in healthy cat and dog food supplies, treat alternatives, eco-friendly toys and pet supplies, the Paw Shop is also a dedicated supporter of local fundraisers and charities. The Paw Shop organizes the Weiner Dog Races, which are a beloved part of Cranbrook's annual Sam Steele celebrations, and holiday pet pictures with Santa are always popular.
Owner Stephanie McGregor was also honoured by KootenayBiz as an Influential Woman in Business in 2018.
Top-notch customer service and a commitment to professionalism and quality work have netted Carstar Cranbrook Signal Collision the Business of the Year award.
An ICBC-Accredited Collision Repair Center, the company is also an avid supporter of the Industry Training Authority's apprenticeship programs and has mentored many young professionals. In addition to collision repair and auto body services, Carstar Cranbrook Signal Collision offers high-quality detailing packages.
No stranger to receiving kudos, the company also won the Business Services Excellence award from the Chamber of Commerce back in 2015. At that time, owner D'Arcy Giberson sat down with KootenayBiz to tell us the secret to his success.
Non-Profit Organization of the Year: ANKORS
Winners of the Non-Profit of the Year award, ANKORS (AIDS Network Kootenay Outreach and Support Society) provides support and advocacy, harm reduction services, drug prevention and education to those living with and at the greatest risk of acquiring HIV/AIDS or those who have difficulty obtaining services elsewhere.
ANKOR also runs Trans Connect, a transgender, intersex and gender diverse support program that provides workshops, peer support and education to the local community.
Inclusive Employer of the Year: Hot Shots
Whether it's to grab a quick bite to eat or to sit back on the patio and enjoy tasty Thai food creations, homemade sandwiches and great breakfast items, Hot Shots Cafe never fails to disappoint.
A popular hangout spot, the cafe is staffed by friendly, high-energy people who want nothing more than to offer up the best service with a smile.
Young Entrepreneur of the Year: Sjaane Beattie - Kootenay Life Cycle
It's a simple philosophy behind Kootenay Life Cycle: Spin, Sweat, Beats. And it's a success story for the company, founded by partners Sjaane Beattie and Jack Caldwell in 2016.
Stationery spin bikes, dim lighting and choreographed high-energy music combined with equally high-energy instructors produces an intense workout that's perfect for all fitness levels.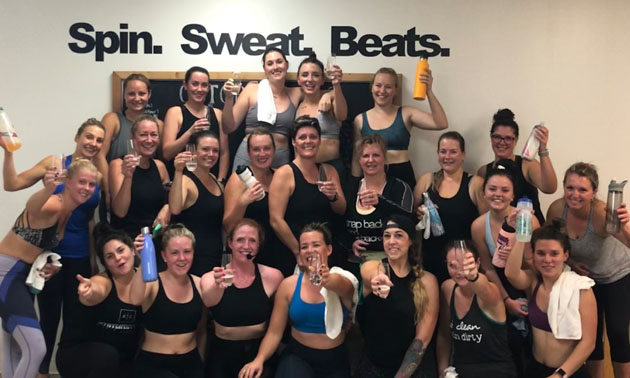 The Kootenay Life Cycle team is also the motivation behind two major fundraising events: the successful Spin-A-Thon, which raises money for the East Kootenay Foundation for Health (EKFH), and Spin for Mental Health, a fundraiser for the Canadian Mental Health Association.
Age-Friendly Business of the Year: Save-On Foods
The Age-Friendly Business of the Year award is presented to a business that best serves older adults. Save-On Foods continually goes the extra mile for its customers.
With the ongoing COVID-19 pandemic, the company enabled a special shopping hour to enable its older customers and those with disabilities to shop when it is less busy. Online and phone-in shopping is an option, and delivery can be arranged if you cannot pick up your groceries.
The company goes above and beyond to help local charities, such as the 50+ Adult Angel Tree Christmas project and donations of food and gift cards to others. Read about how several regional Save-On Foods stores banded together to raise money for a worthy cause—Angel Flight East Kootenay.
Although it's sadly been cancelled for this year due to COVID-19, the Kootenay Rockies Gran Fondo is described as "a crown jewel on the Canadian Gran Fondo circuit ... without a doubt, it is bucket-list worthy." That's high accolades for this very deserving bicycling event.
Organized by the Cranbrook Sunrise Rotary Club, all monies raised during this world-class, family-friendly fondo go to support the many local projects of the local Rotary Club and partner volunteer groups.
The region's leading IT service provider, Kootenay Computer was founded in 2015 by Sebastiaan (Seb) van der Horst. Focused on providing proactive solutions and preventing issues before they happen, the Kootenay Computer team offers business owners, home office workers and individuals a variety of services, including automated computer monitoring and remote access labour.
The company is also involved with the Cranbrook Computer Donation program, which provides refurbished computers to families and individuals in need.
Making a positive difference in the lives of their clients is the ultimate goal of The Hearing Loss Clinic. By providing exceptional customer service and taking the time to educate clients, the Hearing Loss Clinic has won the dedication and loyalty of its many customers.
Along with bagging this year's Professional Services Excellence award, the company has also been a multi-year winner with KootenayBiz's Best of Business awards.
"Have you done your Sweet Gesture today?" asks the Sweet Gestures Chocolate Shoppe on their website. If you've ever been to their store, you're in for a treat! Housed in a delightful cottage-style heritage house, the store is filled to the brim with a selection of delectable hand-dipped Belgian chocolates, truffles, gourmet ice cream and yogurt, cakes, giftware and more.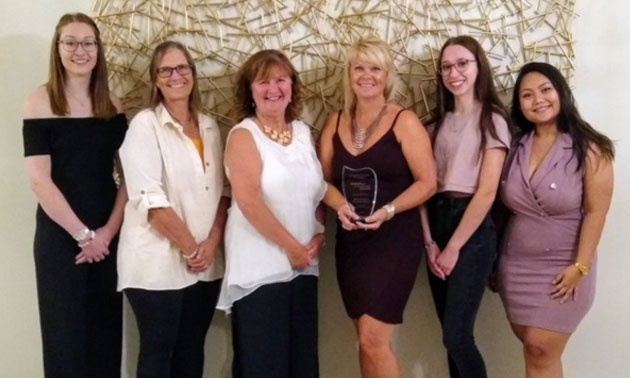 The ladies at Sweet Gestures are always up for a friendly afternoon chat and tea. They are also known for their amazing wedding cakes and treats for special occasions.
Encouraging pests to buzz off is what Cranbrook Pest Control does best. In business since 2001, owner Cornelius Murphy and team are efficient, knowledgeable and try to utilize sustainable and humane methods of pest control whenever possible.