Stephanie McGregor has pawed her way to the top
The Paw Shop's Stephanie McGregor is a 2018 Influential Woman In Business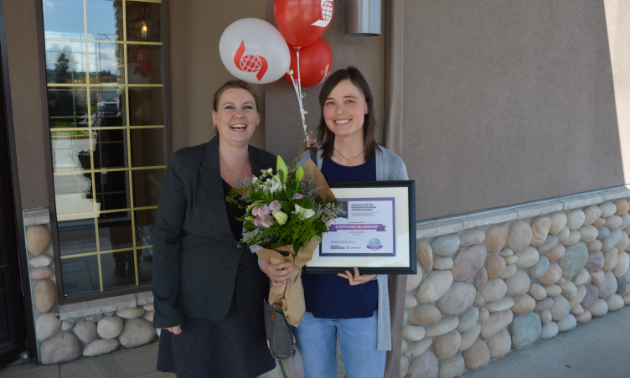 Stephanie McGregor, owner of The Paw Shop in Cranbrook, has been recognized by Kootenay Business magazine as an Influential Woman In Business (IWIB) award winner at the IWIB luncheon at the Prestige Rocky Mountain Resort in Cranbrook on May 2, 2018.
For over a decade, McGregor has been providing healthy pet foods to East Kootenay pet owners in a personalized shopping setting. When McGregor started out on her entrepreneurial journey, she faced her share of self-doubt.
"I never really knew my business was going to make it," she said. "I worked hard and always made my customers a priority. I relied on my staff and our community to give me the confidence to keep going. The business grew over the years and eventually it became sustainable."
Finding the right support network has been an integral part of McGregor reaching award-winning status. "At times, the journey can feel overwhelming and a bit lonely," she said. "There is so much support out there. All you have to do is reach out."
McGregor recommends utilizing the Women's Enterprise Centre as a resource and assures entrepreneurs that it's OK to ask for help. "I often reach out to fellow business owners if I am needing some help and also check in with them to see how they are holding up," said McGregor. "Cranbrook's business community is tight-knit and supportive."
Another reason McGregor has made it to this point in her career is by being organized and focused on her overall objectives by having a business marketing plan in place. That proactive mindset has led to an upcoming point-of-sale system, enabling The Paw Shop to fulfill home delivery services. Once implemented, customers will be able to order online and have their pet food delivered to their home the next day.
Another reason to root for McGregor and celebrate her accomplishments is her extensive volunteer work. McGregor puts on several fundraising events throughout the year including pet pictures with Santa, Halloween photos and the Sam Steele Days wiener dog races. McGregor also works alongside Stephanie Moore Photography each year to put together the "Men with Cats" fundraiser calendar—a calendar made up of a collection of local men and SPCA kittens.
Congratulations to Stephanie McGregor for winning an Influential Woman In Business award.