Signal Collision wins excellence award
Kootenay Business magazine sits down with the owner, D'Arcy Giberson, to find out why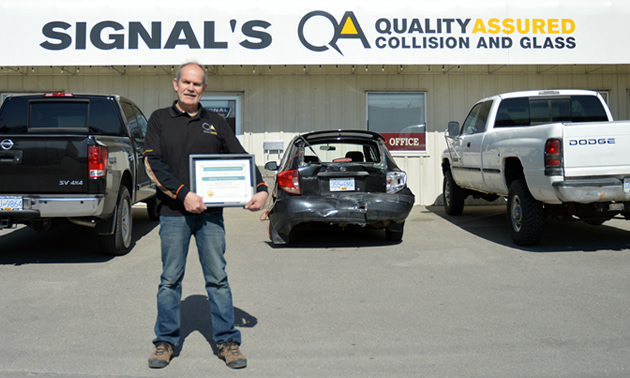 D'Arcy Giberson has been involved in the automotive industry his entire life, but he's still humbled and a little shocked that his company, Signal Collision, won the 2015 Business Services Excellence Award (sponsored by Koocanusa Publications Inc.).
Giberson, a longtime Kootenay resident, purchased Signal Collision from the previous owners in 2010. Since then, he has built up a solid reputation of quality and service, as well as a strong customer base that includes most of the car and truck dealerships in town.
The secret to his success? Giberson explains:
Why do you think you won the Business Services Excellence Award?
I've always maintained a commitment to anybody with their name on their vehicle, (such as) any businesses in town or any of the car dealerships. It's important for everybody to get their vehicle fixed in a timely fashion but if you are driving around a truck with a company name on it, you have to be presentable. So I've always made that commitment to get them in that much quicker.
Do you think there are any personal traits of yours that have contributed to the success of the business?
Yeah, absolutely there are. General Motors drove it into my head for years—service, service, service, look after the customer—and I just carry that with me and I make sure everybody here understands what I expect and the way I expect the customers to be looked after.
What inspires you on a day-to-day basis?
Honestly, making people happy. Nothing makes me happier than for a person to walk back in. Like they come in, do their paperwork, pay their deductible, they go outside to leave and then they turn around and come back in just to say, "What an incredible job." Usually, what impacts people the most is the detailing, the cleanup job, the interior, the whole nine yards—that is usually what wows people the most. I think we go above and beyond.
What are some challenges you've experienced?
Probably dealing with the different insurance companies. And living in the Kootenays. As beautiful as it is here, we have a few minor setbacks and that would be geographical, like getting parts and such.
What achievements are you most proud of?
I kind of planted a seed with (my buddy Clint down at Minute Muffler) that someday I'd like to be able to say, buy a minivan, fix it up and give it to somebody in need. I asked him if he would be in on that and I think it was a year later that he called me up and said I have this opportunity to get a van for the Boys and Girls Club. It wasn't even out of his mouth and I said, "I'm in." It wasn't until way later that I said, "How much is this going to cost?" But it didn't matter. We went ahead and together we bought the Boys and Girls Club a van. I can't wait to do something like that again.
Away from work, what do you like to do for fun?
In the past, I always would have said stock car racing. I was actually so involved in it that I ran the local facility here. We had a racetrack here in town and I kind of kept it afloat for a number of years. I kind of gave up racing in lieu of some lakefront property down in Montana.
Boating?
Boating as well. We have a pontoon boat and enjoy getting out on the water, putting around.
Is there anything you'd like to add?
I would like to reiterate that it's not really my award to receive. There are a lot of really good people here—Brian and Nichole who are right at the forefront with the customers. It was their award to win, definitely not mine.