The water store with a whole lot more
Kootenay Valley Water & Spas is a Castlegar favourite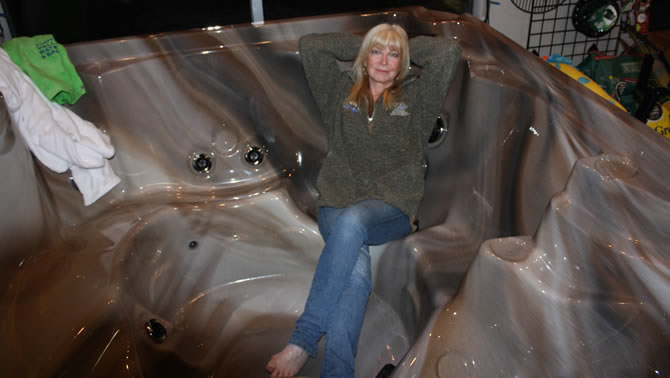 Comfort, fun and health—that captures the benefits from the wide range of products at Kootenay Valley Water & Spas. This Castlegar store sells bottled water products, hot tubs, pool accessories, barbecues and much more.
As small business owners, Margeaux Bauman and Brent Bauman know the importance of buying locally.
"Small businesses are what sustain and support our community," said Margeaux, "Small businesses support your children."
Kootenay Business asked Margeaux a few questions.
What is your favourite product in the store and why?
It is difficult to pick one favourite product in our store. I personally have—and try to use—every product we sell in the store.
I love the taste of our bottled water—the water with no taste. We have clean and refreshing water, the way water is supposed to be. A healthy intake of pure water each day assists in the proper functioning of your inner organs and also benefits the body's largest organ, the skin, keeping it smooth and supple.
I also love my Arctic Spa hot tub; it is my weekend retreat and my go-to after a stressful day.
What's new in your store and how is it selling?
Our new items and great sellers this season are water bottle cradles, spa therapy crystals, acrylic glassware and melamine dishes, 100 per cent Turkish bathrobes as well as our Aquafinesse hot tub care program.
What aspect of running your business has surprised you the most?
One aspect is how much I care about our customers. Some of our customers have been with us since 1994 when we first started this business. They are like family.
The other aspect of running our business that has surprised me was how many people will shop outside of our community. These consumers do their shopping either out-of-province or online without looking first in our region for something similar in value and product. I understand that this is their decision. However, if consumers continue to support out-of-region and online merchandising, this will not support our community and our children.
What is the best book, blog or newspaper you've read in the past six months?
The best books I have read in the past six months are the ones written by (the late) Dr. Wayne Dyer and Louise Hay. I try to read anything that these two accomplished teachers have written. I will always and do support and read my friends' blogs and our community newspapers.
What is your No. 1 passion outside of work?
Besides my family and my four daughters, my No. 1 passion outside of work is health: I study it, I live it, I appreciate it.