Gwinner's is a winner (butcher shop)
This master butcher in Meadowbrook, B.C., offers slow food at its best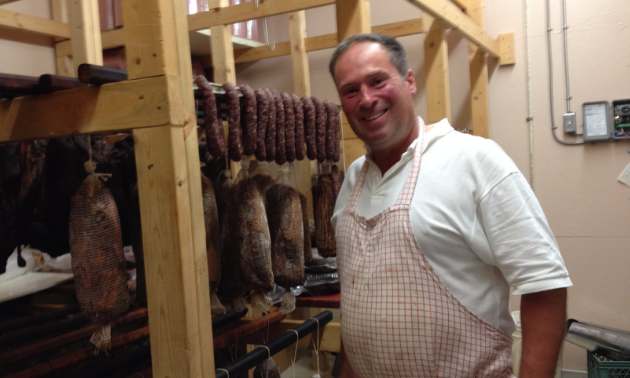 Master butcher Uwe Gwinner stands in one of his aging rooms with a gigantic grin and sparkling eyes, and with his thick German accent says, "It's sea salt, time and air."
He is explaining how simple his process and ingredients are to make his air-dried Parma-style prosciutto. And sampling some later, I appreciated his talents.
Authentic European-style meats made the old-fashioned way is the essence of Gwinner's Country Butcher shop in Meadowbrook, B.C. And that explains why the shop was a winner in the 2016 Best Places To Eat and Drink awards from Kootenay Business magazine.
He and his wife visited Canada on holidays in 2004 and fell in love with the country. They immigrated in 2009 and started the butcher shop in 2011, which is just outside of Kimberley. And that location is a significant part of the shop's success.
Gwinner explained that his shop is at the same elevation as the Alps with a similar climate of cool nights and warm days and with clean, fresh air. His processing room has vents for outdoor air exchange and temperature control. This allows the prosciutto and other meats to dry and ferment naturally just as they would have done thousands of years ago.
Moreover, these natural meats contain no fillers, preservatives or chemicals, and Gwinner roasts and grinds his own spices.
Most of the meat is from local suppliers, but Gwinner even has his own herd of Texas longhorns.
The diverse product line is shipped to Granville Island, Vancouver, but you can purchase these meats directly from the shop (call first to be sure he is open; 250-427-5049) or locally from stores in Kimberley (Centex Market), Marysville (Petro-Canada), Cranbrook (Gold Creek Market), Fort Steele (Esso), Fairmont Hot Springs (From Scratch), Spillimacheen (Beeland) and Golden (Eat Pure Mountain Market).
For your next barbecue, I personally recommend the cheese smokies with German emmental.