Every person has a role in this Grand Forks kitchen
The staff is a well-(olive)-oiled machine at The Wooden Spoon Bistro & Bake Shop in Grand Forks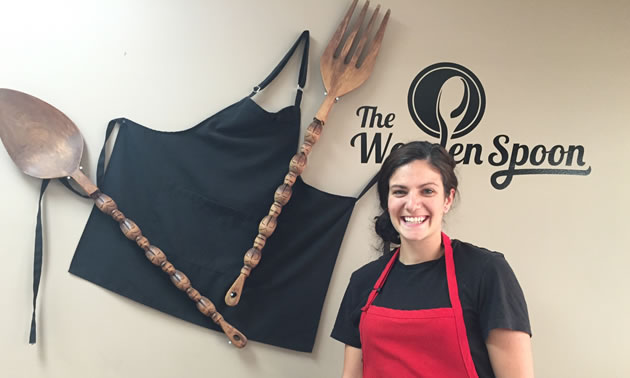 Kayla Sebastian, owner and chef of The Wooden Spoon Bistro & Bake Shop, credits her staff for her successes at this popular restaurant in Grand Forks.
"My bistro has become a very well-run establishment in the 20-odd months we've been open," said Sebastian, "and the team that I currently have, have made my job worth working 14 hours a day. Staff, in every job, is a hard task, but when you can find a group that loves their job as much as you—and will go above and beyond every single day—it's something worth mentioning."
We're sure that Sebastian's own talents have been a big factor in the bistro's success as well. She works continuously to keep the menu a step ahead of everyone else with fun, flavourful dishes that keep people coming back.
Sebastian answered a few questions for us.
What was your first job and what did you learn from it?
The first job I really had out of culinary school was in Australia at the Hyatt Hotel. Cooking is such a crazy, hectic job. You work when everyone else is eating; you work when everyone is on holidays; and you never seem to have any concept of time. I learnt that each and every person has a real role in the kitchen, and when everyone works together, it's really something. I've come a long way from my first kitchen jobs in Kelowna, overseas and now back in Grand Forks, and one thing that stays the same is the passion to work with amazing food and people.
What's a favourite on your menu?
The mushroom quinoa burger on a buttery brioche bun with tons of love to go along with it! Called The Burg, it has never left the menu since Day 1 because it's a super star!
What aspect of running your business has surprised you the most?
The learning curve. I bought my business and opened the front doors within five weeks. I had no menu, no name and no staff but what I did have were a million awesome ideas! At the end of the day what surprises me the most is that I can be successful at something I just love to do anyways.
What is the best book you've read in the past six months?
I am always buying new cookbooks to read. You can learn so much from cookbooks without making any food.