The Slocan Trifecta
The Village of Slocan, South Slocan and Slocan Park should not be missed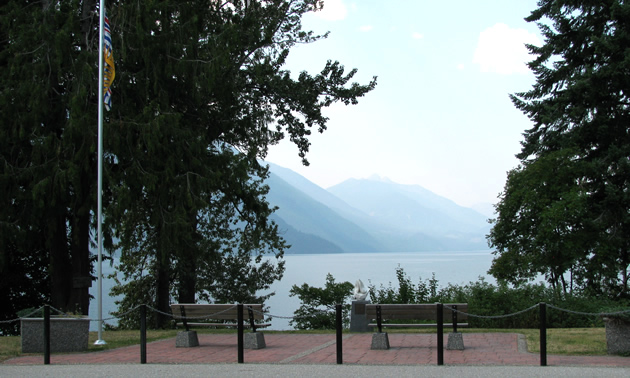 The Slocan Valley is made up of three municipalities encompassing 18 unincorporated communities—the most central of these being the Village of Slocan, South Slocan and Slocan Park. These communities rely on visitors and local businesses to thrive and grow, which isn't a surprise as they are located next to Slocan Lake, the Slocan Valley Rail Trail and the breathtaking Valhalla Provincial Park. Each area has something unique and special to enjoy.
The Village of Slocan
The Village of Slocan has a population of approximately 272. Major attractions include Slocan Lake Beach and Gazebo, with a dog-friendly beach and swimming area; Springer Creek RV Park and Campground; the Slocan Valley Rail Trail, a 50-kilometre trail that follows the shoreline of Slocan Lake; and Valhalla Provincial Park. The area's availability of rock climbing and hiking spots are also popular.
The Slocan Owl Walk is a great way to have a close encounter with and learn about the area's elusive (and endangered) Western screech owl. Valley View Golf Club is a great way for golf enthusiasts to spend an afternoon (or weekend).
The village hosts its Saturday Farmers and Artisans Market from June until September, and its Unity Music Festival in late July.
South Slocan
South Slocan was once known as Slocan Junction and before that, Wards Ferry, Wards Crossing and Wards Bay. The community is home to Frog Peak Cafe, Kootenay Smokehouse and The Dam Restaurant & Bar. For those passing through that need even more nourishment, stop by The Biggest Little Fruit Stand on White Road.
South Slocan was never actually an incorporated village. Its boundaries have grown unofficially over the years to include sections of what was formerly the Crescent Valley or Shoreacres.
Slocan Park
Slocan Park's deactivated rail beds form a connected trail system that runs through the majority of the Slocan Valley. Locals and visitors often seize the opportunity to take the trails along the river for dog walks, mountain biking, cross-country skiing and horseback riding. The unincorporated village's amenities include the Slocan Valley Co-op Gas & Groceries, a gas and animal-feed store co-operative originally formed by a Doukhobor collective, a coffee bar/curio store, a convenience/video store and a few splendid bed and breakfasts.
For more information about the Slocan Valley, visit its website.