Whatever floats your boat
Every sailor knows how to ride out the storms and enjoy smooth waters—which is how Jones Boys Boats has survived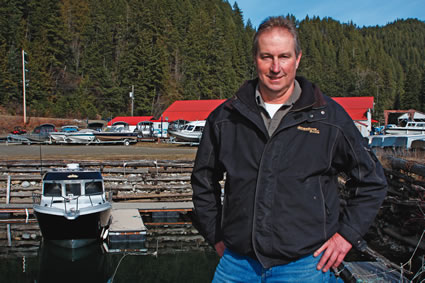 It's no secret that small businesses are a major force in B.C.'s economy. Small business provides nearly 56 per cent of all private-sector jobs in the province and ac- counts for 34 per cent of B.C.'s GDP—the highest in the country. But by no means does that make it easy for small business owners to remain viable in an ever-changing market and economy. Many companies had to slow down or shut their doors permanently in this latest recession.
Yet, others survived—even thrived—and have done so for decades, weathering economic storms, changes in fashion and technology and evolving demographics. What's their secret?
According to Lex Jones, it all comes down to being a survivor.
Lex is the second-generation owner of Jones Boys Boats, a boat and ATV dealer and service centre in Ainsworth. The operation began with Lex's parents, Fred and Ethel, in 1950 in Kaslo.
"They purchased an existing marina in Kaslo Bay that consisted of a small lodge, three cabins and a small marina and built that up to a 15-unit small motel and 100-boat marina," said Lex.
After that, Fred and Ethel concentrated more on renting boats, which eventually evolved into a boat sales and service centre.
The succeeding generation
Fred and Ethel's sons—Terry, Rick and Lex—are the eponymous Jones boys. As children, they all spent time at the marina, learning the ropes from their parents. The boys literally grew with the business.
When Lex and his brothers took over the business from their parents in 1974, they decided to focus more on becoming a major boat dealer. The company became known throughout Western Canada, a significant accomplishment before the advent of the Internet.
"We were Western Canada's largest Starcraft boat dealer," said Lex. "Dad brought the first Starcraft boat into Canada, as far as I know, and they became very popular."
Between their choice to highlight a reputable brand and their location on Kootenay Lake—a favourite destination for sport fishermen and boating enthusiasts—the business continued to grow.
"People came from all over to fish the lake and most of them ended up at our marina," said Lex. "A lot of them stayed around and bought boats and a lot of them are still our customers today."
Riding the waves
In 60 years of business, there have been several economic downturns that the family pushed through. Each had an impact on the business, helping to shape and refine it. The recession in the early '80s—and the increasing interest rates—spurred the brothers to look closely at the operation to see if there were changes that could be made.
In 1986, Jones Boys Boats hauled anchor and moved to its present location near Ainsworth, a move that Lex thinks was one of the best business decisions he's ever made.
"We were forced to let one business go and move south to start a new business because there was way more land," said Lex. "It was the right move for what we do; it's flat land instead of hillside and we're right next door to Woodbury Resort where we get a lot of business."
The most recent recession left only a minimal mark on the business. Lex said being mortgage free left them with a lower overhead so when money was tight, they still had cash flow. And things are picking up again.
The business has evolved as life on the lake has changed. When Fred and Ethel started the business, the lakeshore was mainly lined with campgrounds, small marinas and wilderness. Through the years, the shore became more privatized and even public moorage became scarce. Jones Boys Boats' marina became more than just a boat dealership; it became a port in the storm for locals and visitors who wanted to store their boats on the lake. The company is also the sole remaining new boat dealership in the West Kootenay.
"This is our life," said Lex. "We know the business."
The business went through other ups and downs. In 1974, a landslide wiped out part of the marina. Shortly after, a boat caught fire, which spread to several of the other boats and equipment.
"We went through all of that and survived," said Lex. "We're survivors."
(As a side note, Lex apparently comes from good hardy stock—his parents just celebrated their 65th wedding anniversary in January, and Ethel still skis regularly.) Lex is the last of the original Jones boys involved with the company. Rick started his own venture in 1986 with the popular Mirror Lake Campground. Terry left in 1999 to run Woodbury Resort & Marina.
"I'm the Jones boy now," laughed Lex. "But I've got my son (Chad) helping out right now. Whether he'll stay or not, I don't know but he's here now and doing a good job."
On the horizon
Presently, Lex said he's content to stay on course with Jones Boys Boats. Last year, the business did more than $5 million in sales and service—a number Lex is comfortable with. He has 18 full-time employees during the peak season and has expanded the scope of the business to include ATV sales. In fact, ATVing is Lex's favourite pastime. After spending most of his youth on the water, he's become a bona fide landlubber, exploring the backcountry trails along Kootenay Lake and up into the Monashees.
The future, though, is still to be decided. Lex said that he's looking towards eventual retirement. His son, Chad, and his daughter, Casey, are both employed at Jones Boys Boats, but whether they will take over as third generation owners of the business is uncertain. (Lex's other daughter, Alicia, works at a marina in Richmond.)
The recent passing of Lex's business partner, Terry Bjurstrom, was a tremendous blow, both personally and professionally. Bjurstrom was Lex's close friend, advisor and inspiration, and the loss has left him reeling. But he's certain that, with time and healing, he'll continue on with the business, no matter what comes.
"I have a whole new chapter to open," he said. "I'm not exactly sure what we'll do but we get through and go on with life. We're survivors. We're survivors."