West Kootenay festivals inspire fun and friendship
It's festival season in the Koots! Time to don the party hat and polish up the dancing shoes.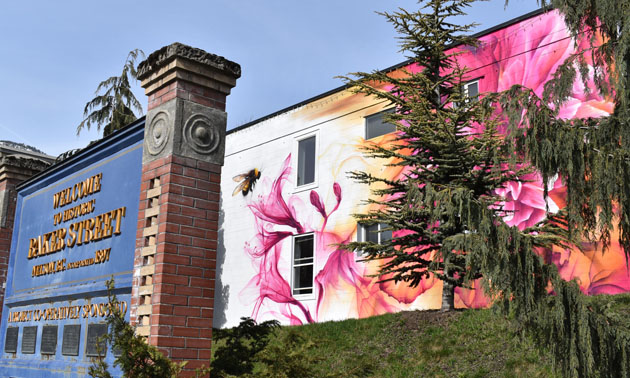 There's nothing quite like being at a festival, surrounded by people you don't necessarily know, yet still feeling like you're united amongst friends. As any die-hard festival goer can attest to, there's magic in shared experiences and that's part of what makes festivals so popular.
Here in the Kootenays, there's a huge range of summertime festivals to explore—from a mellow wildflower celebration in Revelstoke to the legendary Shambhala electronic music festival in Salmo, there's a festival for every taste.
Check out our list of the biggest and brightest music, nature and cultural festivals throughout the West Kootenay region. These annual events not only attract new visitors to our region and provide a sense of community for local residents, but they are also an important economic stimulus for local businesses.
Come out and support your community, enjoy a day out with family and friends and celebrate! Also, check out our list of East Kootenay festivals here.
Please note that festival dates listed are for 2023. Dates are subject to change from year-to-year.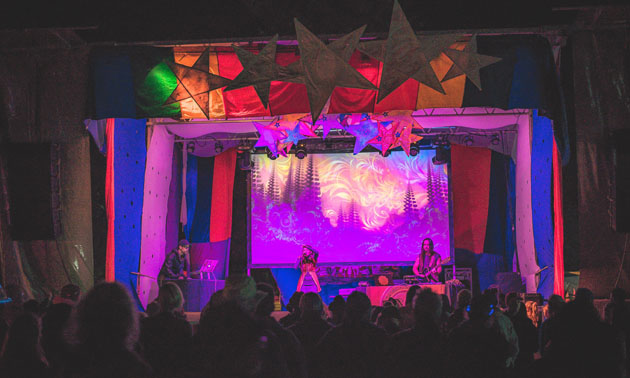 Festivals in Castlegar
SunFest: June 2-4
This year marks the 50th anniversary of Castlegar's annual community festival, SunFest. The event brings together an array of amazing entertainers and performers from across the region. Events include a series of free concerts in Kinsman Park, a parade on Saturday morning and fireworks to help celebrate this special family-friendly weekend. Sunday is dedicated to the kids, with a fun bike parade, games, treats and entertainment planned. The SunFest tennis and pickleball tournaments are always a big draw too.
Festivals in Crawford Bay
Starbelly Jam: July 28-30
This annual outdoor music festival brings together an eclectic selection of artists and musical genres—from electronica and pop to bluegrass and reggae. Relaxed and laid-back with a family-friendly atmosphere, Starbelly Jam also features on-site food and market vendors, wandering entertainers, free workshops and much more.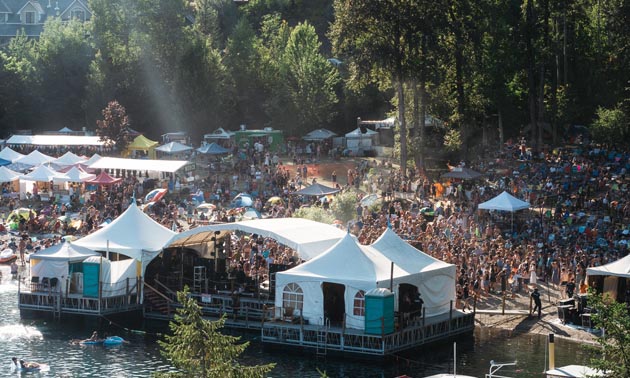 Festivals in Kalso
Kaslo Jazz Etc. Summer Music Festival: August 4-6
Lovers of blues, jazz, folk, Latin and world music will feel right at home at the Kaslo Jazz Etc. Summer Music Festival, now in its thirtieth year. Held at Kaslo Bay Park, this weekend festival brings together world-class performers and entertainers showcasing their talents via a unique floating stage. Families are welcome and there is a huge range of activities to keep the kids occupied—from playing on the beach and swimming to jugglers and puppet shows. Craft beer is on tap, and there is a large selection of food, drink and market vendors on site.
Kaslo May Days: May 20-22
Kaslo's very own return-to-summer festival—May Days—has been celebrated in the community since 1892. The Logger Sports competition is a spectator favourite, with competitors vying for glory in events like log rolling and axe throwing. There's also a May Day parade and famous Maypole Dance, the Sunday Show N' Shine with antique and classic cars, Music in the Park, a rubber duck race, craft and market vendors and more.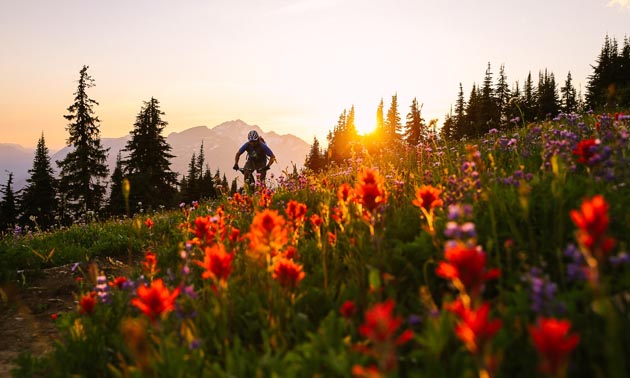 Festivals in Nelson
Elephant Mountain Literary Festival: September 11-17
Known as one of Canada's great literary festivals, this yearly gathering brings together readers, writers, wordsmiths and book lovers. Set amongst the amazing natural beauty surrounding Nelson, the festival features literary and prose workshops, talks with guest speakers, storytelling, concerts and more. Events are held at the Prestige Lakeside Resort in downtown Nelson as well as other venues around the community.
International Mural Festival: August 11-13
Nelson ramps up the vibrancy factor every summer with the Nelson International Mural Festival. Throughout the summer, local, national and international street artists and muralists are invited to beautify the city with their designs. As murals are completed, the locations are listed on a map for residents and visitors to discover. The three-day festival in August celebrates the talent and artistry behind these public art installments. Street parties, DJs, live theatre and more are all part of the fun.
Kootenay Burlesque Festival: June 23-24
From sultry and sweet, to mysterious and magnificent, the performers at the 4th annual Kootenay Burlesque Festival will treat you to a whole lot of va va voom! The festival kicks off at the Capitol Theatre in Nelson on the last weekend in June. Showcasing some of the best burlesque performers, drag artists, acrobats and stage entertainers from across Western Canada, prepare to be teased and titillated to your heart's content.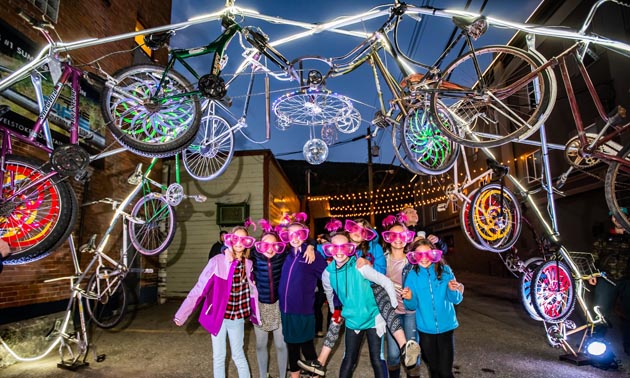 Festivals in Revelstoke
LUNA Art Fest: September 22-24
The LUNA Art Fest brings three days and nights of art and energy to the streets of Revelstoke. The theme for the 2023 festival is Growth, so expect to see imaginative art installations that encourage us to rise, flourish, advance and evolve. LUNA Fest is a transformative arts experience that weaves together large-scale projections, pop-up street performances, digital murals and more from talented artists and creators.
Revelstoke Wildflower Festival: August 10-13
Celebrate the simplicity and beauty of Revelstoke's alpine wildflowers at the Wildflower Festival. Held to coincide with the optimal wildflower bloom time, the festival offers a wealth of family-friendly activities that revolve around these iconic and much-photographed wildflowers. Take in the spectacular Revelstoke views by bike, foot or gondola, listen to live music, take a workshop or indulge in a wildflower meadow painting session—there's so much to see and do at the Revelstoke Wildflower Festival.
Festivals in Rossland
Between the Peaks Music Festival: September 15-16
Canadian, international and local acts take to the stage at the first annual Between the Peaks Music Festival, held at the base of the famous RED Mountain Resort. Set amongst stunning scenery, this family-friendly festival brings together great music, great food, craft beer and more.
Festivals in Salmo
Shambhala Music Festival: July 21-24
Shambhala Music Festival is one of the most renowned electronic music festivals in North America. Now in its 24th year, the festival is held at the Salmo River Ranch and attracts some of the most talented DJs and electronic artists from around the world. Thousands of people flock to this yearly, much-anticipated event. Six uniquely-themed stages are set up, each with its own artistic director who sets the vibe, music and atmosphere of each stage. At its heart, though, Shambhala is still the grassroots venture it started off as and is the ultimate celebration of arts, music, culture and love.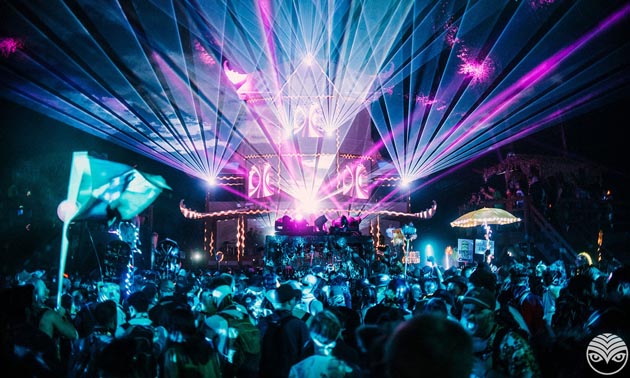 Festivals in Trail
Silver City Days: May 10-14
Trail's Silver City Days is back for 2023 and promises to be a fun-filled and festive event for the whole family. Activities include a Saturday parade, carnival rides, fireworks, the Miss Trail Pageant, sports events, games for kids and much more. Make sure to check out the Riverfront Food Fair and the Selkirk Mountain Music stage.
Festivals in Ymir
Tiny Lights Festival: June 16-18
The small village of Ymir plays host to the Tiny Lights Festival each year. This festival is all about forging connections: with others, ourselves and the land around us. Normally a quiet, sleepy little place, the village comes alive with interactive art projects, displays, music, spoken word, art and workshops throughout the weekend. At the heart of the festival is the Sustainability Village—this area features food, music and merchandise for sale but also educates and teaches people about the importance of living eco-friendly and sustainable lifestyles.