Fernie Chamber's 2021 Excellence Awards celebrate the spirit and success of local businesses
This year's awards saw 12 winners and 3 new categories, including Businessperson of the Year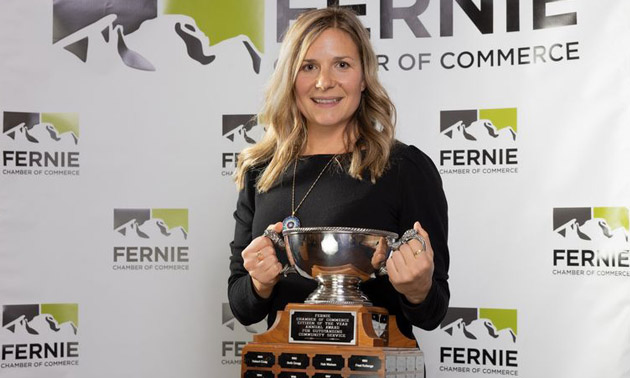 The Fernie business community gathered together on October 29, 2021 to celebrate the Fernie Chamber of Commerce 2021 Business Excellence Awards. Brad Parsell, executive director of the Chamber of Commerce, acted as emcee for the evening.
"The spirit of this event is all about celebrating businesses and your success," said Parsell. "We have literally hundreds of worthy businesses that have done amazing things every single day this past year and we're only giving out 12 awards—I wish we could give out 600."
This year saw a record-breaking response in terms of nominations, with almost 500 business nominees. This year also saw the addition of three new categories: Business Innovation, Environmental Sustainability and Businessperson of the Year. The awards were live streamed via Facebook, allowing the public to celebrate in real time as winners were announced.
Congratulations to the following winners of the Fernie 2021 Business Excellence Awards:
2021 Citizen of the Year: Krista Turcasso
Krista Turcasso, this year's Citizen of the Year, is like a whirlwind around the community of Fernie. A partner in local design and publishing company Claris Media Inc., she's also the editor of the Fernie Fix magazine, the chair of the Fernie Trails Alliance, a board member with Columbia Basin Trust and the Emily Brydon Youth Foundation, and also an athlete, mother and wife.
Turcasso grew up in Fernie and returned later in life to set down roots. Fernie is fortunate to have this hard-working and dedicated woman at the helm of so many community initiatives.
Owned by Blair Craig and Lynn Muller, the Canyon Raft Company has been guiding people down local rivers wild (and rivers mild, if that's more your style) since 1995.
Recipients of this year's Business Legacy award, the company garners rave reviews from everyone—no matter if you're a nervous first-time rafter or a pro at conquering the whitewater. Craig and Muller, together with their team of passionate and experienced guides, excel at sharing their knowledge of the river and take immense pride in providing a safe, fun and entertaining experience for their many customers.
It was a good evening for the Fernie Brewing Co. at the Business Excellence Awards as they scored two accolades: Business of the Year and the Environmental Sustainability Award.
This award-winning home-grown company maintains a strong connection to the local community while still being one of the most successful breweries in B.C. The company's "Cheers to Charity" donation program, established in 2013, raises money for local charities and organizations throughout the Elk Valley. Read our story about this small brewery that makes a big impact in Fernie.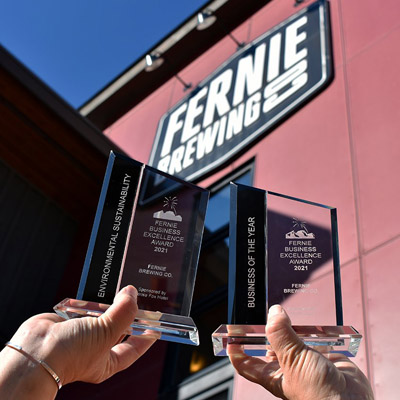 A new category at this year's Excellence awards, the Environmental Sustainability award honours a business that exemplifies leadership and commitment to sustainable business practices and social responsibility.
At the Fernie Brewing Co., awareness and commitment to sustainable practices are an integral part of the way they do business. An upgrade to their canning equipment helped to move the company away from single-use plastic usage and has saved over 2,585 kilograms of this material from entering the landfill in the process. Their Spent Grain Program ensures that an otherwise wasted byproduct of the brewing process—spent grain—has another purpose by donating it to local ranchers to be used as extra protein for livestock.
The Fernie Trails Alliance works hard to ensure that the area's numerous world-class trails are kept in tip-top condition year-round. Made up of a dedicated group of volunteers and staff, the shared vision of the organization is to build, maintain and establish a fun and robust trail system that will be around for generations of residents and visitors.
The Trail Alliance manages a number of ongoing projects every year. Some of these projects consist of long-term trail expansions and upgrades done over several seasons, while others involve maintenance jobs like brush clearing and rebuilding of structures like bridges.
Congratulations to the Fernie Trail Alliance for their Community Tourism Achievement award!
Congratulations to Nupqu Resource Limited Partnership on their Employer of the Year win. This organization specializes in professional land and resource management services within the Ktunaxa Traditional Territory. They provide value-added services to both industry and government clients, including a range of services in the environmental, forestry, health and safety, and archeological sectors.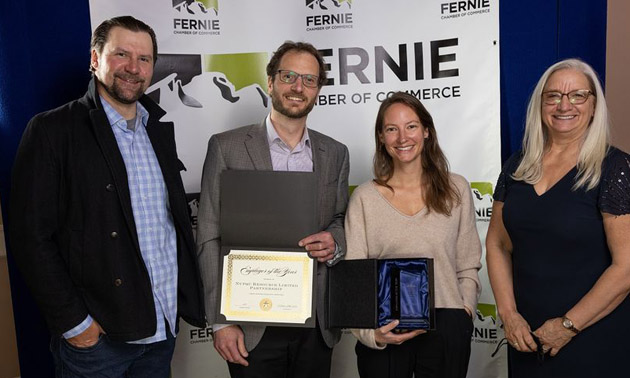 The company is proud to play a small part on the long road to reconciliation and works hard to build the representation of the Ktunaxa citizens and Nation. The Nupqu team is dedicated to making sure that their employees are valued and have the training and equipment they need to do their jobs safely, efficiently and effectively.
The Business Innovation award is a new category this year and highlights a business that has adopted innovative concepts, methods or products, and displayed resilience during challenging times.
Red Seal Chef Barrie Elliott and her team at Fernie Catering Co. have managed to navigate the ever-changing rules and regulations during the ongoing COVID-19 pandemic by being open to change. The company recently branched out into the pre-made meal market by offering high-end, ready-to-eat meals to customers and has found success in this venture. Read our story about Elliott and her catering company.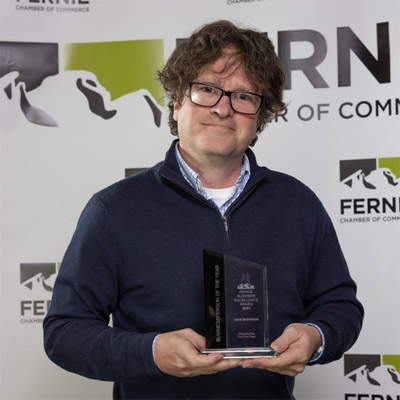 Businessperson of the Year: Dave Morrison, CEO of Island Lake Lodge
Dave Morrison is no stranger to the adventure tourism industry. And he's no stranger to the Fernie area either. As CEO of the Island Lake Lodge since April 2020, his past experience includes being general manager of a ski club in Ontario as well as a ski area in the Crowsnest Pass. He first discovered Fernie back in the 1990s and immediately fell in love with the small, vibrant community. He has welcomed the opportunity to come back to Fernie with open arms.
The Fernie Family Housing Society works to strengthen the community by bringing affordable housing to local low-income families, seniors and people with disabilities.
Their newest project—thanks to a partnership between the Province of B.C. and Columbia Basin Trust—involves the construction of 49 new rental homes for families and seniors in Fernie. The development will include a 35-unit apartment building, 14 townhouse units and a children's play area.
Congratulations to the Fernie Family Housing Society on their well-deserved win!
New Business of the Year: Local Store
In just 10 short months of being established, the Local Store has managed to open both a physical and online retail store and connected residents with over 40 local farmers and food producers. This is the mandate of the Local Store—to provide Elk Valley residents and visitors with year-round access to local, sustainable food and to help foster food security in the region. The Local Store is a social enterprise of Wildsight Elk Valley branch and the Mountain Market. Read our story about this inspirational pilot project.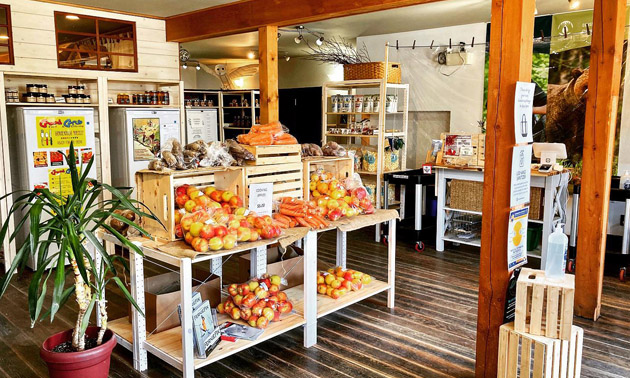 Outstanding Customer Service: Freshies Café
It probably sounds cliche, but Freshies Café really is one of those places where "everybody knows your name." This unassuming little café is known for its friendly staff, fabulous coffee and even more fabulous food and breakfast sandwiches.
And after 1 p.m., Freshies becomes more than just a café. In the afternoons and early evenings, a wine and cocktail menu comes out, along with a selection of snacks and charcuterie boards perfect for sharing with friends.
Congratulations to the staff at Freshies Café for their Outstanding Customer Service award.
With rave reviews from visitors and locals, it's not surprising that Fernie Distillers scooped up this year's People's Choice Award.
This popular craft distillery that opened in 2018 is the ideal place to bring friends and family for a pre-dinner cocktail or two. Their signature products—No. 9 Mine vodka, Prospector gin and Fernie Fog liqueur—feature in their unique and creative cocktail creations that celebrate the historical spirit of Fernie.