West Kootenay winners of 3rd Annual Influential Women in Business awards announced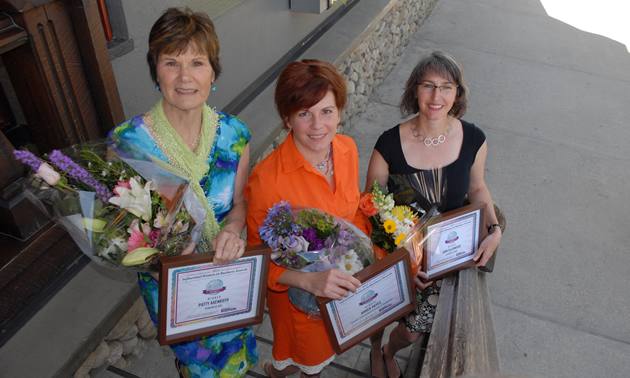 On Wednesday, June 11th, at the Hume Hotel in Nelson, Kootenay Business magazine hosted the 3rd Annual Influential Kootenay Women in Business luncheon.
Over 50 businesswomen and nominees assembled for the luncheon. They enjoyed a presentation by Dianna Ducs, of the Nelson/Kootenay Lake Tourism Association, as she spoke about women in tourism and the marketing of Nelson and region. An interview with Shelley Adams, bestselling author of the Whitewater Cooks series of cookbooks, was another highlight of the event.
The three West Kootenay winners were Lara Ellenwood, Ellenwood Homes, Nelson; Amber Hayes, C3PrO Community Contribution Company, Rossland; and Patty Axenroth, Pennywise Ads, Kaslo.
From an illustrious list of 27 nominees, Kootenay Business selected these three women to be recognized as the Influential Kootenay Women In Business (IWIB) for 2014. The awards are based on a number of criteria including: a proven track record of success in business; a positive influence on others—both professionally and personally; influence in the workplace and in the community; and the ability to mentor and inspire others.
Kootenay Business is pleased to award our first IWIB award for 2014 to Lara Ellenwood of Ellenwood Homes in Nelson.
Ellenwood received these comments on her nomination form: "She is an extremely gracious employer; she thoughtfully shares her time and knowledge with others; she is dedicated to transforming and brightening people's lives; she is committed to using green products; she makes it a point to source and support local business; she is a devoted member of Rotary; she is a uniquely talented interior designer; she is well trained, professional and highly organized as well as quiet, thoughtful, pleasant and sensitive; she displays personal integrity and many professional attributes."
Kootenay Business is also pleased to recognize Rossland's Amber Hayes, of the C3PrO consulting company.
Hayes received these comments on her nomination form: "She is the consummate Kootenay entrepreneur; she immerses herself in many different successful projects and businesses; she is a respected business coach and mentor (and) a seasoned technology entrepreneur; she supports business growth; it is always exciting to talk to her and share ideas; she is a wealth of knowledge; she is enthusiastic and socially-minded; she is creative, professional and talented."
And Kootenay Business is pleased to award our third IWIB award for 2014 to Patty Axenroth, owner and publisher of Pennywise Ads in Kaslo.
Axenroth received these comments on her nomination form: "With careful planning and mentoring she has grown her business to be one of the most successful and visible in the West Kootenay. She is a woman of foresight, determination and integrity and has a great belief in herself, her product and her staff. She works hard through thick and thin, and her business is a consistent international award winner. She has the ability to take a glint of talent in a person, train them, support them, encourage and groom them to become a major contributor to her business. She offers her employees a great benefits and profit-sharing package; she is always there to help. She has created the ultimate workplace, where every individual and group success is celebrated. She has created a place where you want to work in, every day, and some have for 30, 26 and 20 years. She is an icon of her community and one of its best employers. She is involved in numerous charitable organizations. Her drive, determination and excellent reputation have made her and her company an outstanding success since its founding in 1975."
Kootenay Business would like to congratulate all the nominees and the winners. We would also like to thank our guest speakers, exhibitors and sponsors including Stephanie's Glass and Art Studio and Feelings with Flowers.