Wendy Franz
Wendy Franz, winner of an Influential Women in Business Award, talks about succeeding as a woman in business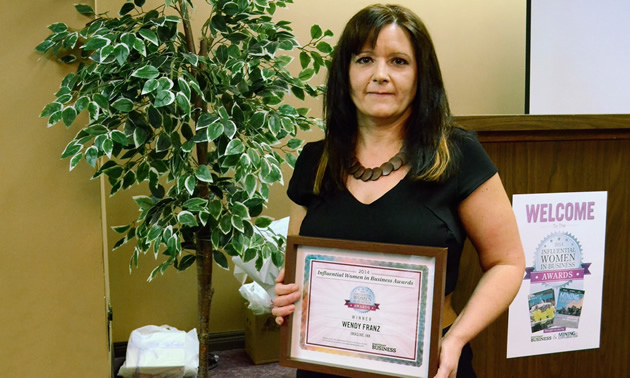 Wendy Franz has long been an important part of the business scene in her home community of Creston, B.C. The graphic designer started I Love Creston, a local lifestyle magazine that she is still involved with. More recently she purchased Imagine Ink together with co-owner Michelle Hansen. Still, Franz was both surprised and thrilled to be one of the East Kootenay's three winners in the recent Influential Women in Business Awards held in Cranbrook, B.C. Here Kootenay Business finds out more about the influential woman behind these local businesses.
How did it feel to be nominated for an Influential Women in Business Award?
It was really surprising and I was honoured. There was a lady in town that had been talking about it. Creston gets kind of forgotten sometimes and she was saying, "I sure hope someone gets nominated from here." And then I was nominated, so I was really honoured.
Why do you think you were considered?
I think it's probably because of the stuff that I do for organizations throughout town. I volunteer a lot of design time for posters, like for Footlighters (Theatre Society) and some of the clubs in town. Also, the magazine is about Creston and the people of Creston . . . I've had I Love Creston forever and we've done a ton of community work with that. We try to keep up with what's happening in the community and get the word out for people and organizations. That's why I call it the community's magazine, not ours. Most of (the content) is submitted from (local) people.
How did it feel to be named one of this year's winners?
I almost passed out. I was totally shocked and just honoured. I think it's positive that I got it, and it gets Creston noticed a bit more. But I think every woman in business—from a home-based one to those who work in big, big business—deserves an award. Especially a woman with family and kids; it's hard to juggle that. So I was honoured, but I also feel that it's everyone's award.
Who has influenced you personally in business?
My aunt, Betty Gierl—she actually worked for Kootenay Business magazine years and years ago. She's been in the industry and she had her own buy and sell up in Prince George. She's just an incredible businesswoman and a big influence in my life.
Also, Michelle (Hansen), my business partner. She's such a strong and positive influence at Imagine Ink. It's just a really good partnership; I couldn't do it without her.
What advice would you have for women who hope to own their own business?
My advice would be to learn how to juggle family and business. That's the hardest thing that I struggle with all the time. You just need to have that balance between the two in order for it to work. It's a really hard thing. Just to make time for your family, because you get so into work and you need to take that time, especially when your kids are growing. They grow up so fast.
What are you looking forward to moving forward with your businesses?
Just growing more within the community and being a big part of the community. Both of my businesses work so much with organizations and other businesses in Creston.