Grace Brulotte has overcome disabilities and doubt to fulfill her vision
FIRE: Fernie Adaptive Snow Program's Grace Brulotte is a 2018 Influential Woman In Business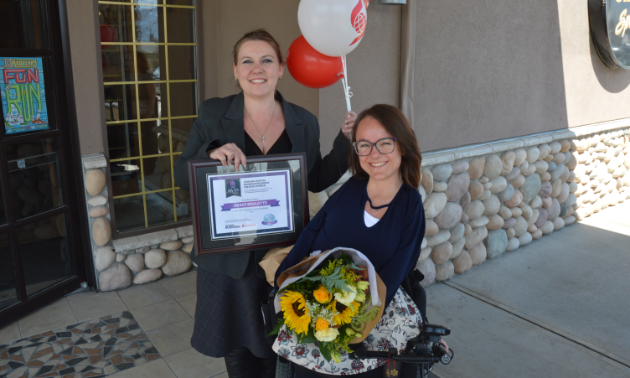 Grace Brulotte, president and program manager for FIRE: Fernie Adaptive Snow Program, has been recognized by Kootenay Business magazine as an Influential Woman In Business (IWIB) award winner at the IWIB luncheon at the Prestige Rocky Mountain Resort in Cranbrook on May 2, 2018.
Through setbacks, failure and disability, Brulotte has risen from the powdered peaks of Fernie like a phoenix to create FIRE, an organization that allows individuals with all kinds of differing abilities the opportunity to enjoy snow sports at Fernie Alpine Resort. Brulotte's efforts and accomplishments are an inspiration to aspiring entrepreneurs and anyone who has ever doubted their own abilities.
"When my first attempt to start FIRE failed, I questioned myself," said Brulotte. "I knew I'd never forgive myself if I didn't try again, so I did. The failure ended up fuelling my passion to succeed. I was also only 16 years old when I became the president and program manager for FIRE, so I constantly felt as though I wasn't qualified for my new responsibilities. But I learned it's best to view challenges and failure as an opportunity to grow. If you keep in mind that it's OK to fail—as long as you get up and try again—then every experience becomes an opportunity to learn."
Aside from self-doubt, Brulotte also had to overcome the physical handicaps of arthrogryposis and scoliosis. "As someone with a severe disability, I often allowed that to hold me back from reaching for things I thought were impossible," she said. "What I learned is that I needed to believe in myself. If I believed that I could do it, despite my disability and youth, nothing was going to stop me."
Perhaps most remarkable of all, Brulotte has maintained a smile throughout her trials and tribulations. "I firmly believe in throwing myself wholeheartedly into whatever I work on and doing it with the most positive attitude possible," she said. "It's hard not to find joy in the smiles I see on our students as they experience new things and conquer their challenges. That's why our motto is, "We're all about the smileage.' "
Thanks to Brulotte's determination, her contagious smiles are spreading across Fernie like a fire of positivity, creating life-changing possibilities to all snow sports enthusiasts—regardless of their abilities.
Congratulations to Grace Brulotte for winning an Influential Woman In Business award.