12 small businesses that design and create unique Kootenay-inspired clothing
Check out this list of companies that turned their Kootenay pride into branded clothing and gear.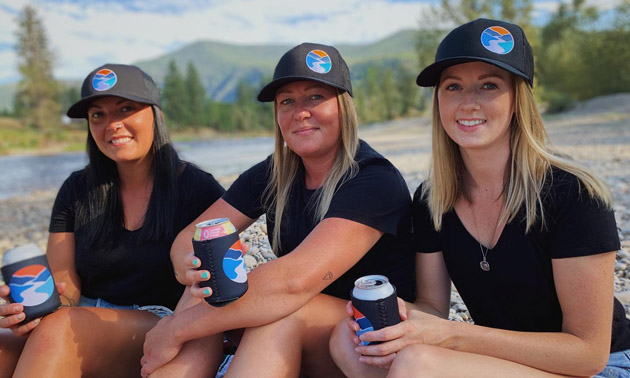 How do you express your pride for living in the Kootenays? Here's a suggestion: buy unique clothing made by companies in your own backyard.
Across the region, there are small businesses that make their living creating original branded clothing that is distinctly Kootenay-esque. From a small family-run company that expresses their originality through alternative and funky festival wear to a business that aims to celebrate women of all sizes, these companies are all run by hard-working Kootenay folk.
These people know and understand their brand because they live and work in our communities. They're the faces you see at the local grocery store and the mums and dads you bump into at school events. Shopping from local businesses helps people stay employed, brings money back into our local economy and helps to create vibrant communities we can celebrate.
Check out this list of clothing stores that design and manufacture uniquely Kootenay-inspired wearables and gear.
EAST KOOTENAY
Cranbrook
Kootenay Knit & Apparel: Since 1994, Kootenay Knit & Apparel has been providing clientele with uniquely Canadian headwear and knitwear. Over the years, this woman-owned company has been honoured as an official supplier and licensee for several Winter Olympic games and high-profile ski championships. The company is a passionate supporter of worthy causes. Their "Pink Mitten" campaign, featuring knitted soft pink mittens embroidered with the Canadian Breast Cancer Foundation logo, raised almost $1 million for the charity.
A new product addition to Kootenay Knit & Apparel is their line of eco-friendly t-shirts for men and women.
Where to buy: Kootenay Knit & Apparel is located at 500A Slater Road NW in Cranbrook. Their online store features cozy Canadiana-inspired knitwear, sweaters, hats and more.
Creston
Kootenay Livin' Apparel: As a small, home-based business Kootenay Livin' Apparel is all about "representing the love we all share for livin' in the Kootenays." In addition to their regular Kootenay Livin' collections, they also produce special clothing collections such as the Cancer Collection, with a percentage of profits donated to local hospitals. Kootenay Livin' Apparel is owned by Karli Melnychuk and her husband.
Where to buy: You can purchase Kootenay Livin' Apparel direct from their website.
Invermere
Kootenay Clothing Company: Promoting the East Kootenay area through comfortable clothing is at the heart of the Kootenay Clothing Company. Pals Andrea and Katie use clean and simple imagery on their clothing and products, designs that pay homage to the natural scenery found throughout the Columbia Valley. Their product line includes t-shirts, hoodies, sweatshirts, stickers, magnets and more.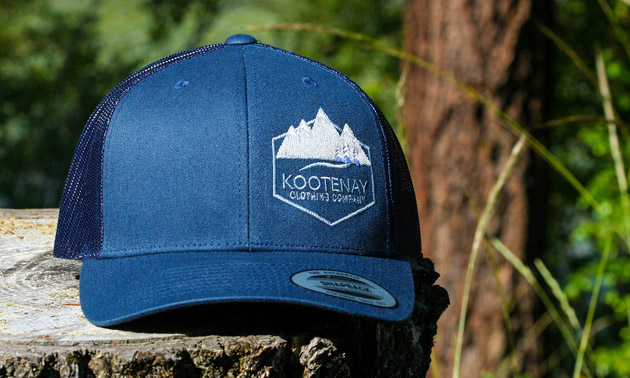 Where to buy: The company recently announced the opening of a new shared retail space in collaboration with the Kootenay Adventure Collective in Invermere. You can find them at 1036 7th Avenue. They also have an online shop.
Kimberley
Stitch + cloth ecodesigns: Darcy Wanuk is a creative textile designer who takes quality clothing found at thrift stores and repurposes them into beautiful, new ready-to-wear garments. Her fun and funky unique designs are colourful and designed to stand out. She loves to help women discover their true selves by creating clothing that empowers them.
KootenayBiz chatted to Wanuk back in 2019 about her unique garments and the inspiration behind them.
Where to buy: Check out the Stitch + cloth ecodesigns Facebook page for Wanuk's latest creations.
WEST KOOTENAY
Grand Forks
Kettle Down: Meagan Savaia, Stacey Smith and Hannah Baker are the ladies behind Kettle Down, a home-grown fashion success story started in 2019.
The iconic graphic of Kettle Down—a series of colourful mountain ranges with a meandering river between—symbolizes the connection between the Kettle River and the City of Grand Forks. The logo is featured on the company's extensive line of clothing, including hoodies, toques, long-sleeve crews, ball hats and mugs.
In 2020, KootenayBiz chatted with the trio about their company and their love of Grand Forks. Read the story here.
Where to buy: Kettle Down clothing and products can be purchased online. They are also available at Hannah Bees Flowers & Gifts, located at 475 Market Avenue in downtown Grand Forks.
Nelson
Blue Sky Clothing Company: For over 20 years, Blue Sky Clothing Company has been supplying women of all shapes and sizes with beautiful clothing made from natural, ethically-sourced fabrics. The company's motto is "saving the planet one garment at a time," and this is reflected in their dedication to using fabrics that have a small environmental footprint, such as bamboo, cotton, wool and cashmere.
Founder and designer Marilyn Cobban first started selling her clothing out of the back of a VW van and soon opened a physical store at the Balfour Ferry Landing. Fast forward to 2021 and the company now has nine locations across B.C., along with a thriving web store and expanding wholesale business.
Where to buy: In Nelson, the Blue Sky Clothing retail store is located at 511 Baker Street. There is also a Kootenay location at the Balfour Ferry Landing—350 Ferry Landing Road. In addition to their online store, the company also has retail locations in the Interior and Lower Mainland of B.C.
Lillie & Cohoe: If you have a weakness for hats, Lillie & Cohoe is the place you'll want to head to. Located in a beautifully restored 1930s warehouse in the heart of Nelson, the company designs and manufactures all of its high-end hats and headwear locally.
A Nelson success story, the company has dedicated clientele from across the globe including the British Isles and South Korea. Lillie & Cohoe hats—with designs for both men and women—can be found online and at retail stores across Canada and internationally. And luckily for us, right here in the Kootenays.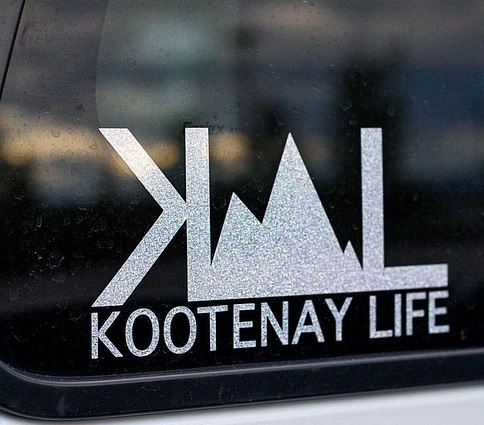 Where to buy: Lillie & Cohoe is located at #4 - 320 Vernon Street in Nelson. Their products can also be found at retailers across the U.S. and Canada.
Kootenay Life: A common sight on car bumpers across the region, the unmistakable logo of Kootenay Life—jagged mountain peaks sandwiched between a reverse "K" and an "L"—celebrates the Kootenays.
In addition to their iconic stickers, Kootenay Life also designs and manufactures a wide range of clothing and headwear including adventure hats, beanies, hoodies and t-shirts.
Where to buy: Kootenay Life items, including their iconic stickers, can be found online.
Revelstoke
Somewon Collective: Proudly billing itself as a "mountain lifestyle" brand, Somewon Collective is unique in terms of its business structure. Its members—a collaboration of artists, musicians, snowboarders and other creative types—are all on equal footing and company decisions are made collectively.
Founded in 2007, Somewon Collective initially focused on clothing for the snowboarding community but quickly expanded into other inspirations. Today, designs are geared towards anyone with an active lifestyle and love of the outdoors. Sold both locally and regionally, products from the Somewon Collective ultimately pay homage to the community of Revelstoke. The company also provides silk-screening, design, embroidery and sticker production services for local clients.
Where to buy: The Somewon Collection storefront is located at 308 1st Street East in Revelstoke.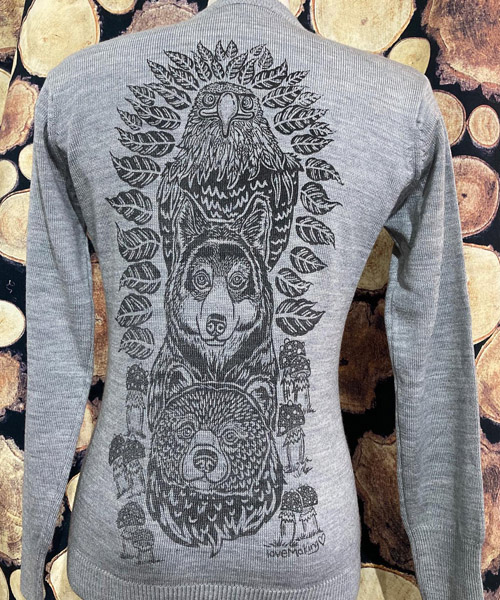 Love Making Designs: Playful, fun-loving, hand-drawn sketches inspired by nature are at the heart of Love Making Designs, owned by partners Trisha Hartwick and Kiley Dare. Along with clothing for men, women and children, they also sell a range of different products including art prints, jewelry, hats, leather patches, stickers and magnets. All drawings and printing are done by hand in their home studio.
Where to buy: The Love Making storefront is located at 110 Mackenzie Avenue in Revelstoke. Their detailed and whimsical designs can also be found in several local shops in the area or through their web store.
Salmo
Arcane Coda: Arcane Coda is known for its colourful grunge and industrial designs, festival wear and clothing for passionate life-loving folk who appreciate alternative fashion.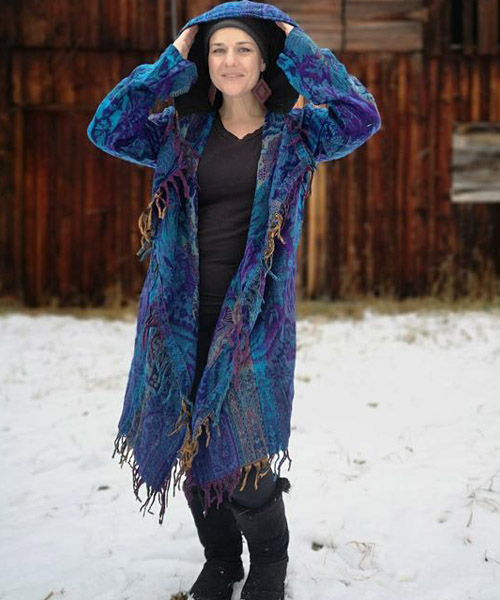 Venessa Loubert and Perry Dzuris are the duo behind the successful company, created in 2007. They work with international artisans, employing over 100 people on a seasonal basis in Thailand, India and Nepal. They are also passionate about animal welfare—by purchasing the Arcane Coda brand, you also support the company's Animal Rescue Initiative.
KootenayBiz interviewed this dynamic couple. Read more about Loubert and Dzuris and their altruistic roots and company.
Where to buy: Arcane Coda products are available online.
Trail
Kootz Collective: "Whether you are from the Kootenays or not, our hope is that our aesthetic strikes a chord with your adventurous and outdoor-loving soul." Although the sister and sister team of Leah and Kelsey live in Calgary these days, they grew up in the Kootenays around Trail and cherish their childhood memories of the region.
The Kootz Collective came about when the pair—both graphic designers—wanted a creative outlet for personal design work. They decided on a clothing business and haven't looked back since. All of their clothing is ethically sourced, designed in Alberta and screen printed in British Columbia. Their product range includes items for men, women and children along with accessories inspired by the outdoor lifestyle across the Kootenays and Canada.
Where to buy: Buy Kootz Collective items through their online store.
Warfield
KYR Supply: Take three guys with a passion for their Kootenay roots and a desire to share that passion in a creative and unique way and you get KYR Supply. KYR—short for Know Your Roots—is a local brand that celebrates adventure and good times in the year-round playground that is the Kootenays. The company sells branded t-shirts, hoodies, tank tops, along with a selection of headwear and footwear.
KootenayBiz recently chatted with the trio about the inspiration behind starting KYR Supply and their commitment to local mental health projects and associations. Read their story here.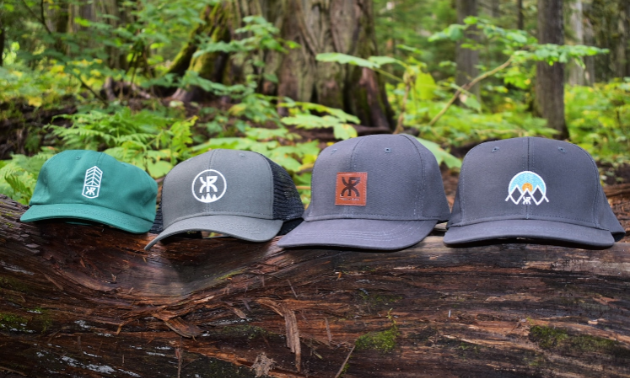 Where to buy: Find KYR Supply clothing and gear through their online web store.