Arcane Coda in Salmo lets you wear your heart on your sleeve
This cutting-edge, Salmo-based clothing company has a backstory as rich as its fashionable creations.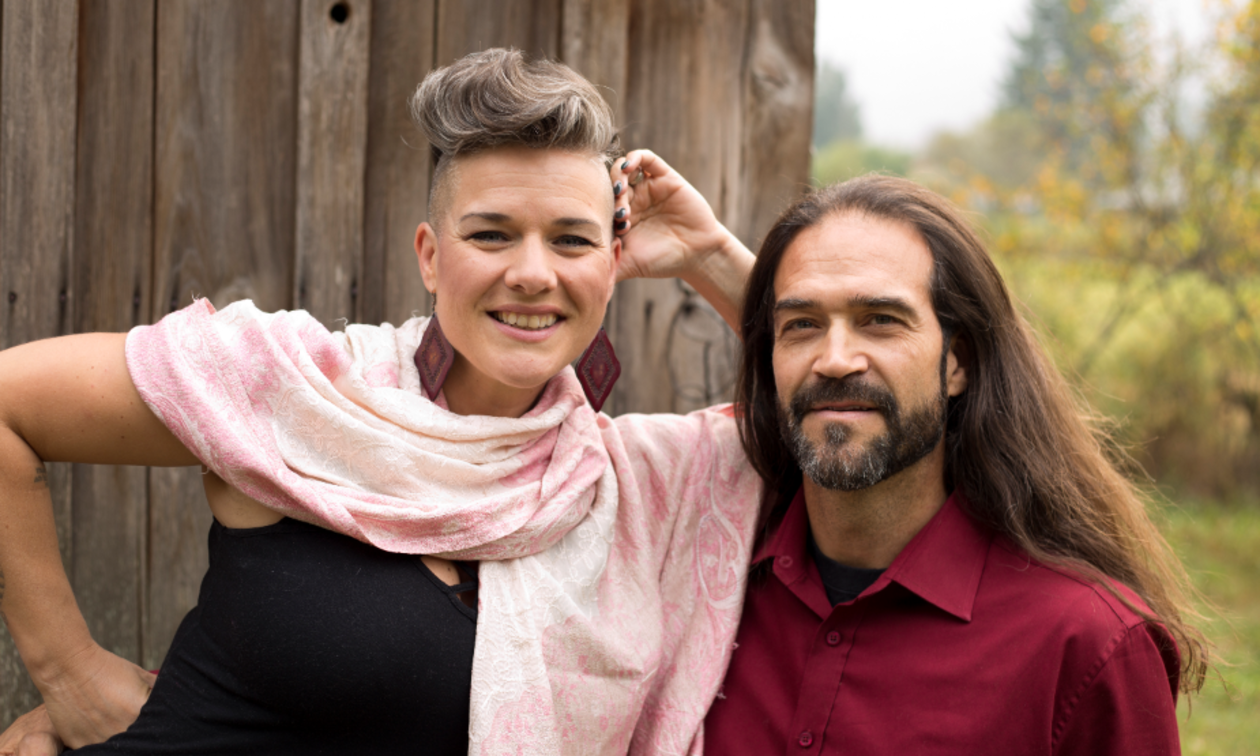 Venessa Loubert and Perry Dzuris are the dynamic entrepreneurs behind Arcane Coda, a clothing company based out of Salmo, B.C. Dzuris has longstanding ties to animal rescue, and even took Loubert to SAINTS (Senior Animals in Need Today) on one of their first dates. The two fell in love with helping the animals and people of this world just as they fell for each other.

The Arcane Coda inventory is available online, with pickup and delivery service throughout the West Kootenay region. They use 100 percent biodegradable mailers for online orders.
Loubert and Dzuris work with international artists and artisans, employing over 100 people on a seasonal basis in Thailand, India and Nepal. They build lasting impressions and work directly with their pattern makers and tailors. In many cases, they get to know the families of their business partners and watch their children grow up.
Every year, Arcane Coda donates bags of clothing and accessories to women's shelters, homeless shelters and aid shelters (e.g., in Grand Forks after the flood).
The couple has produced and sponsored burlesque shows such as the annual Queen City Burlesque Expo in Nelson as well as RECLAIM: A Powerful Evening of Indigenous Burlesque Art during which more than $1,000 was raised and donated to the Salish School of Spokane to help save the language of the Sinixt Nation.
The Arcane Coda website has an engaging blog. Check out the entry entitled Analog man meets the digital age; Lady and the Tramp.
We had the opportunity to interview the altruistic masterminds behind Arcane Coda and get some insight into their legendary journey.
What inspired you to start your business?
Dzuris: The inspiration to start this business started with a very long international adventure.

Due to intense bilateral forearm injuries a long time ago, I chose to become an optician as it seemed much less straining on my arms as a career than, say, professional drummer. However, I am a very creative, tactile person and this soon did not seem like the right path. This is where the great world travel and adventure began.

After selling the house and packing everything I owned into storage, it was time to live out of the backpack. I thought I would start with Australia and then venture out to Fiji, Cook Islands, Malaysia, Indonesia, Thailand and Nepal.

After being gone for about a year, I returned . . . some of the things I saw over there, I brought back and tried my hand at selling in markets in the local area.

Through the years I became family friends with people I had bought from while overseas and the animal rescue centres that I worked with. I have rescued everything from baby possums in Australia, pelicans in crocodile swamps (highly not recommended unless you have a hair elastic to shut that huge beak; it can soil underwear), fish left on the ice by fishermen (swam them all night in the tub till they were up and moving again), numerous cats and of course anyone who has travelled to many of these parts of the world will agree with—dogs. Many, many dogs.

Some families we have worked with for well over a decade, and if we stopped now because of the current world issues it would be a tragedy for them. This is where we feel grateful every day that people appreciate our creations and things we select. It keeps our friends employed and is working as well for us.

We (also) create our own individual items or work together. Things are drawn out, sketched, talked about on planes, in the kitchen, a coffee shop on napkins, on the highways of Canada, rickshaws, everywhere. It's never the same but when the item is finished it always has a unique and fun story attached to it.

Now it's not a job at all, it's a way of life. Having no middle person selling to us from the people we know allows us to keep reasonable prices while paying everyone fairly.

I have to go back to the most important part of this lifestyle/business: my partner, my best friend and my wonderful wife. She has been on the back of rickety motorbikes staring into the eyes of dogs that are severely wounded and extremely difficult to hold onto let alone stay on the bike herself and never complained. I am truly lucky to have found someone who will join me in this life and still be there when tomorrow comes.

Loubert: For me it started by falling in love with Perry! Having come from over a decade of working in the animation and VFX industry followed by working as a part-time bodyworker (massage/yoga/pilates) and art model, I really felt like my existing experience in office and organizational work, sales and my active lifestyle would contribute well to Perry's business.

I have always wanted to own my own company and even took entrepreneurial and business classes prior to having met Perry. When I met him, I could see how my skills would complement his skills and help bring the company to a new level.

Since having joined him, I have fallen in love with Southeast Asia and discovered that I have the ability to design clothing! I have also met so many amazing people along the way.

I've seen more of Canada than I ever thought I would, and I've learned so much about an entirely different industry, different countries and different cultures.

Being of an explorative, curious nature, this business has been good for me.
Since you began your entrepreneurial journey, what has been your proudest moment?
Dzuris: In the early 2000s there was a point where I lost everything during a dark period and rebuilt from nothing. Living in the back of my truck, quickly gathering strength and being where I am today with my wife, I am so proud of my wife and myself for getting beyond the roadblocks and continuing to carry on, just the two of us.

Creating designs from your own mind that people end up loving and wearing is an incredible feeling. Alternatively, so is rescuing countless numbers of (primarily) dogs.

There is nothing better than seeing an animal that you were sure would not make it come back to being a fully functioning happy being. That is unbelievable, feel-good stuff right there.

Loubert: During my first summer with Perry, June 2015, I remember stepping out of the booth to get some food at a music festival in northern Alberta. Looking around and seeing our clothing on so many people, I had never felt that kind of pride and joy before. It was a new experience to put so much energy into something and then immediately see how good everyone looked and felt.

At music festivals and comic expos, people are living a little more freely than they do in their day-to-day life so to be a part of helping people express themselves fully is truly special. It's also everything that I stand for as a human. To truly be yourself, whatever that is.

Designing the Shrug was another proud moment due to its popularity (still going strong a few years later).

Also, I feel a sense of accomplishment in the "dream come true" sort of way for running a successful, small business with my partner.
How are you coping with the challenges posed by COVID-19, and how has it affected your business?
Dzuris: COVID-19 erased the world that we lived in completely. I love the energy of live events. There will never be anything that compares to it and that is hard not knowing when we can feel that again.

I miss each and every event dearly. They are all unique and have something special that sets them apart from each other, making for a diverse and exciting life. There is a large tactile aspect that is gone as well as the incredible connection with some of the most interesting people I have ever met. Learning about the online world is so foreign to me even though you are working with the same business and items that you've been selling for years.

Loubert: COVID-19 has completely and totally halted our in-person, travelling business. For a long time people always said to us "you're living the dream" and "wow, what a life" etc., but I think we are now in a category of people that have been most heavily affected by the pandemic since all large-scale shows have been cancelled with no signs of starting up again. We know some people/businesses that have never stopped working as well as some that were able to start working again in June, but our industry is still completely halted.

In order to change with the times, we have been working hard since spring of 2020 to bring our entire stock online, and it's been a process! We've made some progress but still have a long way to go.

The online world is an entirely different beast and we are learning to do our job all over again. Gone are the days of shaking hands with our customers, sharing stories and exchanging ideas.

Now we are facing the challenge of understanding the backend of a website, managing multiple social media channels, upgrading our photography skills, looking good for the camera and reminding people that we exist and have great products to offer!
What are some of Arcane Coda's best-selling items now?
The Skull Wool Jacket in grey and pink
The Denton
The Shrug
Infiniti Tubes