Kettle Down settles down in Grand Forks
Kettle Down is a niche clothing company run by three local female friends and entrepreneurs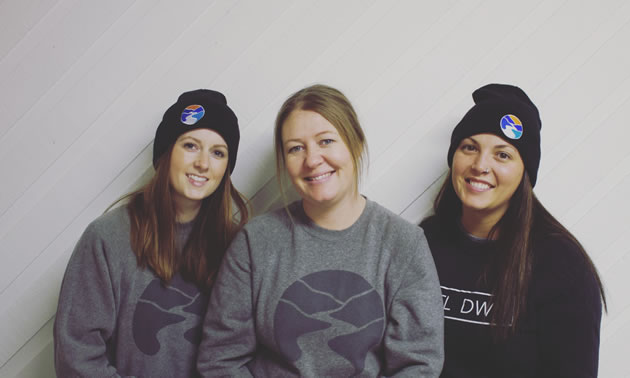 Combine three independent young businesswomen with a passion for their community and a love of high-quality clothing and what do you get? The inspiration behind Kettle Down, a niche clothing brand that vibrantly celebrates life in the small community of Grand Forks, B.C.
Raised along the banks of the Kettle River, the three entrepreneurs behind Kettle Down—Meagan Savaia, Stacey Smith and Hannah Baker—all play on the same ball team and share many of the same perspectives on life, so coming together to create a retail clothing company was a natural fit.
"There are so many positive things about a small community . . . selection and choice for clothing options is sadly not one of them. We felt that we could use our eye for style and knowledge of our regional demographic [to] fill a need," said Savaia.
The iconic graphic of Kettle Down—a series of colourful mountain ranges with a meandering river between—perfectly sums up the name behind the company.
"The Grand Forks creed is "Settle Down" and the Kettle River is literally intertwined with the city, so once we put that connection together, Kettle Down was born," added Baker.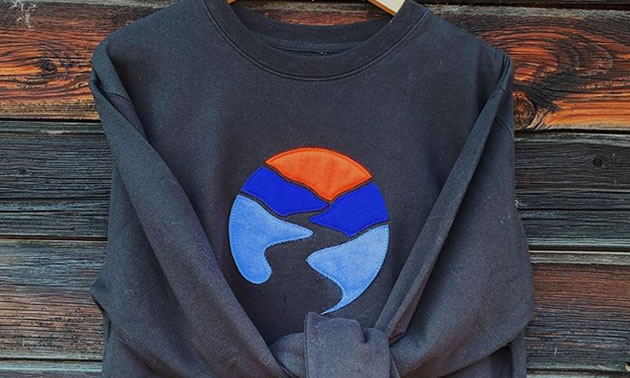 Home-grown fashion
Kettle Down has already seen great success since opening last summer, and the initial response to their product line has been overwhelmingly positive.
The company offers an extensive line of quality-made clothing such as hoodies, long-sleeve crews, T-shirts, toques, scarves and ball hats, along with ceramic mugs, all proudly emblazoned with the vibrant Kettle Down logo. Clothing sizes are available in men, women and child sizes.
"Kettle Down is always looking to innovate and improve," said Smith, "It's a constant press to stay on trend with what our supporters are looking for but to also be a leader in our local fashion scene."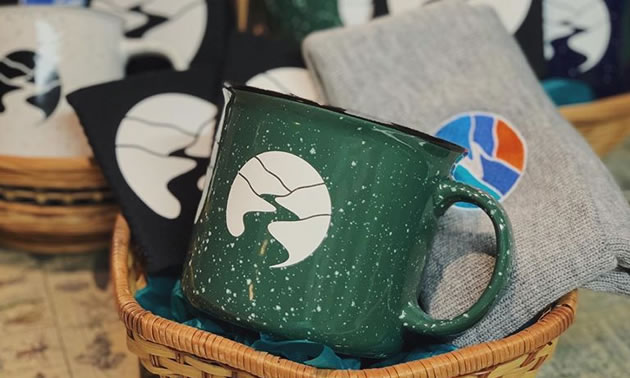 What does the future hold for Kettle Down? Well, that's a closely guarded secret for now.
Said the trio of ladies, "The three of us don't want to spill the beans, but keep your eyes open for some very cool pieces for 2020."
Home-grown help in a time of need
Back in the spring of 2018, the community of Grand Forks was devastated by historic and catastrophic flooding. Both Baker and Smith's homes were damaged, with Baker's home completely destroyed and deemed a total loss. The entrepreneurs also have family businesses that were negatively affected by the disaster.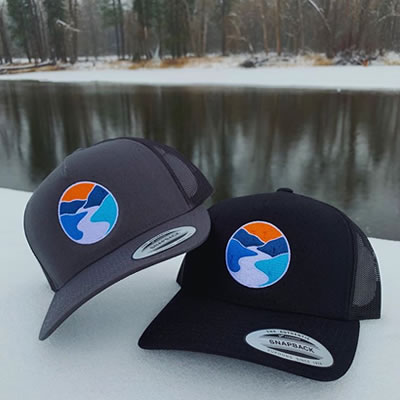 "It's a shame that it sometimes takes a bad experience to realize the strength of people," commented Baker, "but the way our community rallied and came together to support one another was remarkable. There was no notion of a stranger as everyone was there to lend a hand and pitch in."
"Us three ladies feel blessed to be part of a community like this," continued Savaia, "and strive each and every day to uphold that with Kettle Down."
It's clear that the passion and dedication of these three independent businesswomen will continue to shine strong in Grand Forks.
Tough times are eased by home-town ties
How has the COVID-19 pandemic changed business for these hard-working entrepreneurs?
"As far as Kettle Down goes, we still have people message us very often and orders are still coming in," said Smith, "Our storefront is located in Hannah Bees Flowers & Gifts which is temporarily closed to the public.The three of us continue to go in, fill orders and do deliveries."
She continued, "Times are uncertain for everyone, yet we continue to be supported which is amazing. We are in awe of the community."
In times of trouble, it's the close-knit communities of small towns across the Kootenays that continue to support businesses large and small. In turn, those businesses continue to work hard for their valued customers—for Kettle Down, that means new products to look forward to.
Added Smith, "We have some cool things on the go that we can't wait to share with you all!"