Darcy Wanuk repurposes old textiles into funky, fun clothes for women
There have been no new clothes for this empress for two years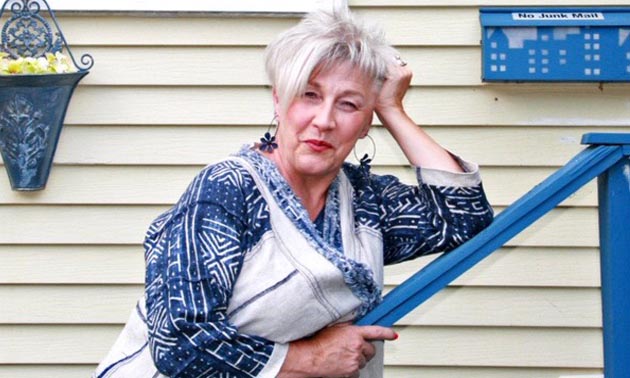 Darcy Wanuk is in her second year of not buying any new clothes. And probably not coincidentally, she's in the second year of her business, stitch + cloth Ecodesigns.
Her Kimberley, B.C.-based business is a fashion line of deconstructed and reconstructed garments and textiles.
"Our vision is to minimize textile waste by repurposing clothing into quality, fun-loving garments for women," Wanuk said.
Wanuk buys high-quality clothing and textiles at thrift stores for repurposing. Denim and linen are most popular with her patrons, who come in all ages, although 40- to 60-year-old women make up the bulk of her client base.
Calling herself an intuitive designer, Wanuk sits at her sewing station with everything close at hand and simply starts working on her bold and often bright designs.
The eco side of the story
Wanuk describes textile waste as horrendous. "It's the biggest polluter after oil," she said.
We're in the age of "fast fashion," which stresses making clothes quickly and cheaply … with devastating environmental impacts (see the sidebar below for fast fashion statistics).
Clothes shopping used to be an occasional event, one we did at the change of the seasons. Then clothes became cheaper and fashion trends changed at a rapid pace. But most significantly, shopping became a form of entertainment.
Wanuk laments fast fashion: "We have to stop buying the cheap stuff."
The fun side of the story
Wanuk describes her reconstructed clothing as "funky, functional and empowering." Some women look at her clothes and say "I could never wear that!" But Wanuk thinks differently.
"Most women have a hidden side of who they want to be, and I want to bring it out," she said. "It's about getting out of the box."

Women often try on one of her garments and look in the mirror. That's when their shoulders go back, their chest comes forward and a smile appears on their faces.
"I see that moment of connection," Wanuk said. "You have to own it."
"What are you waiting for?" she asks. "Live your life in colour and save the planet at the same time."
The panache does not fall far from the tree
Wanuk has been sewing since she was just five years old. Her mother was a style-conscious woman so Wanuk figures it's in her DNA. Born and raised in Kimberley, Wanuk left for a 30-year career in fashion, event decorating and display work, the latter at the now-defunct Woodward's department store.
Moving back to her hometown, Wanuk manifested her dream of a niche garment company by completing an entrepreneur course through WorkBC two years ago. Now her business is steady. "It's as much as I want it to be," said Wanuk, who produces about 50-plus pieces a year.
She sells her unique garments at local markets and Kimberley's First Saturday events as well as through her website. She does make clothes on commission and offers workshops for those wanting to try their hand at their own creations.