An East Kootenay couple has found their perfect home as franchisees with PropertyGuys.com
Andy and Sinead Britner bring their self-employment experience to the real estate sector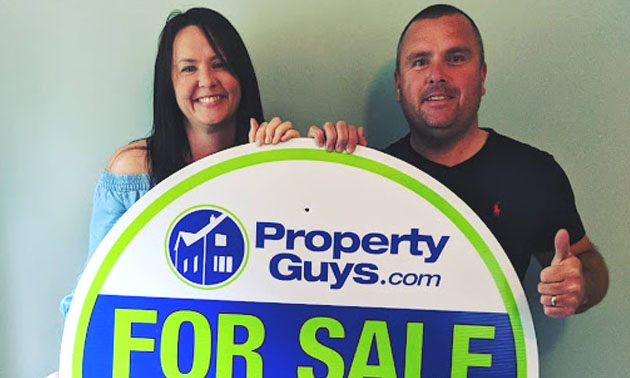 This is the first story in a series on franchising in the Kootenays. The second story describes an entrepreneur who bought two Modern Purair franchises. The third and final story offers advice on becoming a franchisee through an interview with the vice president of content and marketing at the Canadian Franchise Association.
When entrepreneurs are searching for opportunities, especially in more rural locations with fewer opportunities, they often decide to open their own businesses. But there's another viable and successful option to consider—becoming a franchisee.
As a franchisee, you are a small business owner but you have joined an already established business—called the franchise. Thus, you do not have to invent the business from the ground up like you would as an independent business.
As an example, PropertyGuys.com started in Canada 23 years ago. When the local franchise in the East Kootenay and Crowsnest Pass region came up for sale in 2018, Andy and Sinead Britner jumped at the chance. They purchased this region's franchise for PropertyGuys.com and have never looked back.
The Britners are a hard-driven team with their own motto: "See the target, hit the target." But the hard work comes with a great deal of satisfaction in carving out a career and a life they are proud of.
Sinead suggested some questions to ask yourself if you are considering buying a franchise. Here's our interview with her that tells their story as franchisees.
Why did you decide to be a franchisee and how long have you been doing it?
Both my husband, Andy, and I have been self-employed with various businesses throughout the past 14 years here in the East Kootenay. When this rare opportunity came up to purchase the PropertyGuys.com franchise for the area we live in, we jumped in with our hearts and both feet in July 2018.
What have you enjoyed most about owning the PropertyGuys.com local franchise?
Being part of a brand we completely believe in and the ability to help our clients save thousands of dollars in commission. Who better to sell the property than the homeowner? They are the real experts for the property and have all the answers. Our belief in our product is contagious and evident in all of our team and clients alike.
In your experience, what are the top three benefits of being a franchisee?
1. Support from our excellent and knowledgeable team in our home office in New Brunswick. After all, PropertyGuys.com was started here in Canada 23 years ago and our corporate head office has never lost its roots from where it started. Our home office provides us with all the resources, training and systems required to start operating a successful business immediately.
2. The love and support from all our neighbouring franchise owners who are incredibly successful powerhouses. Each franchisee was more than happy to offer support and knowledge as they have many years of experience. This level of support was invaluable to any new franchise owner, and I would strongly suggest always accepting advice from the experts in your field.
3. Perhaps the most important benefit is the ability and flexibility to work and live in the area we are incredibly grateful to call home. But to be able to stay here, it is important to set goals that are measurable to remain on our A-game. Our motto is "See the target, hit the target."
What characteristics would be important for people considering becoming a franchisee?
Keeping self-motivated—you are only as successful as the effort you put into your business. Therefore, you must lead by your own good work ethics, and passion is a must. Good communication skills and accountability are also important. Always follow through with what you said you would do.
What are the biggest challenges of being a franchisee?
Constant learning and remaining flexible. It is important to remain current to fulfill the needs of our clients; therefore, change is necessary and retraining is a must.
Has the "buy local" movement had an impact on franchising?
All our team members and ourselves live in the communities where we work. We are well established and have integral links within the community from being on-call firefighters to being members of PTAs and Junior Hockey Leagues. We have large trusting relationships in the community.
Are there many opportunities to get involved with franchising in the Kootenays and elsewhere?
We are always looking for self-motivated people to join our amazing team of Property Marketing Associates and Licensed Property Marketing Associates, as our territory is vast. There are franchises available to purchase throughout Canada, just not available right now in the Kootenays. If anyone was interested, I would recommend they contact our erudite Franchise Development Team at our home office.
Do you have any advice for a person considering being a franchisee?
Being proud parents of two beautiful daughters, we have been lucky to own our franchise. And with the amazing team of people that work with us, we are able to own a business, not a job. With that equilibrium in place, you are able to make decisions to factor in the needs of your family first.
Therefore, ask yourself some honest, important questions as it takes a certain risk taker to jump into being a franchise business owner:
Do you believe in the product you are representing?
Are you motivated and able to motivate others?
Are you accountable and results-driven?
Do you have the willingness to learn new skills and remain adaptable along with being financially responsible?
If your answer to these questions is "yes," then welcome to the world of being a franchisee.