Great earning potential led this entrepreneur to buy two Modern Purair franchises
Hollie Tayal is sold on franchises—she bought one in Penticton and one in Castlegar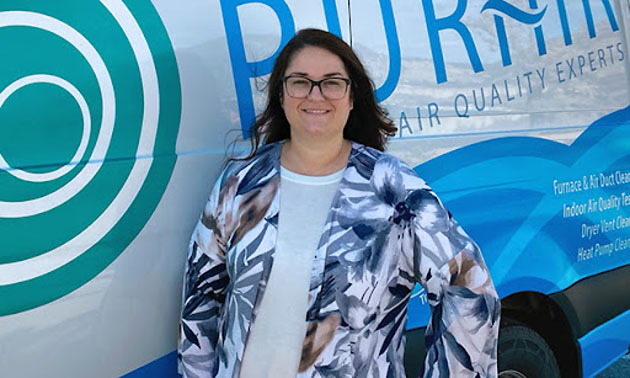 This is the second story in a series on franchising in the Kootenays. The first story was on franchisees of PropertyGuys.com. The third and final story offers advice on becoming a franchisee through an interview with the vice president of content and marketing at the Canadian Franchise Association.
People buy franchises for many reasons, and one of the best reasons is the real potential for strong financial success.
Take Hollie Tayal, for example. She had run her own business but was looking for new opportunities. While researching, she discovered that heating and cooling services in buildings is a billion-dollar industry and basically every building needs these services.
As a result, Tayal jumped into HVAC services and bought her first franchise for Modern Purair in Penticton in 2008 and her second franchise in Castlegar in 2010.
Tayal's franchises cover the South Okanagan and Kootenay regions, and as a result, she recognizes the unlimited earning potential of her position. While she is experiencing exponential growth, her biggest challenge now is finding employees to fill positions in her growing franchises.
Having been a franchisee for Modern Purair for 13 years and counting, Tayal told us her story below:
Why did you decide to be a franchisee?
After owning and running my own business for a few years, I knew that business ownership was hard work and lonely. My previous company had system gaps, missing policies and procedures, and no one I could turn to for advice.
I came across the Modern Purair opportunity but wasn't sure if this was the right fit as I had no experience in HVAC systems or indoor air quality. After a bit of research, I discovered that this is a billion-dollar industry and every building needs our services. Modern Purair provided all the training, so I was able to switch industries and open my first franchise in Penticton in June 2008 and my second franchise in Castlegar in 2010.
What have you enjoyed most about being a franchisee?
I have enjoyed building my company and relationships with customers and team members in my community. Being able to support and give back to my community is important to me, and being able to do that through Purair and the PURKIDS Foundation is awesome.
Not having to worry about the little things (policies, procedures, systems) so I can focus on building my business and dominating my market is a great bonus!
What are the top three benefits of being a franchisee?
Unlimited earning potential – there is no salary cap (Action = Income)
Flexible work schedule
Support from other franchise owners who are always available to help and troubleshoot
What are the biggest challenges of being a franchisee?
Currently, my biggest challenge is finding new team members to fill new positions within my franchises as we are experiencing exponential growth.
What characteristics would be important for people considering becoming a franchisee?
Happy
Hungry
Hard working
Problem solver
Are there many opportunities to get involved with franchising in the Kootenays? Is this an underlooked opportunity for entrepreneurs?
Absolutely! Don't try to reinvent the wheel! Look for a franchise that you're passionate about, open it up, build it, repeat.
What does it take to get into the franchise business?
Grit and determination. Buying a franchise is the easy part. Building your company and team takes a lot of hard work and determination. Get comfortable hearing "no" and keep showing up.
Has the "buy local" movement had an impact on franchising?
Yes! Our customers love to hear that we are a locally-owned and -operated franchise and that we employ people from the community they live in. Our customers also love the fact that they can call into our Sales Centre and speak to a live person or book online.
Do you have any advice for a person considering becoming a franchisee?
Ask yourself why you want to become a franchisee and do you have the determination and accountability to do what it takes to do the hard work. Will you show up and work when you don't have someone checking in on you? Do your homework on the brand and speak to as many franchisees as you can.