Say cheese! Smiles aplenty at Kimberley & District Chamber of Commerce Business Excellence Awards
Among the Business Excellence winners this year was a well-known face on the Kimberley retail scene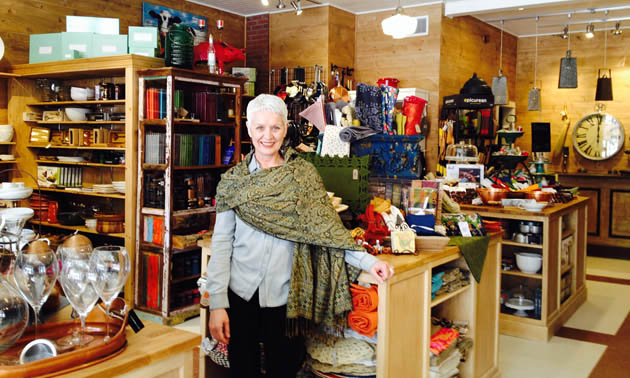 Well . . . galas come and galas go. A planned celebration gala event in honour of the 2020 Kimberley and District Chamber of Commerce Business Excellence Award winners was, unfortunately, a no-go, and we all know the reason why.
But despite the letdown, there's every reason to celebrate these 14 incredibly innovative, inspiring and hard-working Kimberley businesses and individuals. From a photography project that brought the community together to a spirited entrepreneur who strives for good cheer, the City of Kimberley has many reasons to be proud.
This year's awards were handed out from a safe distance in late January 2021. Congratulations to the following winners:
Business Excellence Award: Lifetime Achievement - Robin Dixon
A familiar face on the Kimberley retail scene for many years, Robin Dixon is the impetus behind two successful Platzl-based stores: the Grater Good and the Gilded Goat. The home decor shop Gilded Goat was a long-standing fixture in the community, but in 2017 Dixon made the jump to food with the opening of her kitchen supply store, The Grater Good. Dixon officially retired in 2020 (don't worry—The Grater Good is in the hands of new owners and is still open).
Congratulations go out to this inspiring entrepreneur!
Retail Services Award: Arrow & Axe
Full of rustic and earthy products that reflect the inspiration behind the store, the Arrow & Axe is a "mountain made" modern general store located on Kimberley's Platzl. Owner Denai Bell, along with her husband, Jarret, cater to outdoor enthusiasts, dreamers and doers and carry an ever-changing selection of quirky items. Arrow & Axe's "Be the Good" project donates a percentage of profits to environmental and wellness foundations.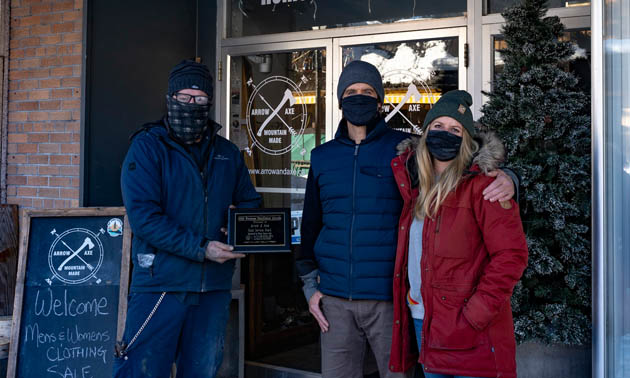 Bell was also honoured in 2017 as a KootenayBiz Top 40 under 40 Rising Star of Business. Read her story here.
Trades Business/Person of the Year Award: Sommer Electric - Mike Sommer
Congratulations to Mike Sommer, owner of Sommer Electric, and winner of this year's Trades Business of the Year award. The electrical contractor has over 17 years of business experience and works on residential, commercial and industrial projects.
Tourism & Hospitality Excellence Award - Northstar Group
The Northstar Groups owns, operates and manages a number of successful tourism and hospitality companies in the Kimberley region, including the Northstar Mountain Village, Mountain Spirit Resort, Kimberley Vacations, Kimberley Lodging Co., the Kimberley Riverside Campground and Realty Executives Kootenay. Congratulations to Northstar Group on their Tourism & Hospitality Excellence award win!
Pulling off the perfect mountaintop wedding or event at the Kimberley Alpine Resort is the job of Natalie Johnson. She's the wedding and events coordinator and helps to create a beautiful, unique and memorable day for clientele. Due to the COVID-19 pandemic and constantly changing regulations, her job has been extra demanding but judging by the rave reviews of happy brides and grooms, she's risen to the challenge admirably.
Congratulations go out to this fun, hard-working Kootenay gal on her Employee of the Year award win!
Kudos to the entire team at Bavarian Home Hardware for winning this year's Business of the Year award. Located on Kimberley's Platzl, the hardware store is truly more like "home" for its staff and many customers. By working together, the business has successfully navigated the challenges of a tough year and continued to offer the exceptional customer service they are known for.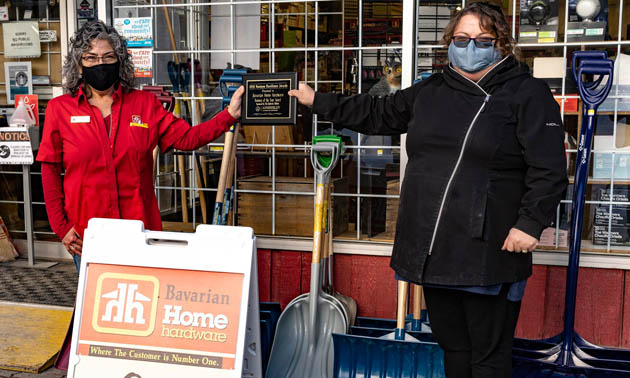 Home & Mobile Business of the Year Award - Elissa Gillen RMT
Helping people find restorative health benefits through massage is the passion of Elissa Gillen, a Registered Massage Therapist. Her past training includes prenatal and perinatal care, therapeutic deep relaxation massage, women's health and more.
The Kimberley Alpine Resort boasts big attraction value while maintaining its small-town charm. Known for consistent snowfalls and great powder, the resort offers a nice mix of trails and terrain, suitable for all skill levels, along with other winter activities like cross-country skiing, dog sledding and snowshoeing. The Kimberley Alpine Resort provides residents and visitors with year-round outdoor adventures.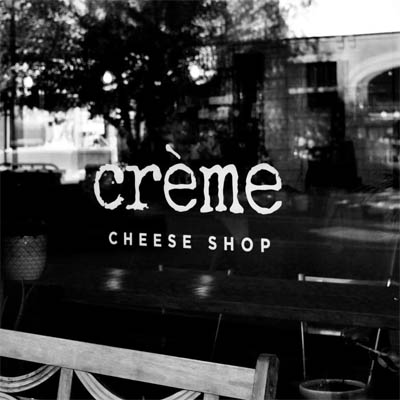 Cheese lovers rejoice! The Creme Cheese Shop not only stocks specialty and imported cheeses, but also creates deliciously mouth-watering creations using cheese (and featuring locally-sourced ingredients.) From simple Ploughman's lunches and panini sandwiches to homemade cheesecake and ice cream, the selections at The Creme Cheese Shop are definitely cheesy—but in a good way. In 2020, the shop moved from their former location across from Kimberley City Hall to a spiffy new location on Kimberley's Platzl.
The Health, Wellness & Fitness Award - Gym 67
Congratulations to Gym 67 on winning this year's Health, Wellness and Fitness award. Offering fun, fitness and fresh mountain air, the staff at Gym 67 offer a huge range of classes—everything from spin bikes and yoga classes to weight lifting and strength training. There's a variety of memberships available, along with personalized training and nutrition plans for every level of fitness.
The team at North Star Veterinary Clinic strives everyday to provide professional and pampered care of pets. With a full complement of services, including nutritional counseling and screening tests, North Star Veterinary Clinic staff help to ensure the optimal health of the many animals that come through their doors.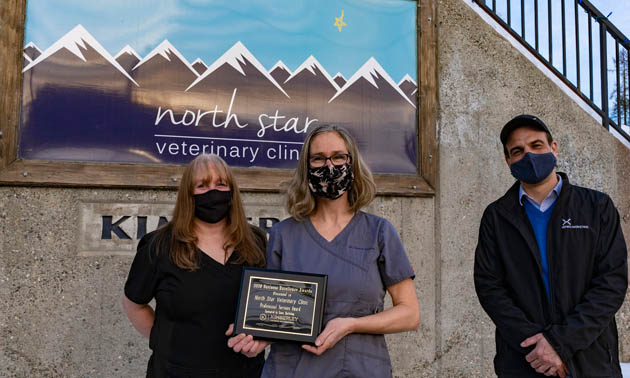 Business2Business Excellence Award: Kootenay Computer
Kootenay Computer is no stranger to awards. They also won the Business-to-Business award at the Cranbrook Chamber of Commerce's Business Excellence Awards in 2020.
Founded in 2015 by Sebastiaan (Seb) van der Horst, the company works closely with its clients and provides proactive solutions to prevent issues before they happen. This story delves into the background of this generous, compassionate and community-minded business.
"Good Cheer Here" is the motto of Bohemian Spirits. With their award-winning, hand-crafted range of liqueurs and spirits, the company spreads good cheer wherever their products are found. Savour one of their concoctions, along with a locally-sourced charcuterie plate, at the company's new cocktail lounge. The company also features a tasting room and outdoor patio on their premises.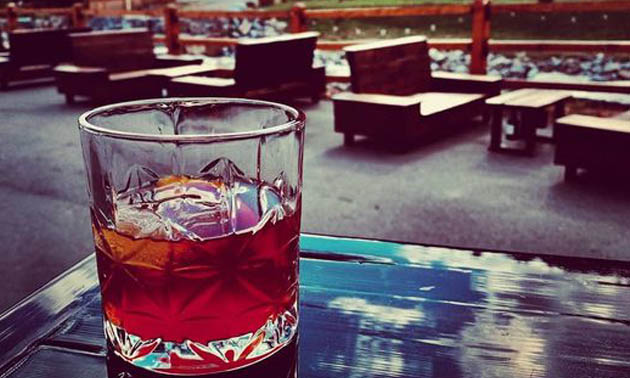 Stan Salikin Community Impact Award: Chelsea Boyd Gibson - Front Porch Project
From safely behind the lens of her camera, Chelsea Boyd Gibson—owner of Meadowsweet Yoga & Wellness and Meadowsweet Photography—managed to raise over $11,000 for the Kimberley Helping Hands Food Bank. Inspired by similar projects across Canada, the Front Porch Project consisted of capturing portraits of area residents during the COVID-19 pandemic. The snapshots documented how people and families cope in a stressful time and provoked a "we're-all-in-this-together" sentiment. In a time of uncertainty, the project managed to unite the community while simultaneously raising funds for a very worthy cause.