Kootenay Computer runs its business a bit differently—hardwired for compassion
Owner Sebastiaan van der Horst is proactive with IT and with his community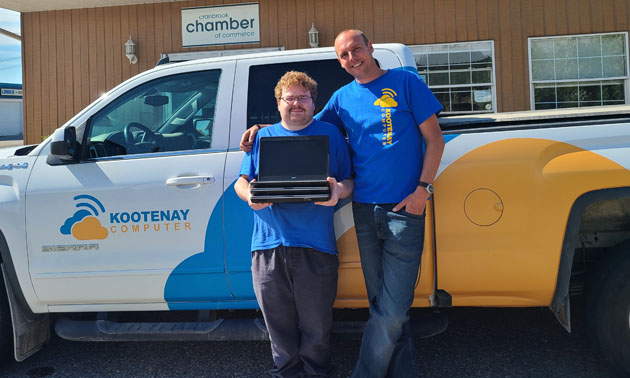 Sebastiaan van der Horst is six feet six inches tall, and maybe that's why he has a big heart. As the owner of Kootenay Computer in Cranbrook, Seb—for short—is known for his generosity.
He's also known for his great service and hence was honoured with the Business-to-Business Award as part of the Cranbrook Chamber of Commerce's 2020 Business Excellence Awards.
Here's Seb's story, which begins in Europe.
"I had my IT firm back in the Netherlands," Seb said. He built it up to a business with 16 technicians on staff. But he was looking for a different lifestyle and a different pace of life so he emigrated to Canada at the end of 2013.

"The Kootenays fitted just perfectly with the outdoor lifestyle I wanted," he said.

Seb started Kootenay Computer in early 2016, renting an office in the Cranbrook Chamber of Commerce building. Seb stresses that his business focuses on being proactive.

"Our team works closely with business owners, telecommuters and individuals to not only solve computer problems as they occur but prevent them from happening," Seb said. "By mitigating the risk of a security breach or technological malfunction, we help you and your business operate successfully and smoothly."
A pandemic necessity
Reliable and secure computers are an even greater necessity with so many of us working remotely during the COVID-19 pandemic.
"The way people are working remotely now has given us an opportunity to prove our skills in providing business processes that are safe for remote workers," said Seb. "I have a diverse and unique skill set that I obtained during my 25 years in the industry and I'm also more classically schooled. You can't replicate experience like that!"
The Kootenay Computer team offers home office workers, business owners, individuals and non-profits a variety of services, including automated computer monitoring and remote access labour. Currently with a team of three people, Kootenay Computer is looking to hire a fourth staff person.
Generosity and the digital divide
Sebastian's big heart led him to start the Cranbrook Computer Donation program in 2016, which provides refurbished computers to families and individuals in need.
"I started the computer donation program to support four refugee families new to Canada," Seb explained. "The Cranbrook Chamber of Commerce kindly donated their old computers. This is how it all started."
The program has grown exponentially to help bridge the digital divide for families in the community who are unable to obtain a home computer.
"The program is now a tripartite arrangement," said Seb. "The Chamber works with the business community, collecting old computers, tablets, smartphones, monitors and peripherals. Kootenay Computer refurbishes the computers and has committed to refurbishing a minimum of 50 per year. The Salvation Army is the connection to the community, ensuring that the equipment goes to where it will be most beneficial."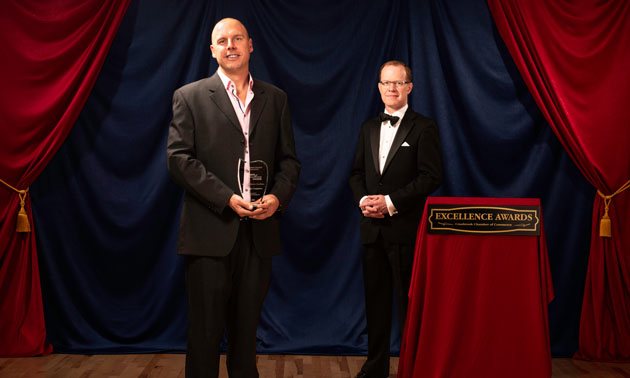 To date, the program has donated over 250 computers to people who need technology. But there's even more good news. Meet Shawn.
"The most fulfilling part of my business is working with my Sidekick Super Shawn," Seb said. "He started out volunteering in the computer donation program. Due to the help of the Cranbrook Chamber of Commerce, we were able to get a grant from Columbia Basin Trust to have him as a full-time staff member with full pay. In order to keep the program running, we are selling laptops. They are for sale for $315 including tax at the Cranbrook Chamber of Commerce. All proceeds are going to Shawn's wage."
Seb's generosity also shines over the holidays. If you are one of Kootenay Computer's lucky clients, you get remembered at the holidays with treats from a local business.
"We always buy a Christmas gift for our clients," said Seb. "The year before we gave our clients a bottle of wine from Wine Works Kimberley and last year we gave our clients a chocolate dessert from Sweet Gestures Chocolate Shoppe."

When asked what sets him apart from his competition, Seb didn't miss a step:

"I have better oversight because I'm six foot six," he quipped.