Shop Local in Kimberley
Here's a list of local businesses worth supporting in Kimberley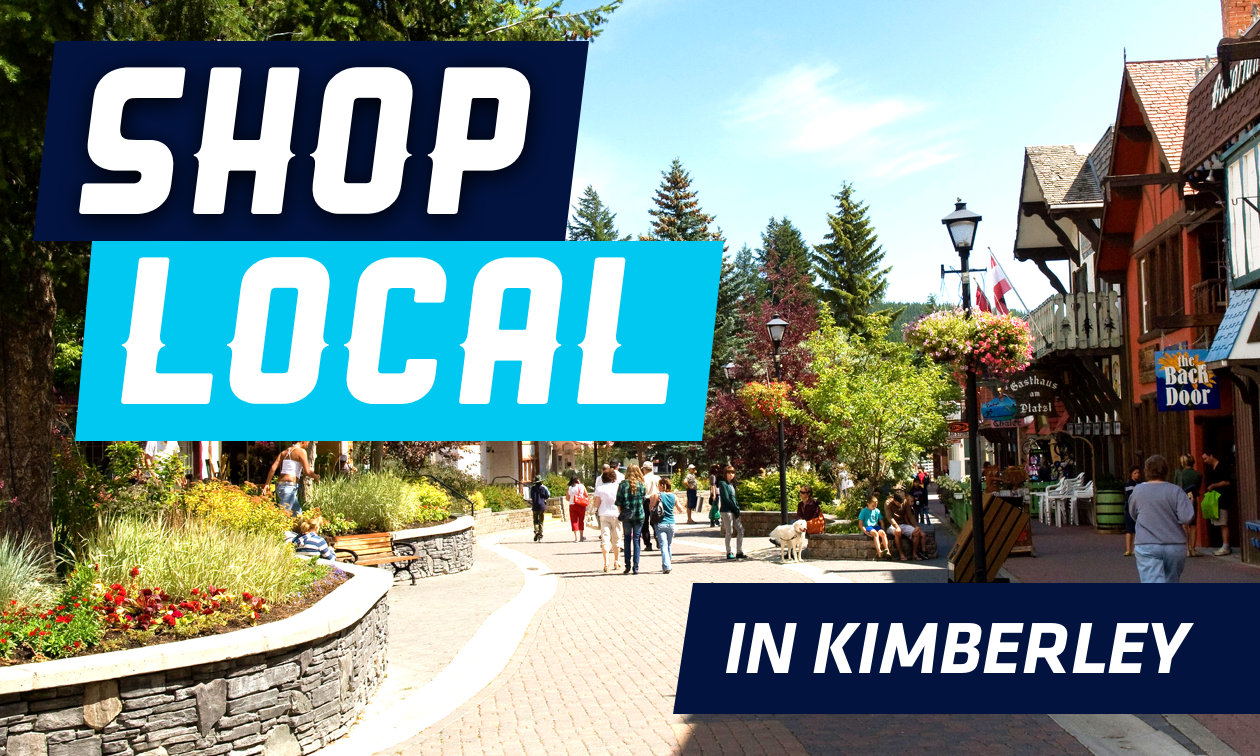 Kimberley residents are looking to support small businesses. The ability to shop local brings a multitude of benefits: convenience, a boost to our local economy, better and more personalized customer service.
We've compiled a list of local businesses worth recognizing in Kimberley. We've organized the catalog by city first and then arranged each location into three categories: Retail, Takeout / Delivery and Services.
Have you had a good Shop Local experience? Please fill out this form and help us recognize and continue to support these deserving small businesses.
We also have a Shop Local in the East Kootenay list of businesses.
Show your support for local businesses online by using the #ShopLocal, #KootenayStrong and #ThinkLocalFirst hashtags.
We here at KPI Media are providing business news on Kootenay Business. For sales and other inquiries, email KPI Media.
Shop Local in Kimberley:
Retail stores in Kimberley:
Timber Mart: Building materials store. Updates on Timber Mart website
Meadowbrook Greenhouses: Updates on Meadowbrook Greenhouses Facebook page.
Kimberley Kritters: Dry and canned foods, toys, treats, collars, leashes, clothing, beds, supplements, grooming supplies and custom built items for pets. Updates on Kimberley Kritters website
Tumbled Earth: Featuring naturally sourced stones and other raw earthy elements, each piece of jewelry is designed and handcrafted in the Kimberley-based studio. Open online at Tumbled Earth website
Sole to Soul Esthetics Studio: Beauty products, Hempz Creams, Nail Envy, Eye Envy products. Updates on Sole to Soul Esthetics Studio Facebook page
Treehouse Toy Co.: Children's Boutique offering games, puzzles and toys. Updates on Treehouse Toy Co Facebook page
Meat Matters: Butchery. Updates on Meat Matters Facebook page.
Olives Unstuffed: Olive oil store. Updates on Olives Unstuffed Facebook page.
KnickerKnacker: Gift shop. Updates on KnickerKnacker website.
Takeout / Delivery restaurants in Kimberley:
J2 Ranch's Local Meat Shop: Local Wagyu Beef, Bison and frozen meals ready to heat. Order from J2 Ranch's Local Meat Shop website.
Our Place Restuarant: Updates on Our Place Restaurant Facebook page.
Grubstake Pizza: Grubstake Pizza slathers on the homemade sauce and fresh ingredients, baking their pies in a clay-lined, gas-fired oven. Updates on Grubstake Pizza website
Sprout Health Market: We offer an array of organic groceries, locally raised meats, environmentally friendly cleaners, supplements and baby supplies. Updates on Sprout Health Market website
Pedal & Tap: Restaurant and lounge. Updates on Pedal and Tap website
Bear's Eatery: Home-cooked meals and pies. Updates on Bears Eatery Facebook page
Service businesses in Kimberley:
KPI Media: Providing business news via Kootenay Business. For sales and other inquiries, email KPI Media.
Maggie Melnychuk Professional Law Corporation: General practice attorney. Updates on Maggie Melnychuk Professional Law Corporation website
No Shorts Electronics: Computer repair service. Updates on No Shorts Electronics Facebook page
Creekside Physiotherapy Clinic: Online physiotherapy sessions available. Updates on Creekside Physiotherapy Clinic website
Roots to Health Naturopathic Clinic: Naturopathic practitioner. Updates on Roots to Health Naturopathic Clinic Facebook page.
Is your business missing from our Shop Local list?
Local business owners in Kimberley, if you don't see your business included on this page and you are currently in operation, please fill out this form.