Knights, Vikings and fighters clash at the Kimberley Medieval Festival
Recapping the Kimberley Medieval Festival 2017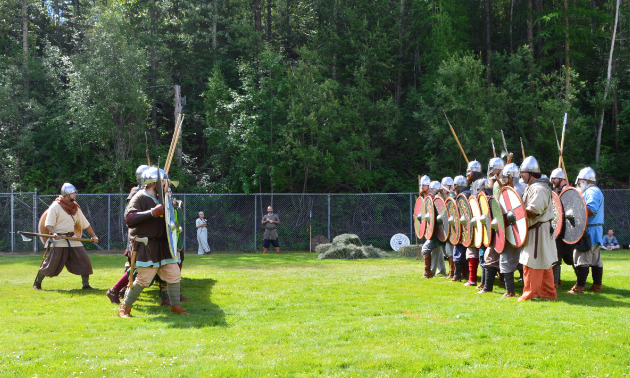 The Kimberley City Bakery held its third annual Kimberley Medieval Festival July 8 and 9, 2017. Eric and Michelle Forbes, Kimberley City Bakery owners and award winners for Influential Women in Business and Jake the Baker, host the event and bring in medieval groups such as:
The Sons of Fenrir are Viking re-enactors from Calgary, Alberta.
The Úlfhéðnar (pronounced oolf-heth-nar) are a group of historical re-enactors, portraying the life of a roving Viking war band during the ninth to 10th centuries. They are based in Kelowna, B.C.
Munnin's Saga. A young viking troop from Edmonton.
The Ice Eaters. From Hinton, Alberta
Fighters of the Feral Fang, the newest troop. They formed a group because they were inspired by last year's Kimberley Medieval Festival.
Dragon's Own are a group of medieval entertainers from Calgary. They informed spectators about the medieval time period beyond fighting, adding another aspect to the festival.
Puppeteer Nikki. Children love her little Viking puppets.
Ironhart Vanguard, a division of The Forge martial arts in Calgary.
Below is an assemblage of photos taken during the Kimberley Medieval Festival. Captions contain a simple title, explanation or a quote from Ashley Coe, co-ordinator, organizer, promoter and fighter for the Ironhart Vanguard.
"I've broken fingers, lost nails, I get bruises every time. Bruises are pretty common. Major injuries are uncommon, but they do happen in any sport. Sprains, twisted ankles, broken bones. Concussions would be the biggest risk."