2017 Kootenay women of influence
We spotlight a few of the exceptional businesswomen in the Kootenay region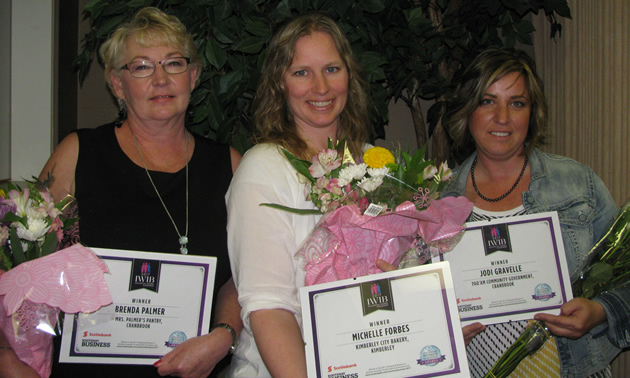 The sixth annual call for nominations for the Kootenay Business magazine Influential Women in Business list resulted in 75 businesswomen being spotlighted. All of these women were congratulated at back-to-back luncheons—one on June 8 at the Heritage Inn in Cranbrook and one on June 9 at the Prestige Inn in Nelson.
At the Cranbrook luncheon on June 8, special recognition was given to three of the nominated East Kootenay business women:
Brenda Palmer of Mrs. Palmer's Pantry in Cranbrook: Palmer pursues opportunities that would scare off most people, and she's simply not a quitter. The success of her business is a testimonial to her hard work, creativity and courage.
Michelle Forbes of the Kimberley City Bakery: Forbes works with her husband, Eric to run the award-winning bakery and raise their children, and to support her community she created and produces the Kimberley City Bakery Medieval Festival each July. She's influential and she's inspiring.
Jodi Gravelle of the ?aq'am Community in Cranbrook: Gravelle worked her way through the ranks and is now the chief operating officer for the ?aq'am, reporting to the chief and council. She is a champion and an inspiration for her family, her community and her gender.
At the sister event in Nelson the next day, the following West Kootenay business women were singled out for special recognition:
We again commend and congratulate the 75 nominated women for all that they contribute in their communities.