The Lido Motel in Radium Hot Springs, B.C., has your values at heart
Combine travelling with your desire to lower your ecological footprint at this "green" motel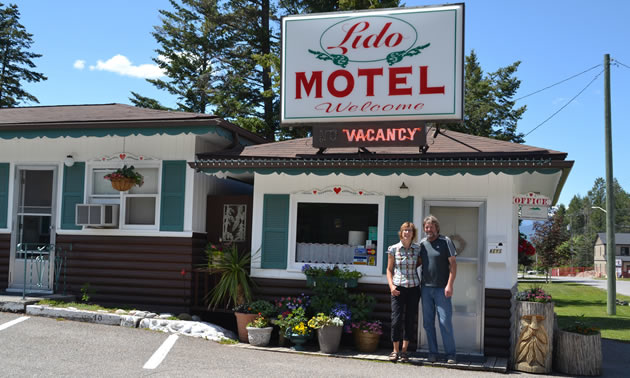 Wanted: Green travellers. Must have a desire to stay in a gorgeous setting in the Rocky Mountains and sleep in a quaint 10-room motel.
"We do like to attract people who think like us when it comes to saving or helping the environment," said Gabriele Lorenz. She and her husband, Frank, are owners of the Lido Motel in Radium Hot Springs, B.C.
The German couple moved here 18 years ago, bought the motel and set to work remodelling and updating it.
"We put a lot of work into the Lido," said Gabriele. "We left the outside the way it is because we had feedback from a lot of people who like it just because of its quaint looks."
Where's the green?
In Germany, the couple recycled as much as they could. "Then coming here, we were often disappointed to see so many things in the garbage that could be recycled," said Gabriele.
The Lorenzes started by putting recycling baskets in the rooms and a big recycling bin in the backyard. Guests responded by using them.
Here are other environmentally friendly features in the Lido Motel:
Cleaning and drying: Sheets and duvet covers are hung to dry on a big clothesline, weather permitting. "Guests love the smell of the fresh mountain air (on the sheets) and it saves so much energy too," said Gabriele. In addition, the duo uses environmentally friendly cleaning supplies.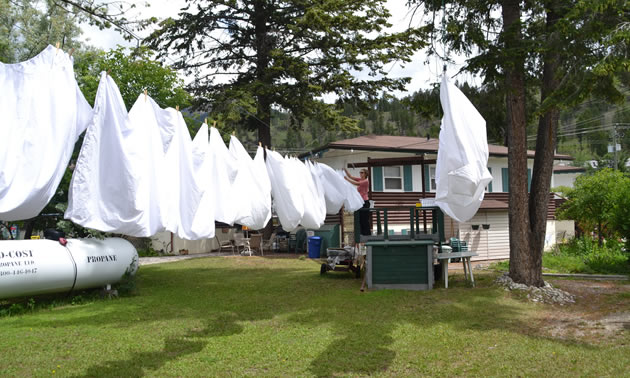 Smart energy: The couple had a five-kilowatt photovoltaic unit installed as well as a high-efficiency heat pump/air conditioner system. Over 95 per cent of the motel's lights are LED.
Landscaping and gardens: No pesticides are used on the lawns and rainwater is collected for watering. "There's a little garden in the back of the motel where we grow pollinator-friendly flowers and have bird baths and birdhouses," said Gabriele.
"A few years ago I attended a workshop for the right way to compost, and we added two compost bins since. When we have people staying longer with us, we ask them if they would help us to compost, and most are happy to do it."
Meals: The Lido doesn't offer breakfast and Gabriele explained why. "Rather than offering breakfast at the motel (which produces a lot of garbage in our opinion), Lido Motel is happy to have a great partner in the Big Horn Cafe in town, a very nice coffee shop on Main Street close to the motel. We offer our guests coupons for breakfast there."
Why are the Lorenzes so devoted to a green lifestyle? "We only have one planet," Gabriele said, "and we think we should try to reduce our environmental footprints wherever we can to leave our children a better future."
If your heart beats faster at the idea of a green motel, drive on over to Radium Hot Springs for a stay or even consider buying the motel. The couple is planning for retirement and are ready to sell.