The City of Cranbrook gives the green light to its first electric vehicle
With 77% of British Columbians planning to buy an EV, the City is in the right lane too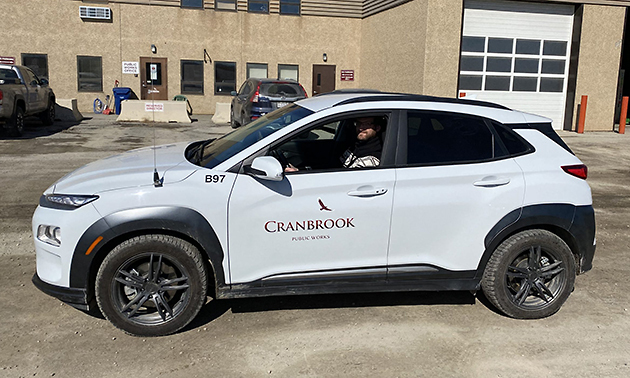 "Seven in 10 Canadians (68 per cent) who plan to buy a new vehicle within the next five years are likely to buy an electric vehicle (EV), either pure or hybrid," reported KPMG in February 2021. KPMG is a consulting group with offices across Canada. And the number jumps to 77 per cent of British Columbians.
Congratulations to the City of Cranbrook for being on board too! The City added its first EV to its municipal fleet in March.
The little white EV replaces a late-1990s full-size pickup. The new vehicle has a 415-kilometre range and will be used to support roads, parks and utility operations with the Public Works Department.
"The acquisition of an electric vehicle is one of the many ongoing efforts that the City is making to reduce its carbon footprint and impact on our environment," said Evan Berry, energy conservationist with the City of Cranbrook.
It is expected that the new EV vehicle will prevent two tons of CO2 emissions from heading into the atmosphere annually and will save the municipality nearly $600 per year in energy costs. The EV vehicle qualified for $8,000 in rebates from both the federal and provincial governments and will require less maintenance, also reducing costs.
Public Works will also be installing a level two charger at the yard on Cobham Avenue to offset the damaged EV charger installed at the Cranbrook Curling Club. Design work has started for the design of a multi-vehicle charging station at Public Works to further support the fleet transition to EV vehicles.