National Forest Week 2018
Forests are for people … and our Rocky Mountain elk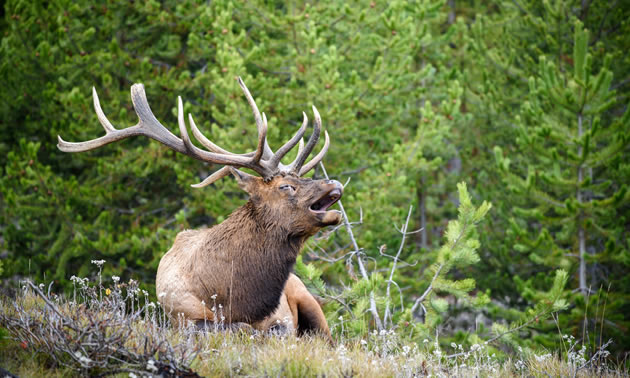 Occurring every September, National Forest Week is our time to celebrate Canada's phenomenal forests that are so extensive they are the envy of the world. Events happen in communities across the country the week of September 23 to 29.
This year's National Forest Week theme—Research Forests—highlights the oldest one, the 100-year-old Petawawa Research Forest in Ontario. Research forests are living laboratories in which we can learn about our present and help predict and plan for our futures.
In British Columbia, we have several research forests run by the University of British Columbia and the University of Northern B.C. as well as some run by the provincial government.
Here in the Kootenays we do not have any formal research forests but forest research is carried on by individual forestry companies. Which brings us to some critically needed research on habitat for our iconic elk.
Data from aerial surveys in January and February show that the elk population in the Rocky Mountain Trench has declined 32 per cent below target levels. This is disturbing information.
The Ministry of Forests, Lands, Natural Resource Operations and Rural Development has taken a number of actions in response to its 2018 elk survey.
Researchers will collect data to better understand winter habitat use by elk in the Trench. The ministry plans to work with forest licensees, First Nations and stakeholders to revise standards for timber harvesting on elk winter ranges to ensure that sufficient canopy cover is retained.
Hunting regulations will also be modified in an attempt to increase elk populations, such as reducing the number of limited entry tags for cow elk.
While the causes of the population decline are not well understood, contributing factors likely include predation, severe winter conditions and habitat loss.
All of us in the Kootenays cherish our forested landscapes, whether for recreation, work or the ecological services they provide us … including wildlife habitat for our beloved elk.