Lightening its print on the planet
The paper trail at Hall Printing in Trail leads to sustainability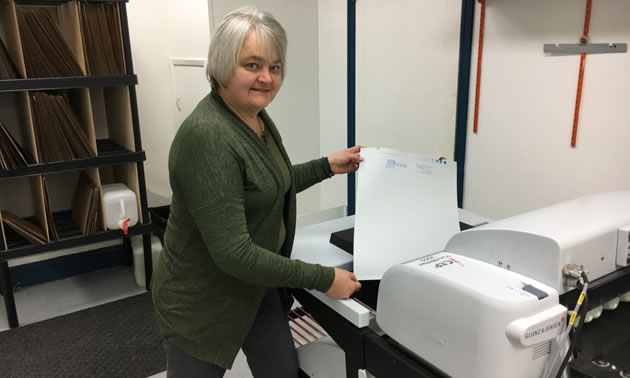 Even if you are almost 100 years old, you don't have to be behind the times.
Founded in 1920, Hall Printing in Trail has made a strong commitment to being an environmentally friendly company. For its accomplishments, the company won the Go Green Award at the Trail and District Chamber of Commerce 2016 Business Excellence Awards.
"To reduce our environmental impact while doing business, that's the right thing to do to ensure the health of the planet," said president and owner Ingrid Hope.
Foremost among Hall Printing's green initiatives is its attention to the so-called paper trail.
"We were one of the first 20 printers in B.C. to become FSC-certified," explained Hope, "and we remain FSC-certified."
FSC stands for the Forest Stewardship Council, an international non-profit organization that certifies forests and forest products to promote responsible forestry.
That means if you follow the chain of custody—or the paper trail—of the paper, it is from FSC-certified forests harvested by FSC-certified logging companies and made in FSC-certified mills.
"This certification allows our customers to put the FSC logo on their print products to show their commitment to ensuring that their printed products come from well-managed forests that provide environmental, social and economic benefits," said Hope.
Other green initiatives at Hall Printing include:
All waste paper is recycled and some is repurposed. For example, off-cuts from big sheets of paper are padded and sold for notepads;
Ink waste is collected and recycled;
All presses and platemaking processes have been upgraded so that they do not use any water for wash up and no chemicals flow into the water system;
All the lights and windows have been upgraded in the building at the company's expense even though it does not own the building;
A delivery service travels between the company's facility in Trail and its Nelson office to reduce trips back and forth.
Employees at Hall Printing are actively involved. "We have weekly staff meetings when employees are encouraged to refine processes so waste can be reduced," Hope said.

To the company's customers, sustainability matters.
"We have quite a few corporate and municipal partners that insist on 100 per cent recycled paper for their projects and we can accommodate that," said Hope. "Our customers care that we recycle any waste because they ask quite often.
"I think the green award reminded me that we need to let people know that the print industry is environmentally sustainable and printing is not a 'bad' choice . . . [it is] renewable and sustainable."