Intentional community in Nelson, B.C., wins efficiency award
FortisBC recognizes Heddlestone Village for energy conservation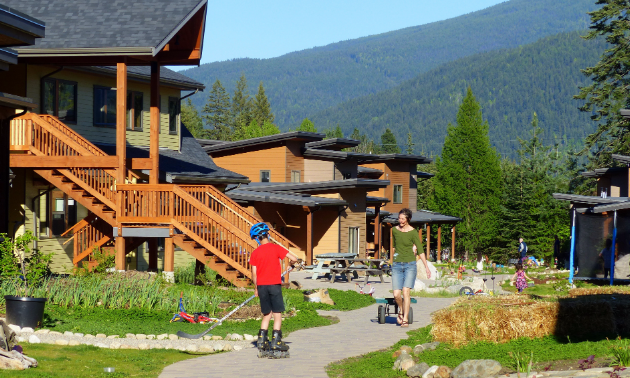 FortisBC recognized 10 B.C. organizations for conserving energy, and Heddlestone Village, a co-housing community in Nelson, won in the multi-family category.
Collectively, these Top 10 saved enough natural gas to heat almost 150 homes and enough electricity to power close to 340 homes for a year.
Heddlestone's 24 homes (or 12 duplexes) are constructed with high levels of batt and cellulose insulation, triple-pane windows and mini-split air-source heat pumps.
"We were able to achieve EnerGuide ratings of 83 to 84 in all the homes," said Jon Steinman, strata president at Heddlestone and a resident. Nelson's Go 2 Builders constructed the homes.
The community has numerous other "green" features including:
Homes have smaller footprints because there is a 4,000-square-foot common house with a dining room/kitchen, kids' room, laundry, craft room, two guest rooms, lounge, teen room and games room;
Six meals per week are prepared and shared in the common house, with between 30 and 50 people on average attending;
Residents are developing community gardens, orchards and compost facilities;
Ridesharing and tool lending are encouraged;
Only Energy Star appliances were installed.
"The community was intentionally designed with only electricity as an energy source," said Steinman. "This was to help encourage an easier and eventual transition to alternative energy sources such as solar."