Green design at College of the Rockies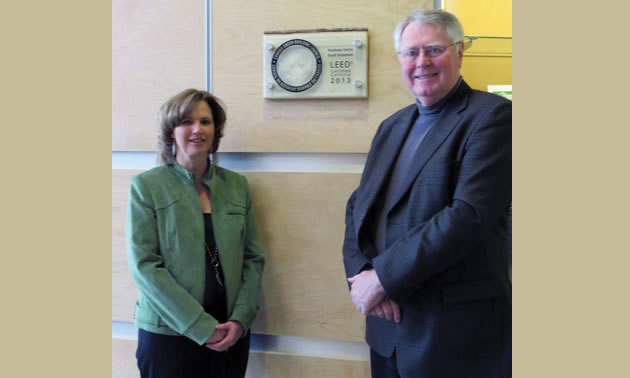 College of the Rockies has received yet another nod of approval in sustainability. The building's main entrance expansion was completed in 2010 and the visually appealing design has been serving the college ever since. Now the entrance has achieved certification by the Leadership in Energy and Environmental Design (LEED) certification program. LEED certification indicates the construction meets the highest environmental performance criteria in Canada.
"I would like to congratulate College of the Rockies on their LEED certification," said Thomas Mueller, president and CEO of the Canada Green Building Council. "It is great to see an educational institution that is surrounded by some of Canada's most amazing natural beauty demonstrating their commitment to protecting that environment through sustainable building."
Certification is based on a point system that focuses on six different criteria: site development, water efficiency, material selection, indoor air quality and innovation in design.
College of the Rockies' facilities manager Allan Knibbs said, "This project is an example of the College's commitment to sustainable business practices. Using green building practices for the expansion has many benefits including lower operating and energy costs, a healthier environment, production of less waste, lower water usage and reduction of our carbon footprint. We are very proud to have achieved this internationally recognized indicator of excellence."