Funding available for bee projects
The Bee BC Program's grant deadline is March 13, 2020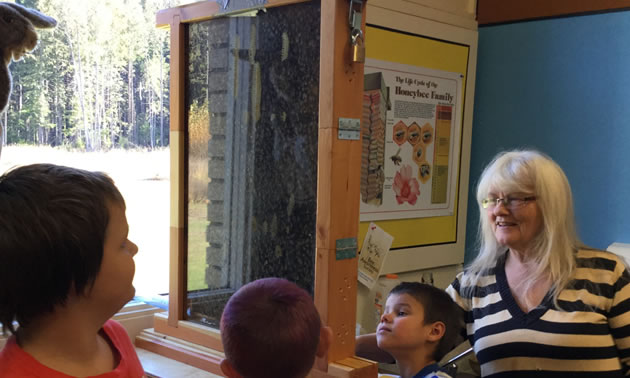 Got a great idea for helping our bees? There's funding available through the Bee BC Program, designed to enhance bee health throughout the province.

The Government of B.C. is committing $100,000 to projects between April 1, 2020 and March 31, 2021. Grant applications will be accepted until March 13, 2020.
A West Kootenay bee project
Last year's Bee BC Program funded a project in the West Kootenay—the Bee Awareness School Education project. Created by the Bee Awareness Society, this live learning tool teaches students about the vital role that honeybees and other pollinators play in our food production.
The Bee Awareness Society teamed up with woodworking shop students at Mount Sentinel Secondary to build 10 glass observation bee hives. To date, these travelling bee hives have been seen by approximately 2,000 children in West Kootenay schools.
The learning module includes what children and their families can do in their own backyards and community to mitigate the risks to our pollinators.
"Initiatives like the Bee BC Program are instrumental for helping us co-create a healthy and sustainable environment for bees, other pollinators and mankind," said project co-ordinator Linda Martin.
Free agricultural consultation
Agricultural expertise, support and promotion are the cornerstones of the Investment Agriculture Foundation (IAF) of B.C., which runs the Bee BC Program.
Do you need help with your ideas related to agriculture? Between February 17 and March 13, you can book a free 30-minute consultation with IAF staff. See their Program Guide for details.