Follow the seasons with soups made in New Denver, B.C.
Kayte Rock cooks by the bounty of each season to create Soup du Jar frozen soups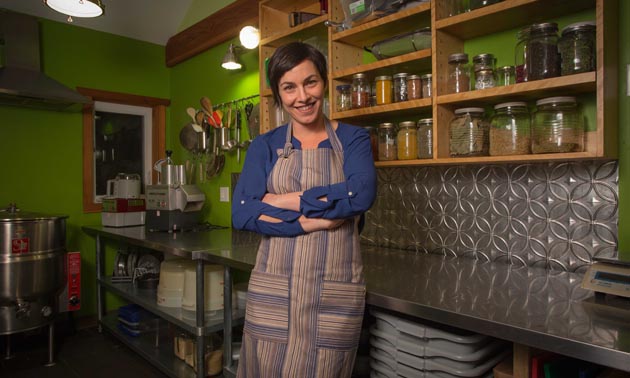 If the tagline doesn't entice you—"Comfort and love, one ladle at a time"—the flavours will: Chipotle Smoked Pea, Loaded Baked Potato, Moroccan Vegetable Stew, Tomato Basil Bisque.
Kayte Rock, owner of Soup du Jar in New Denver, B.C., cooks up high-quality soups in small batches using great ingredients. She values natural ingredients, local B.C. produce and meats, and clean mountain water.
"I love feeding people and crafting soups," said the energetic 42-year-old Rock. "I purchase most of my raw ingredients locally and have relationships with many farmers. I also commission many people to grow herbs for me."
She stirs up about 25 varieties of soups each season, which are packaged and frozen for delivery. But it all started with her Sweet and Spicy Black Bean soup.
How it began
Rock took a dozen jars of her black bean soup to the Nakusp farmers market in 2006 and she sold out in half an hour. She hadn't intended to create a soup-making business, but the past 10 years have been a slippery, fast slope. In 2016, Rock figures she made 48,000 litres of soup.
"Up until this month (December 2016), I cooked all the soups," said Rock. Now she's training one of her five employees to make the soups.
Where to buy the soups
Soup du Jar soups—in 650-ml pouches—are sold to retailers in the East and West Kootenay. Then in May 2016 Urban Fare in Kelowna contacted Rock, saying the store was looking for someone like her. That made her volumes skyrocket. She hopes to expand in B.C. all the way to the Coast.
Rock also supplies soups to a variety of establishments including ski hills, schools and cafes. And if you wonder about school kids' preferences, their favourites are Classic Chicken Noodle, Alphabet Tomato, Doukhobor Style Borscht, and Honey Ham & Pea.
And Rock proudly announced that her soups are Kootenay-kid approved—she has a few panels of kids and adults who do the taste tests. Rock further noted that soups are a great way to get all of us to eat more vegetables.
"I love soup because it is complete nutrition while being delicious and comforting," she said.
Green soup and not just the colour
Besides her Fresh Pea & Mint soup, Rock's soups are "green" as she is passionate about helping the environment too. Besides her love of using local ingredients, she also uses BPA-free bags and minimal packaging. And she is a committed composter as she does produce many pails per day of high-quality scraps. Her scraps have been "recycled" as fodder for chickens and pigs. Some of her scraps become compost for farmers, including the farmer who produces her dill.
Another green aspect of her business is how it encourages the efficient use of the harvest. "Soup-making transcends the seasons," said Rock. "It's a great way of preserving the bounty of the harvest times." Rock can take the crops, make the soup and freeze them.
Rock was close-lipped about her newest concoction coming out in January, but she sounded very excited about it. "I'm always making new soups," she said.