Five West Kootenay communities are leading the way in renewable energy
Will any East Kootenay municipality join in the EcoSociety's campaign?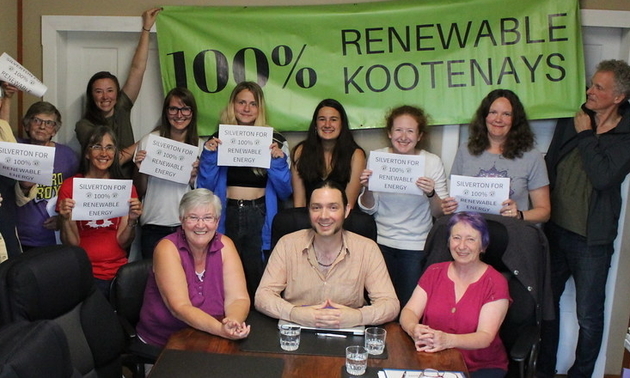 All it takes is one leader or organization to start a movement.
Think of 16-year-old Swede Greta Thunberg inspiring teens around the globe to speak up for their generation's interests in climate change.
In our part of the world, the leader is the West Kootenay EcoSociety and its campaign called 100% Renewable Kootenays. Its goal is for the Kootenays to phase out fossil fuels and be on 100 per cent renewable energy in all sectors no later than 2050.
Municipalities are the primary target of the campaign—and for good reason. According to the Federation of Canadian Municipalities, 50 per cent of Canada's greenhouse gas emissions are within direct or indirect control of municipal governments. With 80 per cent of Canada's population living in urban centres, local governments can make a huge difference in heating, electricity and transportation policies and infrastructure.
Montana Burgess, executive director of the West Kootenay EcoSociety, said, "I'm really excited about all the support for the transition to 100 per cent renewable energy we've seen both locally and beyond. Over 9,000 residents and 100 local businesses and organizations in the West Kootenay have said they support the renewable energy transition. We've had over 250 volunteers locally help out with the campaign. Clearly, this is connecting with people and inspiring solutions and hope."
The early adopters
In 2017, the Village of Slocan was the first Kootenay community to make the commitment to 100% Renewable Kootenays. Nelson and the Regional District of Central Kootenay (RDCK) followed in 2018. So far this year, Rossland, New Denver and Silverton have signed on.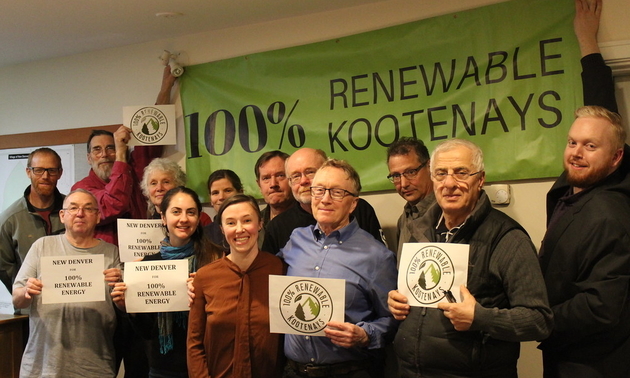 "Castlegar will likely be voting in September," said Burgess. "We're building support in Creston, Salmo and Kaslo, and we're hoping they will sign on before the end of this year. Trail and other Lower Columbia communities seem interested too."
The idea for 2050 didn't originate with the EcoSociety. Over 250 communities around the globe are part of this movement. In Canada, cities like Vancouver and Victoria and Guelph, Ontario, have committed to the goal.
What's the process?
One of the EcoSociety's strategies is to build support from the ground up. Individuals, businesses and organizations are asked to sign a petition supporting the transition to renewable energy. This community support shows elected officials that they have the backing of the community. Ideally, once one-third of the residents of a municipality sign the petition, a group of residents present their city council with a suggested motion to transition to 100 per cent renewable energy by 2050.
"We're building this broad support so councils can feel like they have their residents behind them to be real leaders, develop transition to 100 per cent renewable energy strategies and get to work right away," said Burgess.
The pathway to the 2050 goal will look different in each community. The EcoSociety is working with many partners (such as Renewable Cities, a global program of Simon Fraser University's Morris J. Wosk Centre; the Real Estate Foundation of B.C.; and the Federation of Canadian Municipalities) and will offer community assistance via workshops, volunteers and potential funding, among other resources.
The East Kootenay and beyond
Who will lead the effort in the East Kootenay? Or will these municipalities be the late adopters in addressing energy efficiency?
"We're hoping the East Kootenay will get excited about this too," Burgess said. "It could be elected officials, city staff or non-profit groups who are already doing great work on the ground in the East Kootenay region.
"The 100 per cent renewable energy transition has so much support in the Kootenays and is taking off globally," said Burgess. "It's about taking control of our carbon pollution to build healthier communities, stronger economies and healthier and safer communities, air, land and water.
"We can lead by example and help other rural communities in B.C., Canada and around the world learn from our renewable energy transition plans and work together to make our towns and world safer and a better place to live."