Decorating Cranbrook's urban deer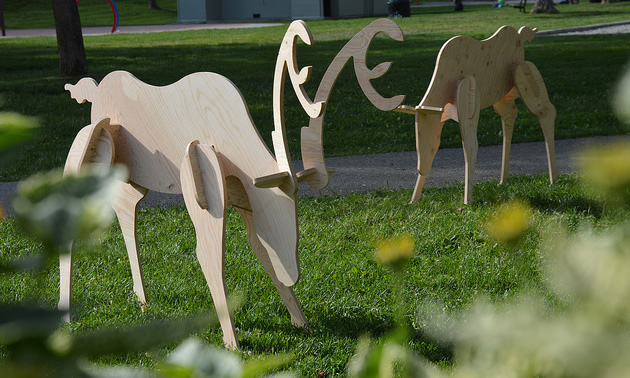 Cranbrook's notorious urban deer have received their fair share of negative press over the years. Anyone familiar with the city will have noted the groups of wildlife munching on lawns or using the crosswalks downtown. Numerous passionate debates have been had over what to do with the over-familiar mammals. The Cranbrook and District Arts Council (CDAC), however, has come up with a fun way to engage people with an Urban Artsy Deer Quest and Competition.
This project allows individuals, groups and local businesses to purchase a deer kit from the gallery (CDAC office) for the price of $35 for a doe or $40 for a buck. Business entrants must register their deer by June 20 and display their deer in their businesses by July 1. Visitors to the (Artrageous) gallery will collect a deer quest form and attempt to find all the deer hiding in Cranbrook! -City of Cranbrook
As a finale to the creative displays of urban wooden deer, the pieces will be auctioned off on August 24 in support of the CDAC, which is celebrating its 40th year.
Group and individual entries will meet up with the business entrants on August 24 at the Art in the Park Event alongside the Lion's Club 'Twice Loved Art' fundraiser. All deer will be judged and prizes awarded. Then any donated deer will be auctioned -CDAC
As the project's catch phrase goes, don't hate. Decorate!